Bicycle Infrastructure
Sidewalk Cycling Ban Again Proposed for Downtown San Jose
4:35 PM PDT on September 19, 2014
San Jose Department of Transportation (SJDOT) officials announced at a community meeting Wednesday evening that a downtown sidewalk cycling ban is again under consideration, explaining that the "Walk Your Bike" signs and banners installed in December 2013 had largely failed to convince bicyclists to ride in the streets rather than on sidewalks.
Three members of the city's Senior Citizens Commission spoke in support of a ban, describing the serious safety hazards that some bicyclists riding on downtown sidewalks have posed to pedestrians.
"I've been hit twice on Santa Clara Street," said Commissioner Martha O'Connell. "If I get hit by a bike, it's a serious thing for me and a lot of other seniors. Bikers come so close to [pedestrians] that they actually touch their jackets when they pass them."
O'Connell and other commissioners have diligently documented with photos and written statements the hazard posed by cyclists riding too fast and swerving on downtown sidewalks. "Adult bicyclists continue to ride recklessly on the downtown sidewalks while the bike lanes remain largely empty," O'Connell wrote in March 2013, in support of a ban on sidewalk cycling.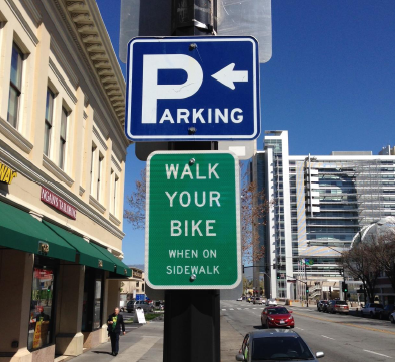 In an effort to shift bicyclists from the sidewalks, SJDOT blanketed downtown with "Walk Your Bike" signs: 140 green signs and 170 blue pavement markers. No city ordinance was passed requiring cyclists to walk bikes on sidewalks, though. Educational banners installed downtown also encouraged cyclists to walk on sidewalks and ride in the streets. But SJDOT counts taken at three locations showed no significant shift in sidewalk cycling between December 2013 and August 2014.
"At this point we really haven't accomplished enough behavior change to say it's successful," summarized Active Transportation Manager John Brazil. "Now we're looking at recommending some type of ordinance to the City Council's Transportation & Environment Committee." Under the proposed ordinance described by Mr. Brazil, anyone 13 years and older could be ticketed by the police for cycling on any sidewalk in San Jose's "Downtown Pedestrian Priority Zone", a high pedestrian traffic area bounded by Almaden Boulevard, 4th Street, St John Street, and San Salvador Street.
City Council member Sam Liccardo proposed an sidewalk cycling ban in March 2013 in order to protect pedestrians and improve downtown's walkability. Liccardo explained that even without routine police enforcement, it would still discourage sidewalk cycling, improve walkability, and "provide law enforcement with a lawful basis for stopping cyclists posing hazards."
After residents and several non-profit groups, including Silicon Valley Bicycle Coalition (SVBC), Silicon Valley Leadership Group, Greenbelt Alliance, and TransForm, objected to the proposed ban, SJDOT agreed to install the "Walk Your Bike" signs and sidewalk markings instead.
In response to whether he still supports a ban, Liccardo wrote in a statement today that he remains committed to improving safety for both bicycling and walking in the city's downtown core:
"No elected official in San Jose's history has done more than I have to build and advocate for better bike infrastructure on our streets, and I will continue to do so -- buffered lanes, bike share, segregated lanes, and bike-friendly signals. As we gain thousands of residents in the next 3 years with Downtown's continued revitalization, though, we're already hearing from many Downtown dwellers (particularly seniors) that they're wary of the many collisions and near-collisions on our sidewalks. Large cities like Austin, San Francisco, and LA have ordinances in high-pedestrian areas where they ban adult cyclists from using sidewalks. I encourage a public conversation about how we can ensure that everyone can safely travel through our Downtown."
Many residents and visitors who use bikes to get around downtown San Jose say that an outright ban will force people onto dangerous streets, or to give up on bicycling as a transportation option. Most who attended Wednesday's meeting agreed that although major improvements to downtown's streets have been made in recent years, the city's infrastructure for bicycling still simply isn't safe enough for most people.
"I'd rather ride on the street, but it has to be safe for us," explained resident Ian Emmons. "I ride with my kids and they're under 12. [With a ban], they'd have to be out in the street with me."
"I've been hit [by cars] three times since I moved here from the East Coast, once in a bike lane," said resident Bill Diebler, a member of the city's Bicycle and Pedestrian Advisory Committee (BPAC). "I don't want to see people get pushed out onto the streets and get hit by cars."
"The city's goal is for San Jose to be bicycle-friendly for ages 8 to 80," said Richard Coolman, another BPAC member.  "A ban restricts the opportunity for both younger and older people to bicycle."
The Silicon Valley Bicycle Coalition (SVBC) again urged enforcement against reckless bicycling rather than a ban. "Criminalizing all sidewalk bicycling by adults is akin to throwing out the baby with the bathwater," wrote SVBC Executive Director Corinne Winter in a letter. "It will penalize those who ride safely on the sidewalk, while doing nothing to control the behavior of those who are already flaunting established laws and facing no consequences."
State law allows cities and counties to regulate bicycling on sidewalks, and 315 cities in California have adopted such regulations, most of them bans, and most with exceptions for children, according to John Brazil. Many restrict bicycling only in business districts, as the ordinance proposed by SJDOT would do, while others are based on cyclist behavior, prohibiting only reckless riding or setting low speed limits for cyclists, often 5 mph.
San Jose's Transportation & Environment Committee, which includes City Council members Sam Liccardo, Rose Herrera, Xavier Campos, and Donald Rocha, will hear an SJDOT report summarizing efforts to improve pedestrian and bicycle safety and will consider proposals to restrict sidewalk cycling on October 6 at 1:30 pm.
Andrew Boone covers the Livable Streets Movements for Streetsblog in San Mateo and Santa Clara counties. Andrew's claim to fame is once having bicycled more than 12,000 miles of smiles in one year. nauboone@gmail.com
Stay in touch
Sign up for our free newsletter