Bicycle Plan
Alta's Mia Birk Helps Mountain View Kick Off Its Latest Bike Plan
2:52 PM PDT on September 25, 2014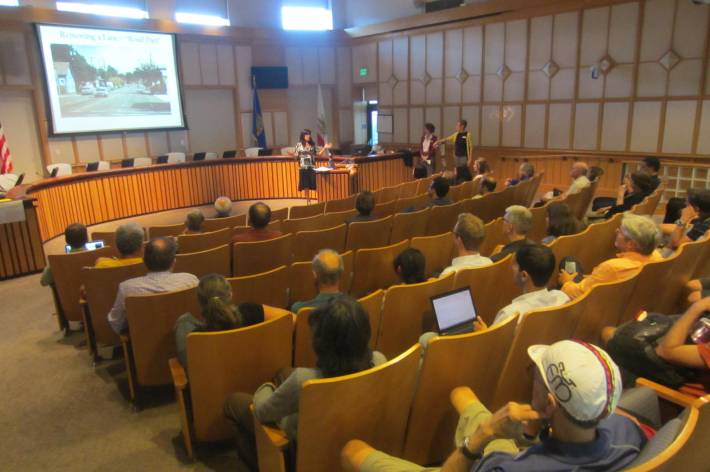 How bikeable can Mountain View become? Last Monday, the city welcomed Alta Planning + Design President Mia Birk to help kick off an update to its 2008 Bicycle Transportation Plan. Birk had plenty to share about how Portland transformed itself into one of the best cities for biking in North America.
Birk was hired as the city's bicycle program manager in 1993. Back then, "people thought of the bicycle as one of two things: it's either a sport or a toy," she said. "Those things are true. But bicycling can also be a serious means of transportation -- if we take it seriously."
Portland gradually built an extensive network of "low-stress bikeways" that helped boost cycling dramatically, especially in central neighborhoods where trips tend to be shorter than in the city's sprawling suburbs. Planners estimated in 2008 that Portland's entire bikeway network had cost roughly $60 million to construct, accounting for less than one percent of what the city spent on transportation.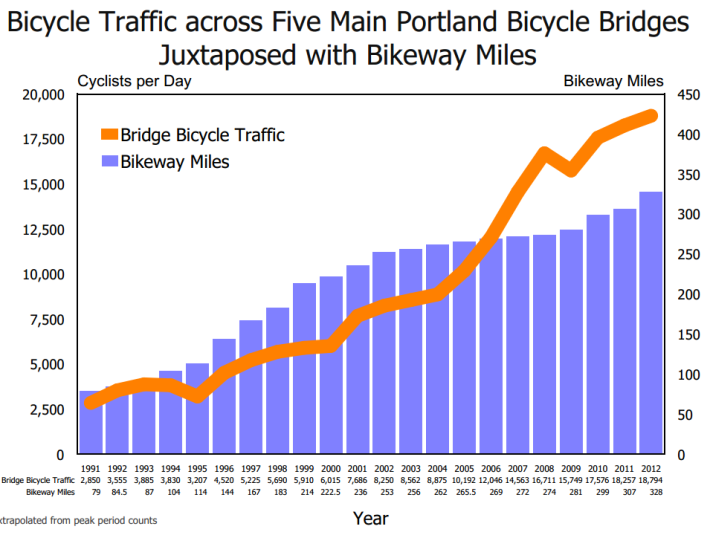 Birk credited Portland's education programs with boosting the use of bicycles as much as its expansive bikeway network. "You've got to have to infrastructure, but you're going to be significantly more successful when you encourage people to bike and walk in ways that are meaningful to their daily lives," she said.
The city's "personalized travel encouragement programs," combine materials promoting bicycling and transit with community events like car-free street "block parties" and bike safety education classes.
"We find that we switch 10 to 13 percent of drive-alone trips to bicycling, walking, or transit for about $20 per household," said Birk. "There have been analyses of these programs years later, and they stick." Birk also stressed the importance of effective Safe Routes to Schools programs. "These are all about transforming the next generation to just thinking that bicycling and walking is just normal. It's just how we get around."
Roughly twice as many people are getting around Mountain View by bicycle since the city's current Bicycle Transportation Plan was adopted in 2008, according to U.S. Census data. The most recent data available (2013) showed that over 7 percent of the city's 40,000 employed residents used a bicycle as their primary mode of transportation to work, although one-year estimates have a high margin of error. Data averaged over three years (2010 - 2012) found this figure to be 5 percent for Mountain View residents, having risen from 3 percent just three years earlier (2007 - 2009).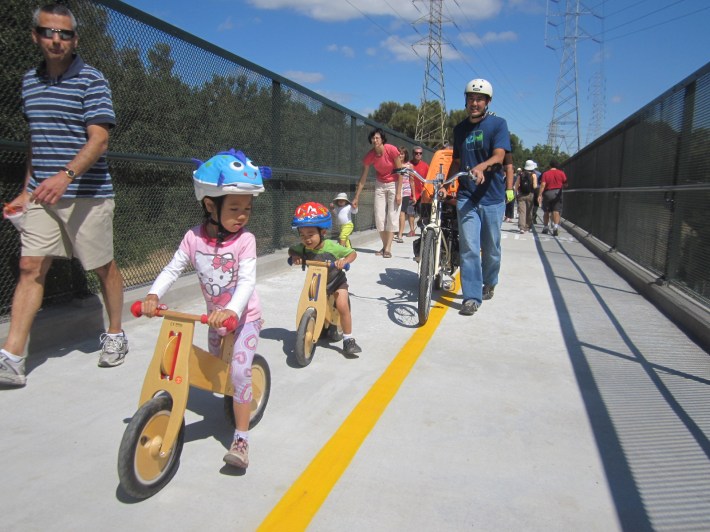 Despite the growing demand, the city ignored virtually all the on-street improvements recommended in its 2008 plan, which included additions to the city's network of painted on-street bike lanes and a separate network of short bicycle boulevards. The city instead pursued southward extensions of its two urban trails. New ped/bike bridges spanning Highway 85 (Stevens Creek Trail) and Highway 101 (Permanente Creek Trail) were opened to the public in June 2012.
After Birk's speech, attendees said they want more ambitious improvements, like protected bike lanes on busier streets -- including high-traffic corridors such as El Camino Real and Shoreline Boulevard -- and upgrades to existing door-zone bike lanes, which would require either the removal of on-street parallel parking spaces or travel lanes.
The current Bicycle Transportation Plan update is funded by $160,000 donated to the city by Google, which has now donated or committed $1.5 million to the city for bicycle and pedestrian infrastructure, part of a total of $3.5 million allocated by the city since June 2013 to such projects.
Planners are currently gathering public input via three different surveys available on the Bicycle Transportation Plan Update website, at three city commission meetings scheduled for October 6, 8, and 15, and at additional community meetings that have yet to scheduled. Mountain View aims to complete and adopt the updated bike plan by the end of 2015.
Andrew Boone covers the Livable Streets Movements for Streetsblog in San Mateo and Santa Clara counties. Andrew's claim to fame is once having bicycled more than 12,000 miles of smiles in one year. nauboone@gmail.com
Stay in touch
Sign up for our free newsletter