Bicycling
The (Not-So) Odd Reasons Why SFPD Parks Cars All Around Park Station
2:29 PM PDT on September 30, 2014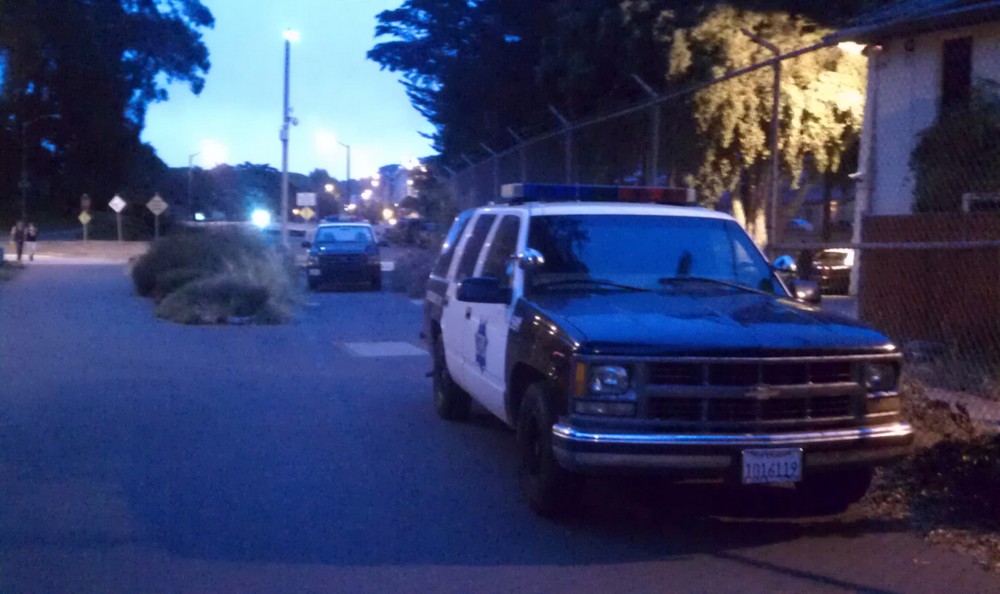 A few years ago, SFPD's Park Station in Golden Gate Park started storing police trucks and vans on a short section of pathway adjacent to the station's fence. I first noticed this while biking on Kezar Drive several years ago, and since then I've never seen the path without a police vehicle and/or barricade in the way. The section is at a fork between a pedestrian-only path and a shared ped/bike path, so people can still walk around the barricade to take the fork.
The explanation for the SUV storage, however, was unusual -- stay with me and we'll get to it below.
Around the same time, I also noticed stencils on the clear part of the bike/ped path, warning pedestrians and bicyclists to watch out for drivers entering and exiting the station -- putting the onus on the vulnerable users going straight through, rather than the trained police officers making a turn. This absurdity wasn't too surprising, given former Park Station Captain Greg Corrales' reputed low regard for people on bikes. He was known, for instance, to order his limited enforcement staff to conduct stings of bike commuters rolling stop signs on the Wiggle. The "watch out" stencils on the path have mostly worn off by now.
But there's another, more blatantly egregious use of park land nearby. Private automobiles, apparently owned by police officers, have long been parked on a patch of dirt (would-be grass), next to the footpath outside the station. Police cruisers also routinely drive down the path to get to the Stanyan and Waller Street intersection -- circumventing the closure of Waller Street to all other motor vehicles years ago, when it was disconnected from Kezar inside the park.
I long presumed that if asked, SFPD would just say that they illegally commandeered the park land for parking because its parking lot doesn't suffice, and that the Recreation and Parks Department condones it. Now that Park Station has a new captain, I decided to finally ask for the answer. It turns out my presumptions were only mostly right.
Raj Vaswani, the Park Station captain since June, said the path is actually blocked to protect bicyclists from police drivers.
Officers driving cruisers had some "very close calls with bicycles/skaters because of the way that lot/path's location created a danger to the bicycles," Vaswani wrote in an email. "As officers pass that fence threshold, if someone is riding a skateboard/bike, by the time the front of the car creeps out to view the path they are in danger of hitting the police car exiting."
So, SFPD barricaded the path with parked SUVs to separate bike traffic from the fence, so that bikes are visible to exiting drivers, according to Vaswani. Apparently, this problem only emerged in recent years.
Pedestrians can still squeeze past the police vehicles, but Vaswani said the intent is to block bicyclists and skateboarders, who don't appear to be allowed on that side of the path anyway: Only the path continuing on Kezar has markings that indicate a shared bike/ped path.
"Those vehicles are not there for storage, actually we have room in the back and our lot," Vaswani wrote in an initial email, referring to the over 300 spaces in Rec and Parks' adjacent Kezar Stadium parking lot.
But when I followed up with a question about the private autos stored on the would-be grass patch, given that Vaswani said "we have room," he responded by saying that they don't have enough room for the private cars of officers and staff at the station:
We have all officers park outside of the gate because inside the gate we can hold mostly marked/unmarked police cars. This station was designed as a police stable / small station back in 1910, we now have over 96 employees that work out of Park District. There was a budget request for long term capital improvement project to expand the lot, but some of those projects are on a 10 year facilities plan. We have coordinated w/ Parks & Rec to allow us to use that unimproved area for officers vehicles.
Recreation and Parks spokesperson Connie Chan confirmed the agreement.
Let us know in the comments what you think -- is the path blockage warranted?
Meanwhile, Vaswani can celebrate the "Park" in Park Station's name by moving the private cars off the grass and into the existing lots. We sure don't need more of Golden Gate Park to be paved over for parking lots.
Aaron was the editor of Streetsblog San Francisco from January 2012 until October 2015. He joined Streetsblog in 2010 after studying rhetoric and political communication at SF State University and spending a semester in Denmark.
Stay in touch
Sign up for our free newsletter