Bicycle Safety
San Jose Candidates Campaign at Bike Party, Bike Life Festival
3:30 PM PDT on October 1, 2014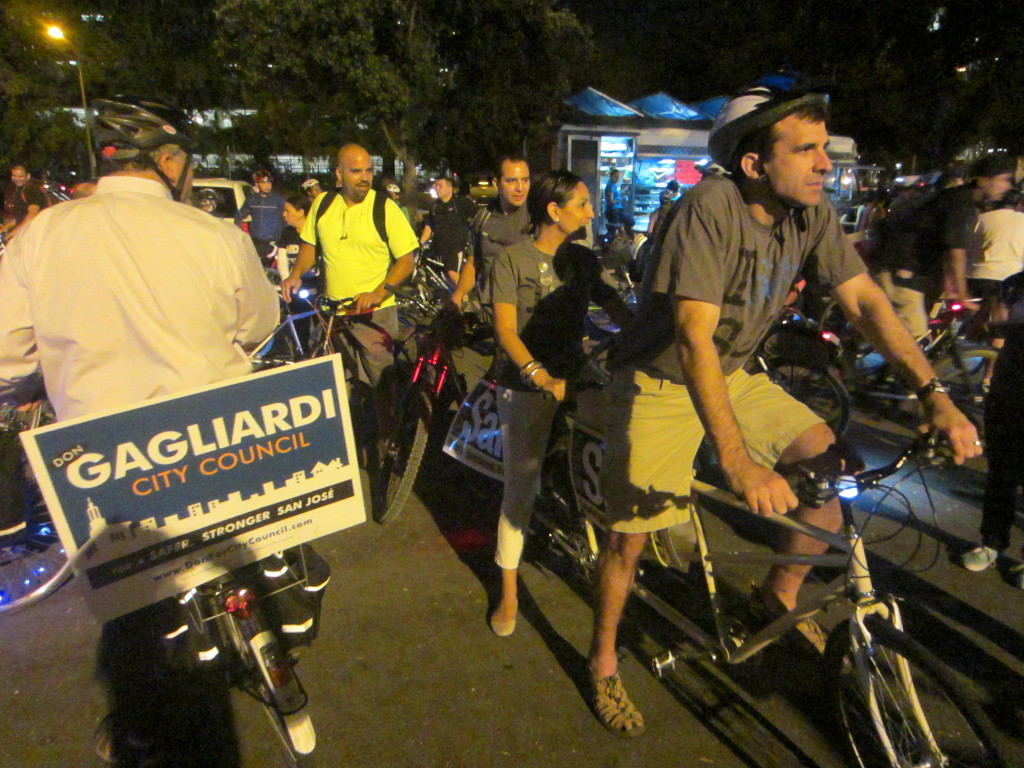 Mayoral candidate Sam Liccardo and District 3 City Council candidates Don Gagliardi and Raul Peralez all sought to demonstrate their support for improving cycling conditions in the state's third-largest city at both September's San Jose Bike Party and the inaugural San Jose Bike Life Festival.
Gagliardi and Liccardo both spoke briefly to the over 2,000 bicyclists gathered in the ample County Government Center parking lot ahead of San Jose Bike Party's 18-mile "Science Ride 2" on September 19. Both candidates presented themselves as leaders who have defended, and will continue to promote, innovative bicycle infrastructure like the green buffered bike lanes installed on Hedding Street in June 2013, along the ride's route.
"I'm the candidate who doesn't just talk the talk, I ride the ride," said Don Gagliardi, who says that he often talks up better bike infrastructure, even to voters who complain to him that new buffered bike lanes have slowed car traffic downtown. "I tell them: I'm sorry, I'm for the bike lanes because that's our future."
"There's a lot of antipathy out there for bicyclists," continued Gagliardi. "The way we meet that, is bicyclists get political consciousness... and you vote for candidates that support you, and that ride the ride."
Mayoral candidate Sam Liccardo pointed to Hedding Street's buffered bike lanes, which the San Jose Mercury News has repeatedly criticized since their installation last year.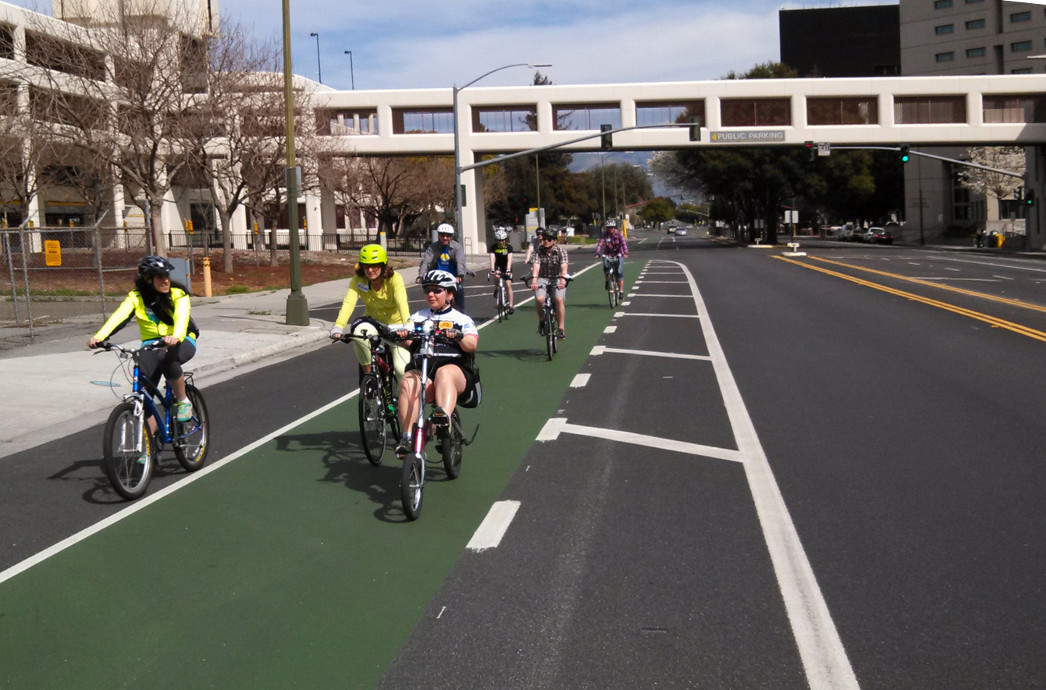 "There are lots of people who criticize [Hedding Street's] bike lanes, including my opponent, Dave Cortese," said City Council member and Mayoral candidate Sam Liccardo. "I hope you'll support those elected officials who have the courage to push for more bike lanes, more trails… more bike infrastructure."
In a January 15 KLIV radio interview (MP3), Cortese said about Hedding Street that "taking away lanes in a city that's already heavily congested, in terms of traffic impact, is generally not a good idea," angering traffic safety advocates who say that such projects will reduce collisions and injuries on San Jose's many wide arterial streets. Cortese later clarified via email that he supports lane reduction projects to improve safety, but that "traffic engineers need to go back and figure out what's going on with the congestion on Hedding Street."
A new "Bike Life Festival," organized to "bring together all our friends in the bicycle world to give birth to a platform that will showcase bicycles as an accumulative culture," drew about 40 cycling-related local businesses, cycling clubs, and non-profit groups to Saint James Park in downtown San Jose on September 21.
Raul Peralez, running against Don Gagliardi for San Jose's District 3 City Council seat, set up a booth at the festival to introduce himself to voters.
"We engaged in conversations about buffered bike lanes and the [proposed] sidewalk bike ban, public safety, and homelessness in San Jose," said Peralez, who declared that he would try going car-free for a month if elected.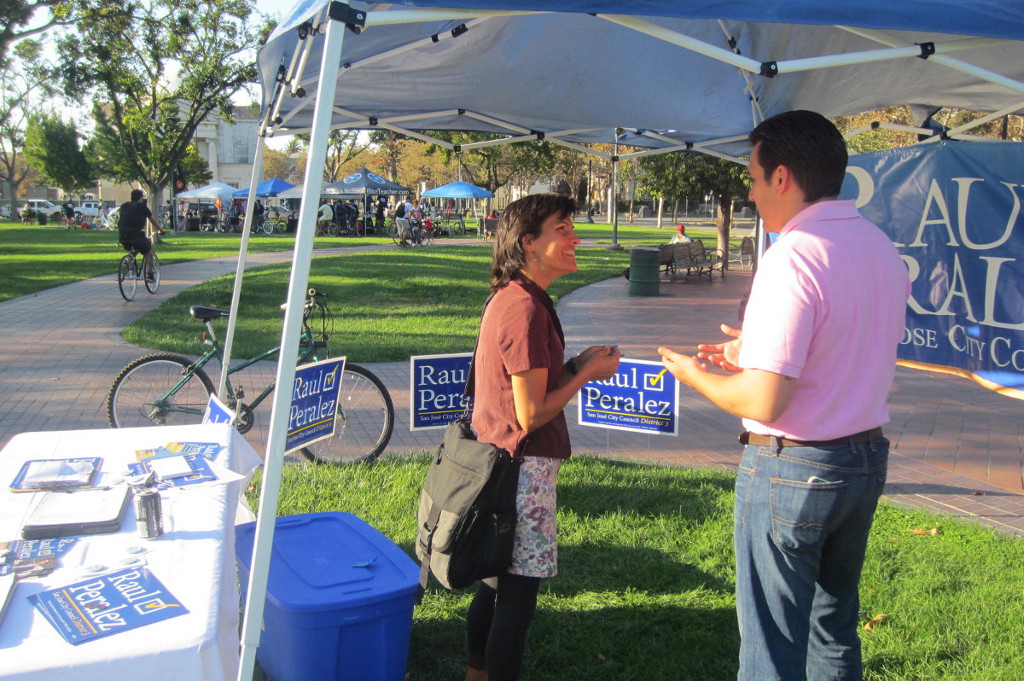 "As council member, I will highlight the benefits of cycling by dedicating one month of my first year to using only public transportation and bicycling," stated Peralez. "In addition, I'll propose that the city partner with the bike community and host bicycle safety classes, so that we can educate and encourage residents to not only ride their bikes, but how to do so safely."
San Jose's City Council is elected from ten single-member districts, with elections for the odd-numbered districts and the city's Mayor taking place this year. Magdalena Carrasco (District 5) and Donald Rocha (District 9) already won their seats on the council in the June 3 primary election by winning more than 50 percent of the votes cast, while Mayor and City Council members for Districts 1, 3, and 7  will be determined by voters on November 4. The deadline to register to vote is October 20.
Andrew Boone covers the Livable Streets Movements for Streetsblog in San Mateo and Santa Clara counties. Andrew's claim to fame is once having bicycled more than 12,000 miles of smiles in one year. nauboone@gmail.com
Stay in touch
Sign up for our free newsletter