Pedestrian Infrastructure
SF Officials Tout School Zone Safety Upgrades on Walk and Roll to School Day
6:25 PM PDT on October 9, 2014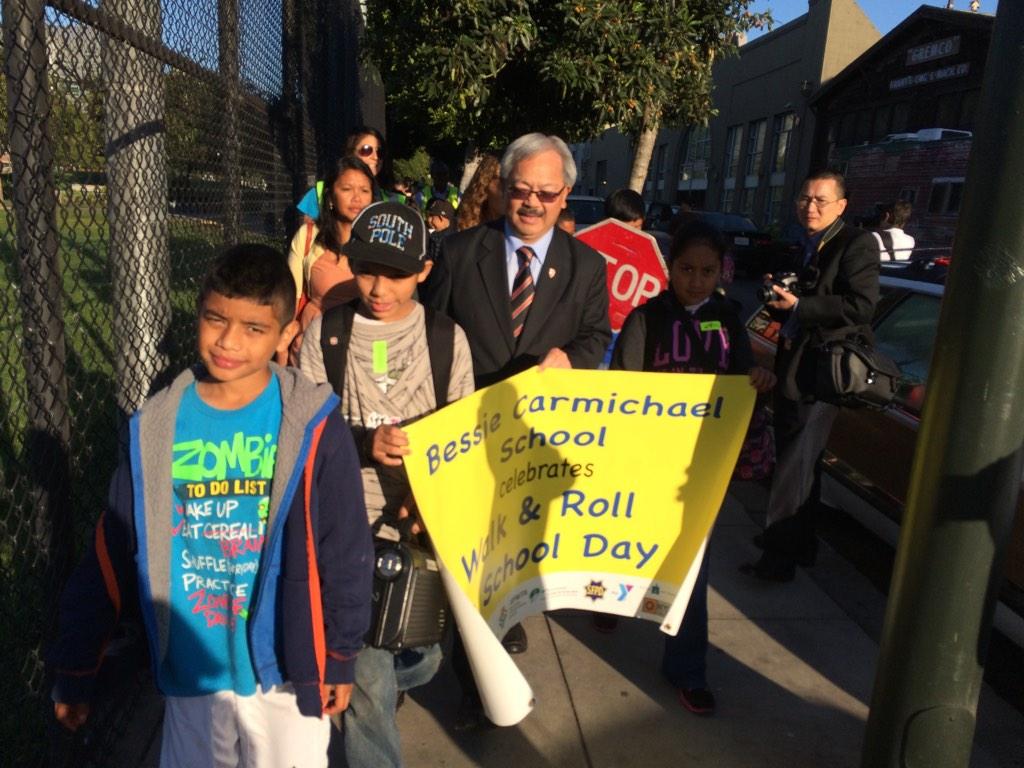 On another record-breaking Walk and Roll to School Day, Mayor Ed Lee and other city officials held a press conference to tout recently-completed pedestrian safety measures on streets surrounding Bessie Carmichael Elementary in SoMa, and three schools in the Avenues. Almost 90 schools and 14,000 children citywide were estimated to have participated in the event -- over 85 percent of SF Unified School District students.
"Today reminds us: children deserve to walk to school safely, not only on Walk and Roll to School Day, but every day," Walk SF Executive Director Nicole Schneider said in a statement.
Bessie Carmichael Elementary, located at Fourth and Harrison Streets next to a highway 80 on-ramp, is surrounded by some of the city's most dangerous, freeway-like streets.
"This is not just any kind of traffic on the streets. This is freeway traffic," said Fred Rutger, who said he's been injured three times by hit-and-run drivers during his eight years as an SFMTA crossing guard for Bessie Carmichael Middle School, located at Harrison and Seventh Streets, three blocks away from the elementary school and next to a different set of freeway ramps. Each driver who hit him had made an illegal right turn from a far traffic lane, he said. There are no signs telling drivers headed to and from the freeway that they're entering a school zone.
The SFMTA completed installation of 15 MPH school zones at 181 schools in 2012, but a Walk SF press release pointed out that "Bessie is one of a handful of schools in the city which do not qualify for slower 15 mph school zones, as state law precludes these slow zones on wide, fast streets where they're needed most."
Plans for a road diet on Sixth Street are in the works, and painted bulb-outs were recently added on street corners. The SFMTA also plans to add a signalized crosswalk at Sixth and Minna Streets this month, among other smaller improvements that don't have a timeline yet.
Rutger said he's been hit at Seventh and Folsom Streets, which he called one of the most hazardous intersections. The SFMTA recently re-timed traffic signals there to give pedestrians a head start, which could mitigate the danger somewhat, while students and parents wait for a more substantial transformation of the car-dominated intersection. Some pedestrian bulb-outs and daylighting are planned, but it's unclear when they'll come.
In a statement, Mayor Lee pushed Prop A, the $500 million general obligation bond to fund transportation improvements -- which was originally supposed to be on the ballot alongside a vehicle license fee increase until Lee abandoned support for it.
"Walk and Roll to School Day grows every year, as more and more families choose to walk, bike or take Muni to school," said Lee in a statement. "Whether they are in the Sunset District or in the heart of SoMa, we want every student to be safe when they are walking to school."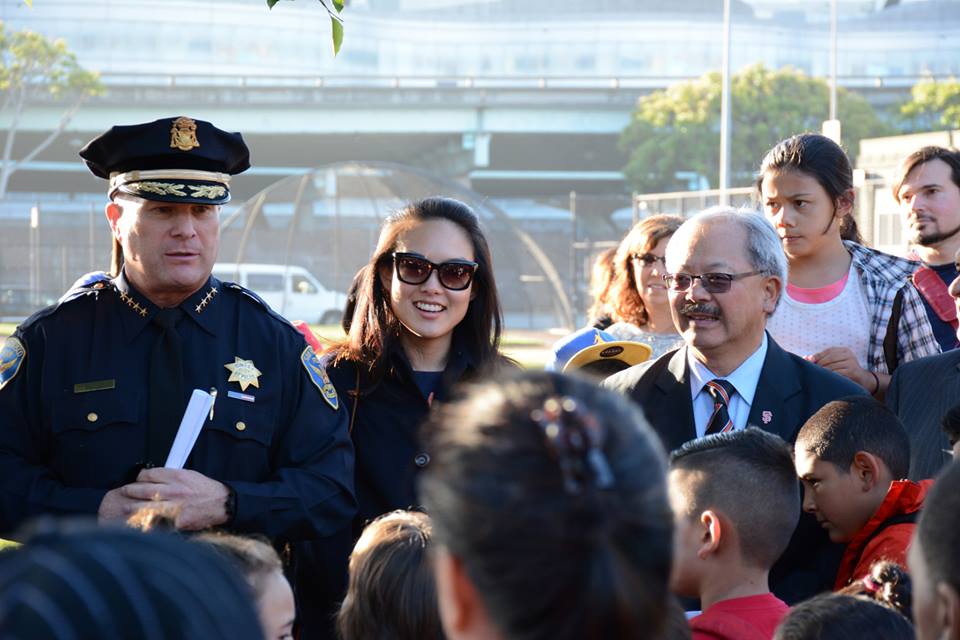 That's too often not the case. Last Friday, Aptos Middle School parents received a pre-recorded phone call to inform them that a student was run down by a hit-and-run driver at Ocean and Aptos Avenues in Ingleside. Police said the student was hospitalized for minor injuries.
Another Aptos parent, who declined to be named, told Streetsblog he and his daughter walked by the intersection just before the crash. He said he was told that the student ran across the street against the light, but police couldn't confirm that report.
"There had to be 100 or more students clustered around there, mostly around the traffic islands on both sides of the street waiting for Muni... the driver had to be aware of the great number of children, and should have been driving with extra caution," he said. "The trouble is that SFMTA has designated Ocean Avenue to be a traffic sewer. They do nothing to calm or slow down traffic."
The Planning Department is developing plans to spruce up Ocean east of Manor Drive, but there are no plans for safety fixes on the stretch near Aptos Middle School or nearby Commodore Sloat Elementary, which sits along Junipero Serra Boulevard, a short but wide suburban-style speedway. In March, D7 Supervisor Norman Yee and SFPD Chief Greg Suhr held a press conference to announce the start of a crossing guard program at Commodore Sloat.
In addition to the signal timing and school zone signs at Bessie Carmichael Elementary, city officials highlighted improvements, part of  Vision Zero, at three west side locations: Jefferson Elementary School, Sunset Elementary and AP Giannini Middle Schools, and West Portal Elementary.
At Jefferson Elementary at Irving Street and 18th Avenue in the Inner Sunset, six bulb-outs were added at intersections along 18th. However, no safety measures have been taken on 19th Avenue, the six-lane highway which seems to carry the larger danger. Caltrans has jurisdiction over 19th, which makes installing bulb-outs a bureaucratic headache for city agencies.
The improvements at Sunset Elementary and AP Giannini, two adjoined campuses which occupy four blocks on Ortega Street between 37th and 41st Avenues in the Outer Sunset, include bike lanes, three bulb-outs, three crosswalks with more visible markings, and five concrete islands intended to calm car traffic.
Streets around West Portal Elementary, at Dewey and Claremont Boulevards, received "five new traffic islands, leading to an enhanced traffic circle on Dewey Boulevard," according to a Mayor's Office press release. A speed hump and three bulb-outs were also recently added in the area.
At schools in outer, more car-centric neighborhoods, the danger often seems to come more from driving parents themselves than speeding freeway drivers. Either way, the onus for safety is often placed on children: schools are going so far as to use street simulators to teach young students how to not get hit by cars.
Walk SF blasted Governor Jerry Brown's recent veto of a bill that would have doubled fines statewide for speeding in school zones, and devoted the revenue to local Safe Routes to School programs. The bill "would have sent the message to drivers that children's safety is a priority," the organization said in its press release.
SFMTA Director Ed Reiskin issued a statement pointing to the agency's new "Safe Streets SF" ad campaign. "We will continue building partnerships with our city's schools, families, and communities to improve street safety in school zones," he said. "With nearly two-thirds of all pedestrian collisions caused by failing to give pedestrians their legal right-of-way, we want to be clear: All intersections are crosswalks. Whether it is a marked or unmarked crosswalk, please give the right-of-way to people walking."
Aaron was the editor of Streetsblog San Francisco from January 2012 until October 2015. He joined Streetsblog in 2010 after studying rhetoric and political communication at SF State University and spending a semester in Denmark.
Stay in touch
Sign up for our free newsletter