Pedestrian Safety
Committee Punts San Jose Sidewalk Cycling Ban to City Council
4:39 PM PDT on October 10, 2014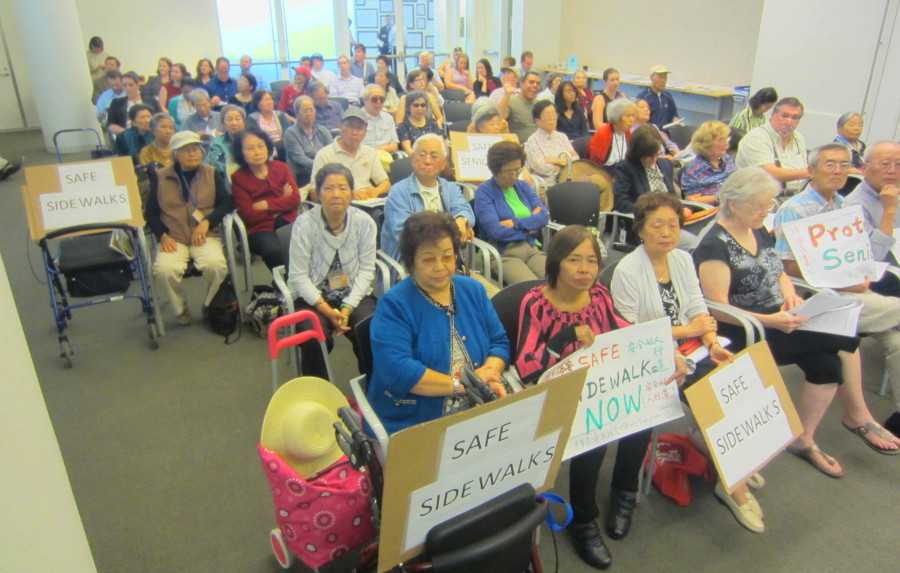 After hearing over an hour of public comments on Monday afternoon both strongly supporting and opposing a ban on cycling on sidewalks in downtown San Jose, the city's Transportation and Environment Committee chose not to recommend to the City Council any ordinance that would restrict sidewalk cycling. Seniors, speaking in favor of banning cycling on downtown sidewalks, far outnumbered younger residents, who urged enforcement against reckless cycling rather than an outright ban.
"This March, our friend Ms. Nee was walking in the morning and was hit by a bike, and she died the next day," said former Senior Citizens Commissioner Margaret Young, who also described a September 2013 incident in which another senior was hospitalized after being struck by bicyclist while waiting for a city bus. "I'm asking you to protect our seniors. Give us a safe sidewalk and a safe San Jose."
"The [Senior Citizens] Commission strongly urges an ordinance prohibiting bicycle riding on a defined section of the streets in downtown San Jose," said Chair Joyce Rabourn. "There are signs all over the place, 'Walk Your Bike', and they totally ignore it," complained downtown resident Ann Webb.
Despite the signs, San Jose's existing ordinance regulating sidewalk cycling does not prohibit it, but states instead that the operator of a bicycle shall, "upon approaching a sidewalk or the sidewalk area extending across any alleyway, yield the right-of-way to all pedestrians approaching on said sidewalk or sidewalk area," (San Jose Municipal Code 11.72.170).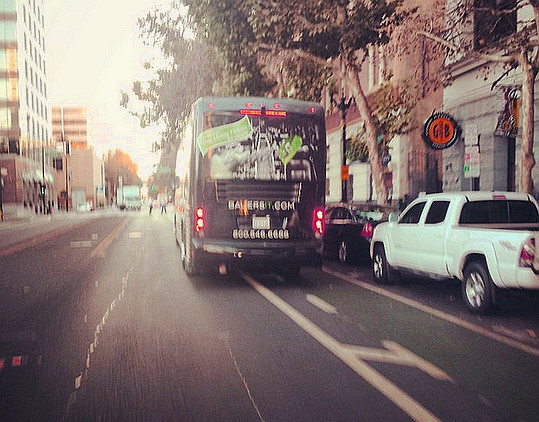 The ordinance, suggested by Department of Transportation (SJDOT) Director Hans Larsen, would prohibit anyone over age 12 from riding a bicycle on the sidewalks along a total of ten miles of city streets in the "Greater Downtown area." Most of those streets have bike lanes, except for busy Santa Clara Street, which has five lanes, no bike lanes, and no plans for bike facilities. The proposal would also set a citywide speed limit of 5 mph for bicycling on any sidewalk.
Opponents of the ban at the meeting agreed that fast bicyclists should ride in the street, but that motor vehicle traffic is a much greater hazard, and that a ban would punish bicyclists who ride on sidewalks to avoid unsafe traffic conditions.
"I've been hit while riding in the street three times by cars -- once I was in a bike lane," said downtown resident Melanie Landstrom. "It's dangerous to be shoving bikes into the street."
"Not all of the seniors we need to protect are pedestrians. Some of them are also on bicycles," said Silicon Valley Bicycle Coalition (SVBC) Executive Director Corinne Winter, who said both she and her mother occasionally use downtown sidewalks to avoid harassment from car drivers on busy streets. "There's a lot of people riding downtown respectfully. If you decide to go forward with punitive measures, that's not going to change behavior by itself," she said, urging the continued expansion of the city's bikeway network and education programs. Bike safety classes are available at some San Jose schools, but not on a regular basis for adult cyclists.
City officials spoke in favor of banning sidewalk cycling outright rather than just baning "reckless bicycling," as some California cities like Los Angeles and Long Beach have done -- and as SVBC recommends for San Jose.
"With the numbers of pedestrians that are on the sidewalk, even some bike riding does create an uncomfortable situation," said SJDOT Director Larsen, who pointed to Santa Clara Street's sidewalks as too narrow for people both walking and bicycling to safely share.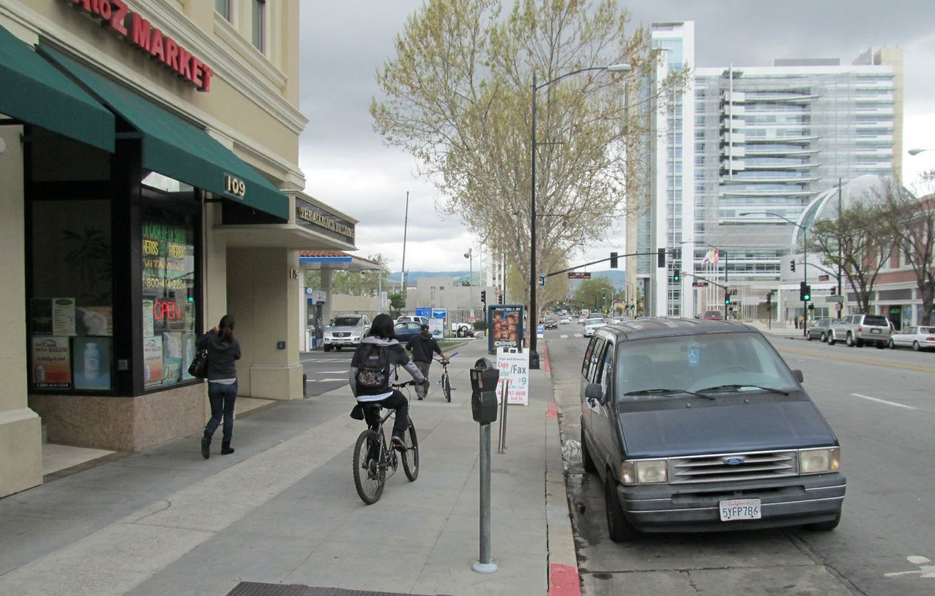 "In the last two years, we've added a significant amount of bike facilities. We're building a network," said SJDOT Deputy Director Paul Smith. "We could have a very targeted education campaign. If you live on the East Side and work on Santa Clara Street, you can come in on San Antonio and San Fernando, then you can switch over onto the block that you work on," he said, describing one of the city's lower-traffic, but less direct and generally slower, designated bike routes.
"For enforcement, the ban on the sidewalk [cycling] would be the easiest for us to enforce, given the resource constraints that we have right now," said Police Captain Anthony Ciaburro, who warned that regulating behavior by limiting speed or passing distance would be impractical. "In terms of reckless bicycle riding, that is very difficult to define."
Committee Chair and District 3 (downtown San Jose) City Council member Sam Liccardo supported banning sidewalk cycling on those downtown streets on which bike lanes have been installed, arguing that even bicycling slowly presents a hazard to pedestrians on narrow sidewalks -- which will become increasingly crowded as downtown development continues.
"I think there's one thing we all agree on here: that we need more on-street facilities for bikes," said Liccardo, who pointed to SJDOT's bicycle traffic data showing that over 80 percent of those cycling on San Fernando Street choose its buffered bike lane over the sidewalk. "One of the most important factors in dense urban environments is that you have zero setback of buildings from sidewalks," he said, explaining that people exiting storefronts are stepping out directly into bicycle traffic. "Portland and Davis do have sidewalk bans, those are very bike-friendly cities. But where there's density and a lot of cyclists... there's a reason to actually say we're going to preserve sidewalks for pedestrians."
Vice-Chair Rose Herrera agreed that a ban on cycling on sidewalks paralleling bike lanes, as well as a very low speed limit for cycling on sidewalk city-wide, would be a "reasonable course of action." Committee members Xavier Campos and Donald Rocha were unwilling to endorse the proposal, citing concerns with traffic enforcement priorities, and the potential for a ban to lead to profiling of cyclists by police.
"There's a lot of folks who are concerned that they're being stopped for nothing, and I think this increases the opportunity to do that," said Campos. "I know my constituents, and that would be one of their main concerns -- especially with the immigrant community."
"I've noted reckless driving and people running red lights, too. We see reckless behavior all around us," said Rocha. "What I'm concerned about is that, to address the [pedestrian safety] issue, what that might actually cause is more accidents with bicyclists who are in the street."
SJDOT's proposed downtown sidewalk cycling ban and city-wide restrictions have not yet been reviewed by the Bicycle Pedestrian Advisory Committee or the City Council, and meetings for such review have not yet been scheduled.
Andrew Boone covers the Livable Streets Movements for Streetsblog in San Mateo and Santa Clara counties. Andrew's claim to fame is once having bicycled more than 12,000 miles of smiles in one year. nauboone@gmail.com
Stay in touch
Sign up for our free newsletter