Livable City
Commentary: Why SF Housing Props G and K Matter for Smart Growth
5:29 PM PDT on October 29, 2014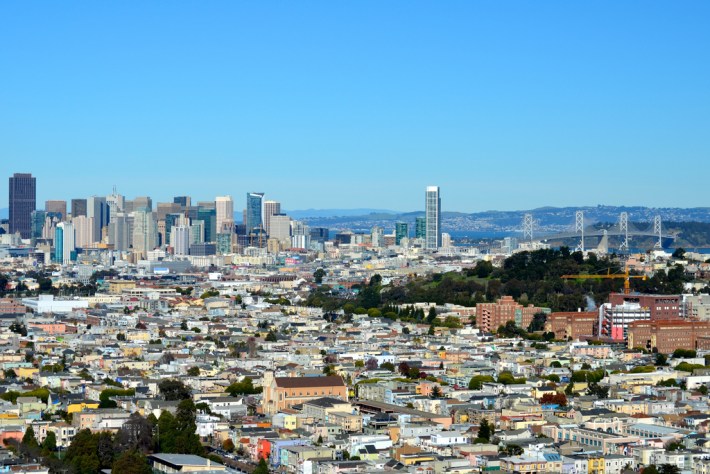 Editor's note: This is a guest op-ed authored by Urban Habitat, the Council of Community Housing Organizations, and Livable City tying sustainable transportation to two housing policy measures that will be put to voters on Tuesday. It does not necessarily reflect the views of Streetsblog.
Smart Growth at a Crossroads: It's time to stand up for our true values, vote YES on Propositions G & K
We have known for a long time that urban development is at a crossroads. By all ecological and social measures, the car-oriented model of suburban expansion is no longer tenable. We know that we must re-orient regional development toward compact, diverse, human-scaled urban neighborhoods built around robust public transit: we must return to the City and its neighborhoods as the model of future sustainable development.
Cities like San Francisco are at the heart of this model, as we build out abandoned train yards and shipyards, as we "infill" old gas stations and parking lots, build up along one-story commercial corridors, and rebuild our public realm of transit, streets, sidewalks, parks and recreation spaces. We call this "Smart Growth."
The beauty of this model is that it does not pave over our greenbelts and farmlands, but rather protects them, by reinvesting in urban centers that our economic development models ignored for over half a century, and reinvigorating them as vibrant neighborhoods that can, as the charter of the Congress for New Urbanism states, "bring people of diverse ages, races, and incomes into daily interaction, strengthening the personal and civic bonds essential to an authentic community."
But we also know that this path is fraught with dangers: the gentrification of hip urban neighborhoods, the displacement of long-term renters, seniors, neighborhood-serving businesses, and blue collar jobs, and the struggles over who can claim and occupy "the public realm." The vision of a diverse and vibrant City, the ideal of "City air makes you free," as they used to say in the European Renaissance, is threatened by the very same market forces that are once again reinvesting in the City.
As our movement has matured over the last two decades and we've been able to reflect on the results, studies have shown the link between public investment in transportation and the influx of luxury developments and high-income newcomers that push out the working-class and immigrant communities who have called these neighborhoods home for generations. This is a troubling unintended consequence of the Smart Growth vision we all aspire to.
Ironically, the failure to maintain and expand genuine mixed-income developments and prevent displacement undermines the very environmental sustainability and climate change goals so often championed by Smart Growth advocates. The attraction of San Francisco and other cities as centers of innovation, and the excitement that comes with moving to an urban scene, also come with the costs of real estate speculation that drives up housing costs and drives out existing communities.
It is not "smart growth" to have other people's lives as collateral damage of the real estate industry capitalizing on our desire to live and work in the City. Jane Jacobs' The Death and Life of American Cities, a major source of inspiration for the Smart Growth movement, envisioned ideal city environments as exciting, diverse, affordable, and equitable places. She also emphasized the need for affordable housing, and warned against the loss of diversity and the erosive effects of 'cataclysmic money'.
If we are to do this right, if we are to continue to infill, densify, and invest in our cities without displacing those who already live there or making it unaffordable for any but the wealthiest, we must put in place protections for those who live here and the means for developing a housing balance that is truly affordable to all. This November, we have a chance to vote for two measures that are critical steps toward that: Proposition G, the anti-speculation tax, and Proposition K, the housing balance.
As advocates for compact, livable urban communities, we believe that the principal means of developing transit-oriented communities is to build mixed-income infill housing, not to cannibalize our existing housing by evicting residents and replacing them with higher income residents. But in San Francisco (and in "hot" urban places around the world), that is exactly what is happening, and will continue to happen unless we implement strong anti-displacement controls.
Currently, most evictions in San Francisco happen within the first few years of a new owner buying a small apartment building, with the intention of evicting the tenants and selling off the individual units at a huge profit. This speculation on apartment buildings, evicting and flipping units, is one of the factors at the heart of San Francisco's current housing crisis, driving up rents and sales prices. Proposition G aims to discourage this behavior by imposing a purposely stiff graduated transfer tax on all sales of multi-family apartment buildings, starting at 24% of the sales price for resales within the first year, and stepping down to zero at year five. It is narrowly crafted to stop the evictions due to rental building flipping, so it does not apply to single-family homes, condominiums, or any unit that is actually owner-occupied, or even to in-law units, only to the two-to-thirty unit buildings where these evictions are prevalent. Proposition G is key to saving the diversity of our neighborhoods and the urban vitality that is critical to the urban renaissance our Smart Growth movement wants.
Proposition K is another side of the same coin. If we are to build new housing and infrastructure for a livable and sustainable City, we must take into account the needs of future generations, at all income levels. In California, our regions and cities are required to assess population needs by growth in jobs at different income levels, and plan for housing adequate for everyone. Our cities routinely fail to meet these housing diversity goals. While the Bay Area has recently seen an enormous growth in high paying jobs, particularly in the technology sector, we also know that for every high paying job, another five jobs are created at all other income levels, from restaurant workers and house cleaners to accountants and school teachers.
At its simplest, if the median income represents a point where half the people earn less than the median, then it follows that we should be building half of our housing affordable to those earning below the median. And we also know that "the market" cannot deliver housing that is affordable at those levels – if we are to provide it, it must be built as a combination of housing provided by the public and nonprofit sectors, and as inclusionary requirements built into market-rate housing. So it is imperative for a sustainable future that we build a housing balance into every new development and every neighborhood. Proposition K is a good start, that compels the City to build at least 33% of new housing affordable up to the median income. It is not where we ultimately need to be—in a truly livable and sustainable future, the City will fully meet its Housing Element goals for 62% of housing production to be below market rate—but it is an achievable incremental step toward getting there.
Without a firm grasp on combating displacement, preserving and enhancing what is best about our existing neighborhoods, and a strong linkage between Transit-Oriented Development and an affordable housing balance, we risk having our dreams of smart, sustainable development, and a vision for a new urban America, becoming an exclusive dream for the very few. And where would those evicted—the poor, the immigrants, the seniors, and the students—live in that kind of future? In the Bay Area, that means in far flung suburbs like Antioch and Tracy, many commuting into the City on clunky (non-hybrid!) cars, to work the service jobs that will continue to be needed here. That is not sustainable, and that is not the dream we want.
The wave of newcomers moving to San Francisco, and we, their allies in the environmental, transportation, and planning worlds throughout the Bay Area, have an obligation to promote a vision of Smart Growth that's consistent with our stated principles of diversity. One that protects people from being displaced, and ensures that everyone benefits from an economically prosperous city. But we all can only do this by standing strong and speaking out in support of public policies such as Propositions G and K before the election, and asking our supporters to VOTE YES.
Bob Allen is Urban Habitat's policy and advocacy campaign director. Peter Cohen and Fernando Martí are the co-directors of the Council of Community Housing Organizations. Tom Radulovich is the executive director of Livable City.
Stay in touch
Sign up for our free newsletter