Bus Rapid Transit
SamTrans Plans For Rapid Buses on El Camino Real, Just Not Anytime Soon
2:15 PM PST on December 3, 2014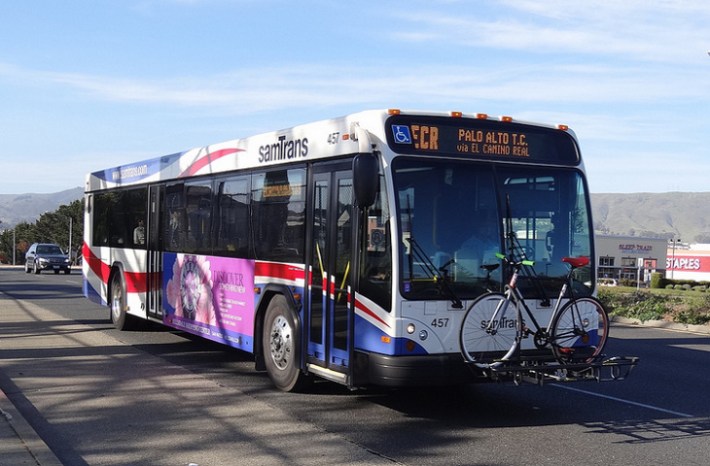 Last week, SamTrans released its first study of potential Bus Rapid Transit (BRT) service along El Camino Real in San Mateo County, from Daly City to Palo Alto. BRT could reduce travel times for bus passengers by up to 25 percent thanks to express skip-stop service and transit signal priority. Faster bus service would attract 3,100 to 5,600 more riders by 2020, depending on how much additional bus service is added.
But adding new service would cost money -- anywhere from $5.7 million to $10.3 million annually -- and without any additional operating funds, SamTrans isn't expected to launch such express bus service anytime soon.
In the meantime, the transit agency will set the stage for faster buses by pursuing $2.4 million in capital grant funds for transit signal priority. If implemented, that will allow buses to extend the green phase of 120 traffic signals along El Camino by a few seconds, avoiding delays for bus passengers.
"We would love to get the traffic signal priority in for the existing ECR route," said SamTrans planner Barrow Emerson. "What it does is really improve the reliability of a bus service, because you're staying on schedule."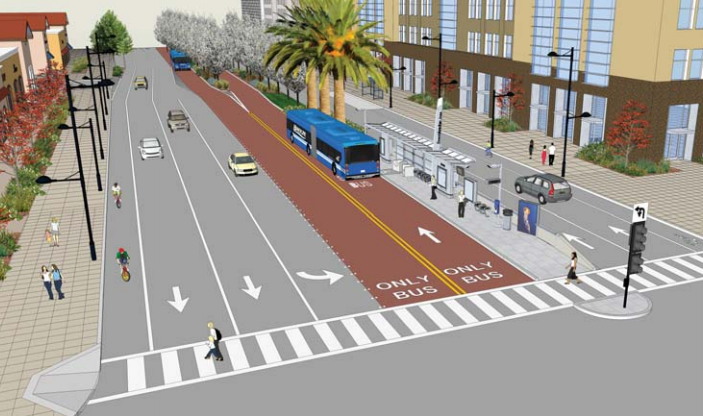 The study, conducted by Emerson over the past year, also included an analysis of a long-term "Full BRT" scenario, including dedicated bus lanes and enhanced bus stops with level boarding and similar to proposals from other transit agencies in the San Francisco Bay Area.
Full BRT would slash trip times by another 25 percent, on top of the savings provided by express skip-stop service. Only 11 miles of bus lanes were included in the scenario, keeping at least four lanes for car traffic along all of El Camino Real. Ridership would reach 34,000 each weekday by 2040 under this scenario, and building dedicated bus lanes and enhanced bus stops would cost about $150 million.

The number of passengers choosing SamTrans Route ECR (for "El Camino Real") has risen steadily from just over 11,000 to nearly 13,000 each weekday ever since the route was created by combining two existing routes in August 2013. This doubled frequency from every 30 minutes to every 15 minutes, improved on-time reliability, and simplified passengers' trips, since every bus serves every stop along the 27 miles of El Camino between Daly City's BART station and the Palo Alto Caltrain Station.
SamTrans officials cited an improving economy and an overcrowded Caltrain as other reasons for ECR's recent growth in ridership. "Caltrain is now reaching capacity in the peak commute hour, so people are looking for an alternative if they've got a shorter distance to travel," said SamTrans and Caltrain communications manager Jayme Ackemann.
The BRT study anticipates weekday ridership on Route ECR to grow by roughly 600 every year thanks to new development along El Camino, and even without service improvements would reach 16,600 passengers by 2020. An "ECR Rapid" express service stopping only at 37 high-activity bus stops between Daly City and Palo Alto could reduce bus trip times by up to 25 percent compared to today's ECR bus, which serves just over 100 stops in each direction and averages a leisurely 11 miles per hour.
"In the immediate, near-term future, we don't have the money to do this," said Emerson of express bus service and dedicated lanes for buses. "We'll keep this on our radar, watch our financial situation, and see if anything changes."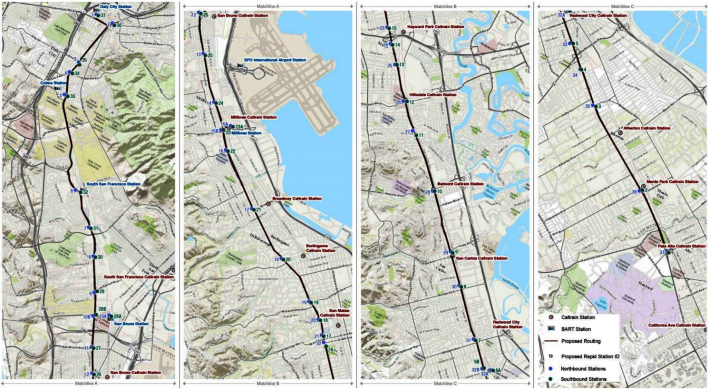 Muni, AC Transit, and VTA have all operated "rapid" skip-stop bus service, similar to what SamTrans is analyzing, for many years. They also plan to phase in implementation of Bus Rapid Transit on many of those lines, including dedicated bus lanes.
In 2005, the Valley Transportation Authority introduced Rapid 522, along the 19 miles of El Camino from Palo Alto to downtown San Jose within Santa Clara County. Rapid 522 buses stop at only 32 of the 147 bus stops (in both directions) served by the local 22 bus, cutting trip times by 20 to 25 percent during rush hour. The combined weekday ridership on VTA's local and express buses along El Camino Real in 2013 was 12,500 passengers, about the same as for SamTrans' ECR.
VTA is now constructing dedicated bus lanes for its 522 buses for the section of the route running through eastern San Jose, and will seek approval for new dedicated bus lanes on El Camino Real next year. The dedicated lanes will make travel times faster and more reliable, especially at peak hours. AC Transit and Muni are also pursuing full BRT services on some of their existing express bus routes.
Andrew Boone covers the Livable Streets Movements for Streetsblog in San Mateo and Santa Clara counties. Andrew's claim to fame is once having bicycled more than 12,000 miles of smiles in one year. nauboone@gmail.com
Stay in touch
Sign up for our free newsletter