Mayor Ed Lee
Are Mayor Lee, SFPD, and SFMTA Serious About Ending Hazardous Parking?
7:54 PM PST on December 4, 2014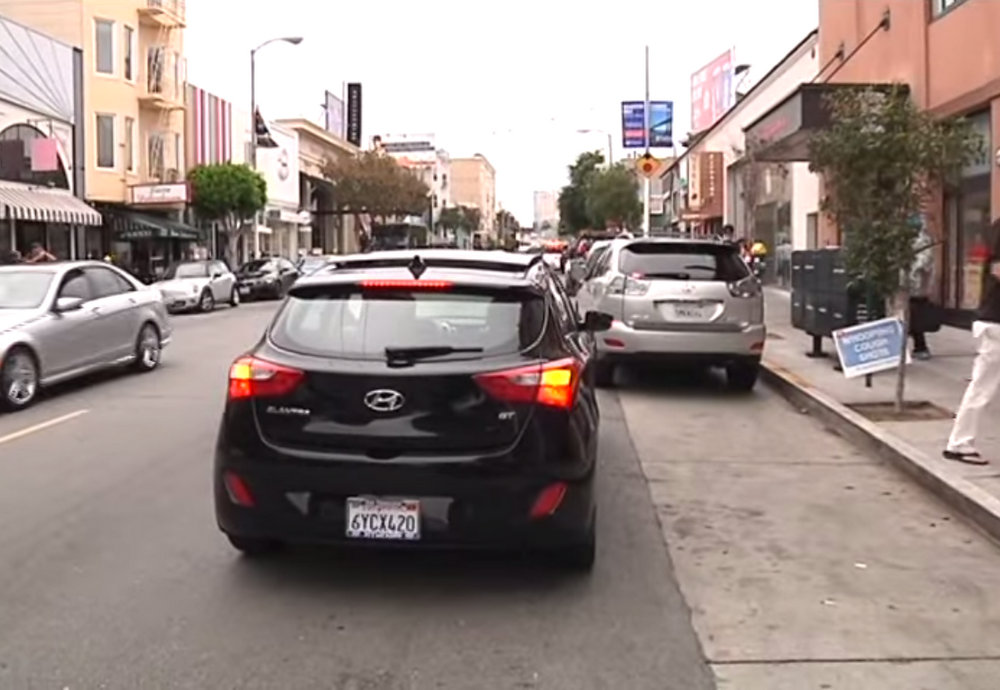 Mayor Ed Lee, along with the heads of the SFPD and SFMTA, vowed yesterday to crack down on double parking and "box blocking" as part of broader "Congestion Management Strategy to improve traffic flow and safety."
It's a big promise, upending SF's history of lax enforcement towards parking violations that routinely make streets more dangerous and snarl transit. So it remains to be seen: Are city leaders really committed to a sustained crackdown on motorists who illegally disrupt streets for their personal convenience? Or will SF merely witness another short-lived gimmick that will falter once police and parking control officers return to their blind-eyed ways?
Targeted enforcement against drivers who block chronically-plagued SoMa intersections was among an array of enforcement and bureaucratic reform efforts that Lee announced. For some reason, drivers haven't been regularly ticketed for this in decades. But now, "There will be no tolerance of blocking the box," Lee told reporters. "Those that do will face the hefty fines already on the books."
At the press event, held to inaugurate the SFMTA's new Transportation Management Center, Lee also warned double parkers: SF is "a city where some actors and actresses in their vehicles, or in their delivery trucks, seem to think that double parking is helpful to themselves -- yet [don't] understand the impact."
But double parking with impunity is "part of San Francisco's history." That was actually declared at a supervisors hearing last year by Lea Millitello, then the SFMTA's director of security, investigations, and enforcement, and previously an SFPD lieutenant. Specifically, she was referring to double parking at churches on Sundays, but everyday experience shows that the exemption extends to everywhere and every day.
So it's clear that the mayor, SFMTA Director Ed Reiskin, and SFPD Chief Greg Suhr will have to do more than just flip a switch to overhaul the prevailing culture among drivers and enforcement officers, who typically just shrug at each other when a car stops cold in a bike lane, transit lane, intersection, or sidewalk.
SFMTA and SFPD will increase traffic enforcement by at least 50 percent, and target "problem areas," the SF Chronicle reported. Reiskin said in a statement:
Smart, data-driven, targeted efforts to reduce congestion in San Francisco can make it easier and smoother for people to get around the City. These efforts will also help us make Muni more reliable, and help us reach our long-term goals – to achieve Vision Zero, and to make transit, bicycling, car share, taxi, and walking great ways to get around San Francisco.
Statements from Reiskin, Lee, and Suhr framed the effort as part of Vision Zero. "Crossing a street should never be a 'life or death' decision," Suhr said, telling the Chronicle that the efforts would target both private auto drivers and delivery drivers.
The mayor has also targeted construction contractors as a major source of SF's traffic congestion woes. A mayor's office press release promised "better construction permitting" and "double staffing in construction inspection, to ensure that developers and construction companies comply with the terms of their permits, and do not block any more lanes, bus stops, or parking spaces than they are permitted to." The release also touted better real-time monitoring and management of traffic signals and transit at the SFMTA's new center.
These all sound like promising steps toward reducing traffic congestion, which appears to be declining anyways. Perhaps the announcements are a sign that, after voters' recent passage of Muni-funding Prop A and rejection of cars-first Prop L, Mayor Lee is less inclined to pander to the purported mob of drivers demanding free parking, and more willing to condemn illegal parkers -- and not just the ones that block his car. Then again, a crackdown on construction contractors, who mostly occupy parking lanes, does seem mostly geared toward the same crowd.
In any case, Supervisor Scott Wiener -- City Hall's biggest advocate of double parking enforcement -- seems pleased, while others say we've got a long way to go:
@Scott_Wiener @StreetsblogSF @sfbike @walksf Stricter??? I wasn't aware of ANY enforcement. I moved from NYC, SF is a joke traffic wise.

— monkeyette (@monkeyette) December 4, 2014
@Scott_Wiener @StreetsblogSF @sfbike @walksf I'll believe it when they start towing cars double parked at churches on Sunday mornings.

— PreciousBodilyFluids (@NotDellaStreet) December 4, 2014
Aaron was the editor of Streetsblog San Francisco from January 2012 until October 2015. He joined Streetsblog in 2010 after studying rhetoric and political communication at SF State University and spending a semester in Denmark.
Stay in touch
Sign up for our free newsletter