Bicycling
In Civil Court, Specious Claims Used to Defend Trucker Who Killed Le Moullac
5:19 PM PST on December 19, 2014
The attorney representing the truck driver who killed Amelie Le Moullac while she was riding her bike now says she was to blame because she was wearing earbuds at the time.
Even though the SFPD clearly faulted Gilberto Alcantar for killing Le Moullac at Folsom and Sixth Streets in August 2013, District Attorney George Gascon declined to file charges, and the trucking company that employed Alcantar is fighting a wrongful death lawsuit in civil court.
As reported by KQED's Bryan Goebel (Streetsblog SF's first editor), the attorney defending Alcantar and Daylight Foods, his employer, is using the same victim-blaming false claims that an SFPD sergeant made. The defense attorney also asserted that Le Moullac was to blame for her own death because she was biking with earbuds, even though a witness countered that claim:
In his opening statements, Alcantar's attorney, Brent Anderson, alleged Le Moullac was wearing earbuds and was distracted. A photo displayed in court showed a piece of Le Moullac's helmet found at the scene tangled in what Alcantar's attorney said were earbuds.

That allegation was disputed by [a] Muni driver, who testified the helmet was "intact" and Le Moullac did not have any buds in her ears.

Anderson claimed the truck slowed to 7 mph before turning onto Sixth Street, and alleged Le Moullac was riding "two times as fast" and "caught the truck, and was passing it on the right, while the truck was making a right."

"Those were the choices that she made," Anderson told jurors. "We think it is unfair to blame Mr. Alcantar for this accident."

Anderson said bicyclists have an "obligation" to pass on the left of a right-turning vehicle, which is good safety advice but not actually the law, according to the California Vehicle Code.
Once again, the SFPD already determined that Alcantar made an illegal right turn in front of Le Moullac -- a clear violation of the law. The Le Moullac family's attorney also claimed Alcantar didn't use a turn signal, though Anderson disputed that.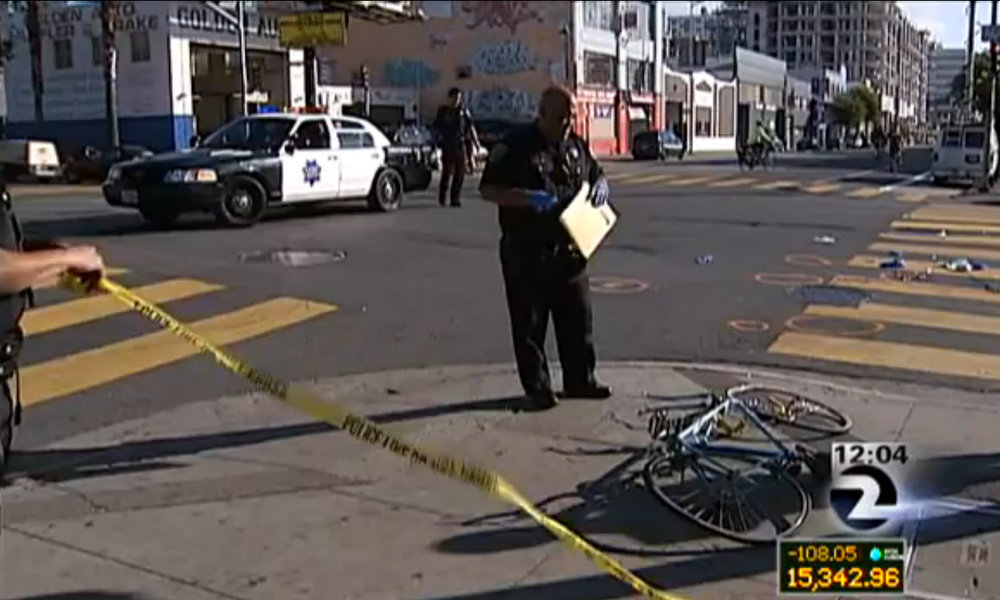 It appears impossible that Le Moullac could have passed on the left, since Alcantar apparently cut her off to make the turn. As Bike East Bay instructor Robert Prinz put it, "Would a car driver be expected to yield to another driver turning right across their path from one of the middle lanes? The same situation applies for bikes."
"She didn't have a chance. It was unavoidable for her -- but very avoidable for Mr. Alcantar," said William Veen, the attorney for the Le Moullac family, according to KQED.
The earbud argument is especially specious. Whether or not Le Moullac was wearing earbuds, the video made it clear that Alcantar was guilty of violating her right of way.
The desperation of the claims used to defend Alcantar in this situation emphasizes how badly the legal system fails victims like Le Moullac, given that charges were never brought in such an egregiously clear case. Instead, the cards are stacked in favor of absolving lethal and law-breaking drivers, and pinning the blame on vulnerable users instead.
As the Le Moullac family's attorneys told KQED, a civil lawsuit is "their last chance for justice."
Aaron was the editor of Streetsblog San Francisco from January 2012 until October 2015. He joined Streetsblog in 2010 after studying rhetoric and political communication at SF State University and spending a semester in Denmark.
Stay in touch
Sign up for our free newsletter