Gentrification
Gentrification Fears Threaten to Derail Mission Street Improvements
5:58 PM PST on January 22, 2015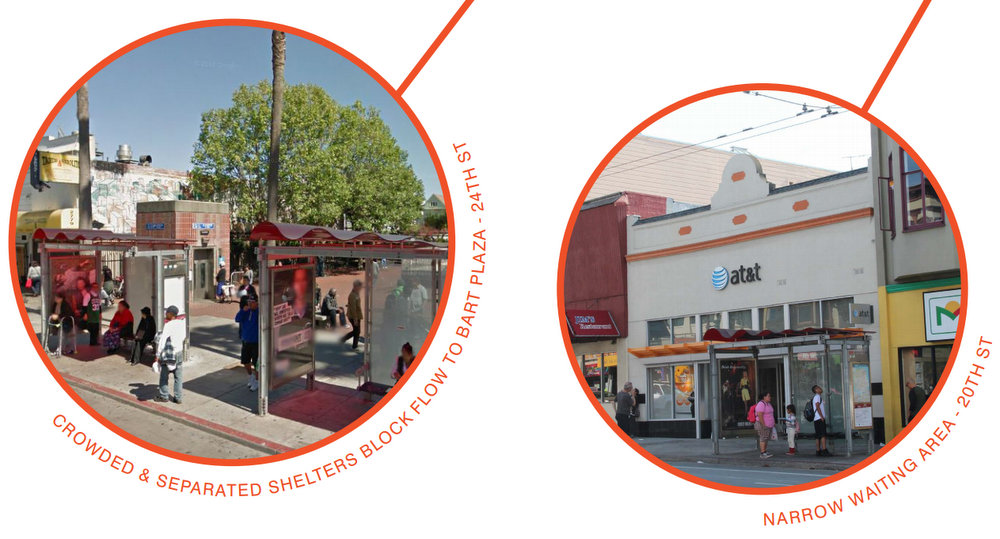 Mission District residents who equate streetscape improvements with rising rents dominated a community meeting discussion yesterday about public space upgrades along Mission Street.
It was the Planning Department's latest public meeting about its Mission Street Public Life Plan, an effort to envision Mission Street "as a vital transit corridor with art, commerce and new public spaces for people to enjoy," encompassing Mission outside of downtown (from South Van Ness Avenue to Randall Street).
The plan would complement other efforts from the SFMTA to convert two traffic lanes into Muni-only lanes and install bulb-outs to improve pedestrian safety and streamline bus boardings. But residents who spoke up in the question-and-answer session seemed to fervently oppose any upgrades, especially beautification efforts like trees and art that helped transform nearby Valencia Street years ago.
Trees, benches, and other sidewalk amenities were blamed for the skyrocketing rents, evictions, and demographic shifts in the neighborhood. Little distinction was made between those and upgrades for transit and pedestrian safety.
One resident, Tom Stolmer, called the streetscape plan a "thinly veiled effort to exploit the Mission into a theme park for Google."
"It's just another way to bring gentrification," John Mendoza of Calle 24, a group of Latino merchants and residents in the neighborhood around the 24th Street commercial corridor, told Streetsblog. "If they don't get it one way, they'll come in the back door. If they don't come in the back door, they'll come in the window."
Calle 24 President Erick Arguello said "people are now suspicious" of the city's agenda since planners hadn't previously launched street improvement efforts when residents pushed for them in past decades. When streetscape improvements started going in on 24th Street, he said it resulted in rising rents, leading Calle 24 to push for a halt to any street upgrade efforts. "We saw the buildings go up for sale, we saw the prospecting coming in," he said.
"We don't see it as the right time to do this," said Arguello. "We see anything that's going to draw development to the area as a threat -- any time we do any improvements to any street, whether it's bulb-outs or anything else."
"Our priority is to stabilize, protect, and preserve our corridor, the Latino cultural district, first," he added.
When asked if he would support only the bus-only lanes on Mission, Arguello said, "It doesn't just come with that. It comes with art, it comes with trees."
Last summer, Calle 24 successfully pushed to get 24th removed from the highly popular Sunday Streets route. Arguello told Streetsblog at the time that residents felt there are too many events held on the street, and that merchants no longer wanted to pay high permitting fees to serve food outside. Calle 24 also opposed sidewalk extensions on nearby Potrero Avenue because, Arguello said at the time, "I never see people on Potrero" and "parking is really important."
James Rojas, an urban planner who studies Latino neighborhoods and attended yesterday's meeting, said the gentrification fears about improving streets seem to be misplaced.
"The whole idea is to think about pedestrian safety and improving the public right-of-way," said Rojas. "Gentrification is going to happen with or without those improvements."
The most vocal speakers at the meeting didn't talk about streetscapes, but urged Planning Department staff to focus on efforts to ensure the tenancy of existing residents, and complained that their input seemed to be ignored.
In response, Ilaria Salvadori of the Planning Department's City Design Group told the crowd that the streetscape plan was specifically focused on public space, not housing policy.
After several attendees insisted that "the community" didn't want the beautification improvements, Salvadori said tree plantings and sidewalk improvements could be held off. "This plan was an opportunity to do more" than transit and pedestrian safety upgrades, she said. "If the community doesn't want to do more, we don't do more."
It's unclear how widespread the resistance to streetscape changes is, as even opponents argued that attendance at the meeting seemed somewhat sparse and not representative of the neighborhood's demographics. The Planning Department is still collecting survey results, though opponents complained that the questions were specific to the plan and didn't allow them to provide broader feedback.
Shirley Johnson, a Mission resident and bicycle advocate, said she felt too intimidated to voice her support for the Planning Department's efforts in the meeting discussion.
"I think people are concerned about rising rents, and that's understandable," she said. "But I think everybody deserves trees and nice things, no matter what neighborhood you're in. The neighborhood needs to be safe for pedestrians and safe for people walking down the street at night."
"Walking and public transit use are an important means of mobility for this community," Rojas wrote in an essay about how Mission residents use the streets. He continued:
The area is well served both by BART Rail and Muni buses. Its relatively flat topography makes walking easier than in most SF neighborhoods. This creates a flurry of activity from people walking to and from the public transit, Latinas pushing strollers, kids riding bikes and people walking to and from business. These mobility patterns impact and set the stage for the area's do-it-yourself economic and urban design patterns.
"How you enhance the public right-of-way is another process," Rojas told Streetsblog, "how you make sure the community really knows what's going on here."
Aaron was the editor of Streetsblog San Francisco from January 2012 until October 2015. He joined Streetsblog in 2010 after studying rhetoric and political communication at SF State University and spending a semester in Denmark.
Read More:
Stay in touch
Sign up for our free newsletter