Bicycle Infrastructure
Momentum Builds to Eliminate Dangerous Gap in SF Bay Trail
4:25 PM PST on January 29, 2015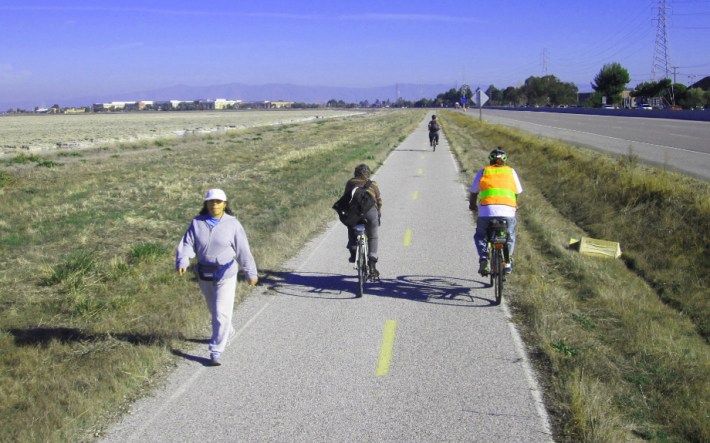 Prospects for a safer and more convenient San Francisco Bay Trail are looking brighter as momentum builds for strengthening environmental protections along the bay in San Mateo County.
On Tuesday, Menlo Park planning staff reported that the city, in partnership with neighboring East Palo Alto and Palo Alto, as well as the Midpeninsula Regional Open Space District (MROSD), will seek approval from the Association of Bay Area Governments (ABAG) to designate their many San Francisco Bay shoreline parks and wildlife refuges as a new priority conservation area.
The designation was created by ABAG in 2007 "to attract funds to support the long-term protection of regionally significant open spaces about which there is broad consensus for long-term protection." The conservation area would include Bedwell Bayfront Park, the Ravenswood Salt Pond Restoration Area, the Don Edwards San Francisco Bay National Wildlife Refuge, the Ravenswood Open Space Preserve, Cooley Landing, and the Baylands Nature Preserve.
One upshot of this development could be a better Bay Trail. "The PCA designation would expand funding opportunities for enhancing the current Bay Trail around Bedwell Bayfront Park and connections from the Belle Haven neighborhood to the Park," wrote Menlo Park Assistant Community Development Director Justin Murphy in a report presented to the City Council [PDF].
Murphy cited the long-planned $2.2 million Ravenswood Bay Trail, a missing 0.6-mile section of the San Francisco Bay Trail from University Avenue to the Ravenswood Regional Open Space Preserve in East Palo Alto, as a high-priority regional project more likely to receive county and regional grants with the PCA designation. This gap in the Bay Trail forces pedestrians and bicyclists on a detour along a section of busy, four-lane University Avenue that includes narrow bike lanes but no sidewalks.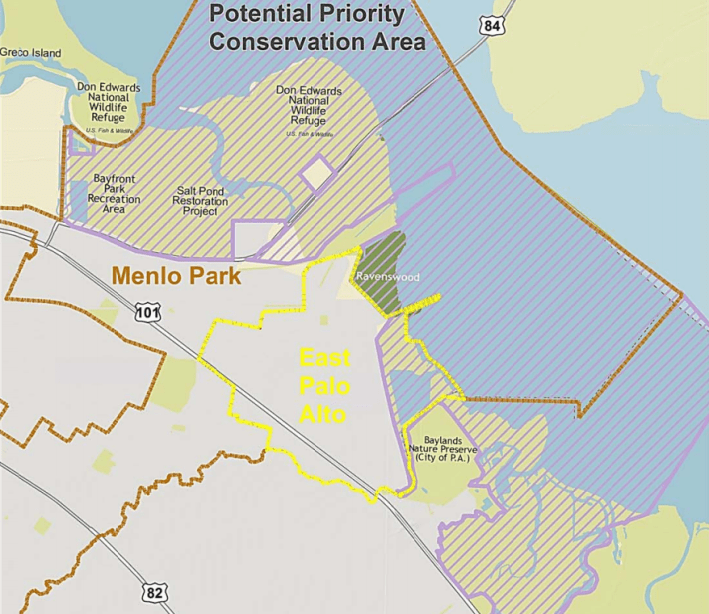 "This short segment is the last remaining major gap in an 80‐mile continuous recreation and commute corridor connecting San Mateo, Santa Clara and Alameda counties," wrote Menlo Park Mayor Catherine Carlton and East Palo Alto City Engineer Kamal Fallaha in separate letters of support.
"Completion of this gap will expand shoreline access for residents of San Mateo County, and in particular the underserved community of East Palo Alto, and provide new infrastructure to encourage healthy and active lifestyles," wrote ABAG Bay Trail Project Manager Laura Thompson in a January 9 letter of intent to apply for $1 million in construction funds from San Mateo County. "The project's close proximity to the Dumbarton Bridge and major employers along the trail including Facebook, Google, Yahoo and LinkedIn, make it a key regional bicycle transportation corridor and commute alternative, with the potential to attract more users and reduce greenhouse gas emissions."
ABAG plans to submit an application for funds to build the trail from the County's Measure A program, a half-cent sales-tax measure approved by San Mateo County voters in November 2012 that generates about $80 million annually for a variety of initiatives aimed at "providing essential services and maintaining and/or replacing critical facilities."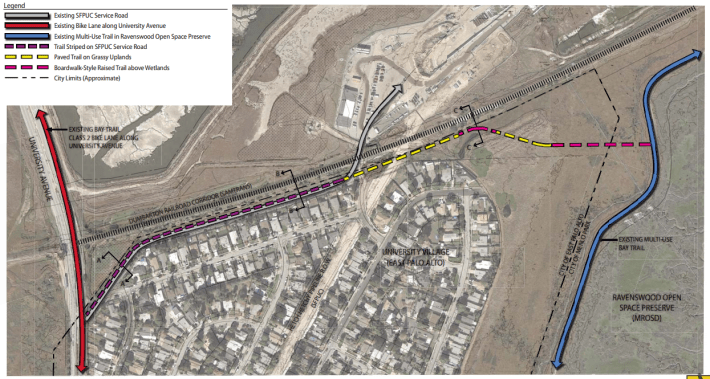 In May 2012, Facebook agreed to construct the $500,000 portion of the missing trail section that lies within Menlo Park, along University Avenue from Bayfront Expressway to the East Palo Alto border just south of the Dumbarton railroad tracks, to partially mitigate the environmental impacts of thousands of additional commuters driving to and from the company's headquarters at Willow Road and Bayfront Expressway. That agreement included no funds to complete the remaining 0.6-mile gap in the Bay Trail through East Palo Alto.
"This incomplete 0.6-mile-long section of trail, located along the boundary between East Palo Alto and Menlo Park, results in a hazardous gap for bicyclists and outdoor enthusiasts," wrote Facebook Vice-President of Global Facilities John Tenanes in a January 8 letter of support to San Mateo County officials. "Facebook urges you to award ABAG with the requested Measure A funds so that the Ravenswood Bay Trail Connection in South San Mateo County can finally be completed after discussions began over 25 years ago."
In early March, San Mateo County staff will decide whether to recommend spending Measure A funds on the trail project, with approval by the Board of Supervisors expected in June.
Andrew Boone covers the Livable Streets Movements for Streetsblog in San Mateo and Santa Clara counties. Andrew's claim to fame is once having bicycled more than 12,000 miles of smiles in one year. nauboone@gmail.com
Stay in touch
Sign up for our free newsletter