BART
Daly City Votes to Continue Subsidizing Residential Parking Permits
4:17 PM PST on February 19, 2015
Daly City's City Council shot down a proposal last month to charge $40 a year for residential parking permits near the city's BART station. The permits, which give resident car owners privileged access to on-street parking, are currently free.
The proposed fee, which amounts to 11 cents per day, elicited raucous opposition from public commenters at the council meeting. The fee would have applied only to a household's third and fourth parking permits, leaving the first two permits free. The maximum number of permits each household could receive would be capped at four vehicles, up from the current three.
"The proposed fee would encourage driveway and off-street parking; reduce traffic congestion; create a safer pedestrian environment in the affected neighborhoods; recover the costs for processing parking permits and a small portion of the cost for parking permits enforcement," wrote Daly City Director of Finance and Administrative Services Lawrence Chiu.
The argument to stop subsidizing parking quite so much didn't get very far. City Council Member Judith Christensen called the proposal "outrageous."
"That would be 1,039 people who will be paying $40 for something that for 20 years was free," she noted, pointing to the city's data on how many households are now parking a third or fourth vehicle in the street.
"I'm absolutely opposed to the raising of parking permit fees... we should disapprove any fee whatsoever," said Council Member David Canepa.
Even Council Member Mike Guingona, who has been a vocal proponent of making Daly City friendlier for walking and biking, said his "gut feeling tells me we should keep it the way it is, the status quo," eliciting cheers from attendees.
Preferential Residential Parking Permits have been free to residents of neighborhoods near the city's BART station since 1977, in an attempt "to keep commuters from parking in adjacent residential areas and taking spaces from residents."
Daly City now gives away parking permits to 1,453 households. The program costs taxpayers $68,000 per year, with fines bringing in $80,000 and administration and enforcement costing $148,000.
The net cost comes out to $47 per household with permits. The proposed fees would have cut the subsidy to $30 per household receiving permits, according to estimates presented at the January council meeting.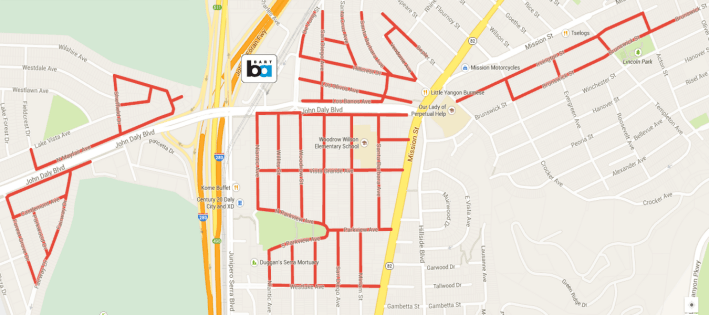 The owners of some of the nearly 4,000 vehicles now receiving parking permits contended that they have a right to store their property for free on public streets. "When [the city] started the permits it was to keep people from San Mateo, from Burlingame, from parking in our neighborhoods, so we as property owners can park in front of our own homes," said resident Mary Durham.
Resident José Gonzales, whose comments were translated from Spanish, said that he's retired and lives on just $800 per month. "He said he came here to protest possibly paying rent to park on the streets. It's like taking food away from our mouths because this is money that we need to survive," said the translator. Again, the fee would not even apply to a household's first two parking permits.
"I think clearly the will of the people has spoken tonight," concluded Mayor Ray Buenaventura after the public hearing. "As an elected official, I do not want to make any revenue on the backs of people who are working." Buenaventura then proposed forming a "parking task force" composed of city staff and residents to study ways to address the city's soaring on-street parking demand, an idea praised by his fellow City Council members.
"To keep everything the same, yes! No fees!" exclaimed Christensen when she voted against the $40 fee. Raising the maximum number of parking permits issued per residence from three to four was also rejected with the proposal.
Is parking reform completely hopeless in Daly City? Maybe not. On December 8, the City Council unanimously approved raising rates at its 553 parking meters on commercial streets to a consistent $1 per hour, from rates set in 2004 that ranged between 25 cents and $1.
Andrew Boone covers the Livable Streets Movements for Streetsblog in San Mateo and Santa Clara counties. Andrew's claim to fame is once having bicycled more than 12,000 miles of smiles in one year. nauboone@gmail.com
Stay in touch
Sign up for our free newsletter