Bicycling
SFPD Explains: Driver Won't Be Charged for Killing Cyclist at 14th & Folsom
3:32 PM PDT on March 27, 2015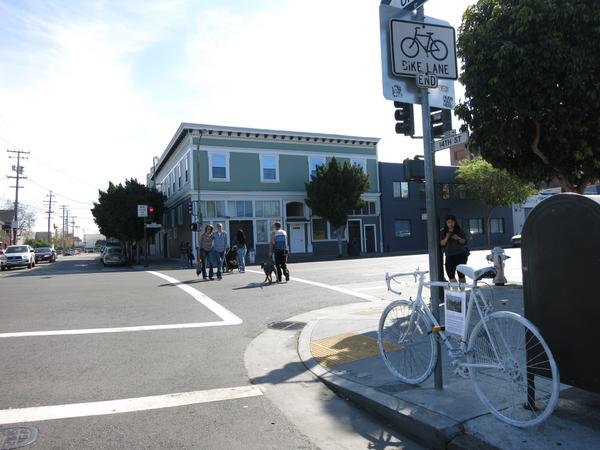 Three witnesses told SFPD investigators that Charles Vinson, 66, biked through a red light when he was killed by a driver at 14th and Folsom Streets on March 2, according to police officials.
An SFPD spokesperson told Streetsblog earlier this week that Vinson had been found at fault, contrary to an initial witness cited in the press who said the driver ran a red. The spokesperson declined to provide details at the time, since "the case is still open and active, we do not discuss open and active investigation matters."
SFPD Sergeant Eric Mahoney later explained the department's investigation, telling Streetsblog that Vinson may have misjudged the traffic signal timing at the complicated intersection. SFPD Traffic Company Commander Ann Mannix shared the same details with the SF Examiner yesterday.
Mahoney said Vinson was traveling eastbound on 14th and was hit by a driver headed northbound on Folsom. According to three eyewitnesses, Vinson began to ride against a red light. However, given the signal timing at the intersection, it's also possible the driver blew through a red light. Police have yet to determine if that is the case.
"We're not 100 percent sure what the vehicle did, but we're 100 percent sure what the bicycle did," said Mahoney. "The bicyclist, I'm thinking, assumed that as long as nobody's going to make a left turn in front of me, I can keep going straight."
Mahoney said the driver can't be charged since it was established that Vinson had a red light. "Not saying that what [the driver] did or didn't do was unimportant, but once we've established a violation here, we know that, even if we can prove [the driver had] a red light, the DA is not gonna charge that person with a crime because there's a contributory factor."
So there you have it: If you make a mistake on a bike, the law will give a pass to a motorist who strikes and kills you, even if there's conclusive evidence of reckless driving.
SF Bicycle Coalition Policy Director Tyler Frisbee questioned the efficacy of the SFPD's investigation, given the bias evident in cases like that of Amelie Le Moullac, who was blamed by police when a truck driver killed her. The SFPD's version of events was refuted when an SFBC staffer found footage that showed the trucker was at fault.
"We appreciate the police looking into this report," Frisbee told the Examiner, but "there's certainly a history of reports being filed that don't take a comprehensive look at the scene. [This has] huge consequences for the victim, the family, and everyone involved."
Bert Hill, chair of the SF Bicycle Advisory Committee and a bicycle safety instructor, said that a major factor in Vinson's crash was "obviously an engineering problem" at 14th and Folsom. Bicycle riders who are unfamiliar with the intersection's unusual signal patterns may mistakenly proceed when they expect the light to turn green.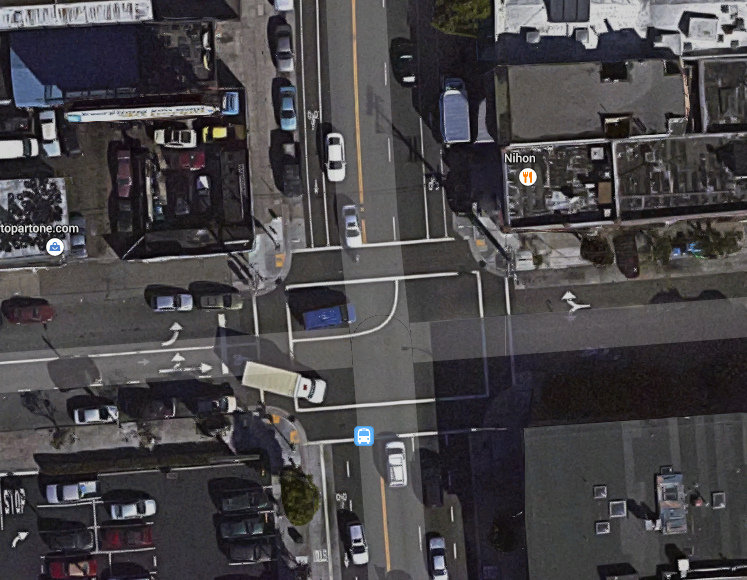 Folsom is a two-way street with bike lanes in each direction, while 14th is a one-way eastbound street with a bike lane, until it hits Folsom, where it becomes two-way street with no bike lanes. People on bikes heading east must merge into a lane with drivers on the far side of the intersection.
In an email, SFMTA spokesperson Paul Rose explained how the intersection's traffic signals work:
This intersection operates on a split phase, where Folsom has a green in both directions, followed by a green for westbound 14th (red for eastbound 14th), then a green for eastbound 14th (red for WB 14th). The pedestrian signals for both crosswalks crossing Folsom allow pedestrian crossings overlapping with the split 14th St phases. In other words, pedestrians can cross Folsom any time either direction of 14th St has a green, but cars/bikes on EB/WB 14th St have to wait for their respective green before entering the intersection.
The SFMTA "conducted a field check of the intersection the day after the collision," said Rose. "The intersection was found to have all necessary traffic control devices accounted for and functioning as designed. At this point, we're not recommending any changes." He said there was one bicycle collision in a recent five-year period, according to SFMTA records.
But Hill said "the MTA should examine the whole concept of having multiple directions [having a green light] when a person in the other direction doesn't have any idea of what's going on with it."
"There are a lot of bicyclists who know the patterns, who know what's going on with it," he said. "The problem is with someone who is less experienced."
Aaron was the editor of Streetsblog San Francisco from January 2012 until October 2015. He joined Streetsblog in 2010 after studying rhetoric and political communication at SF State University and spending a semester in Denmark.
Stay in touch
Sign up for our free newsletter