Parking
CPMC Van Ness Construction Was Delayed to Save Church Parking on Easter
5:22 PM PDT on April 8, 2015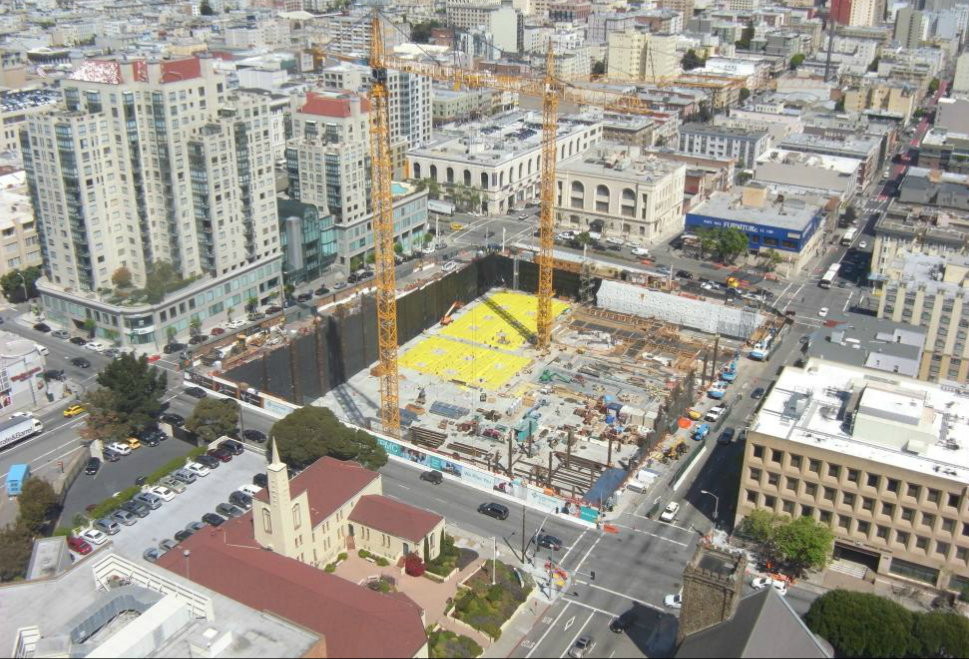 Church leaders successfully persuaded California Pacific Medical Center to delay a weekend traffic closure on Van Ness Avenue so a temporary ban on street parking would not coincide with Easter weekend.
One block of Van Ness, between Post and Geary Streets, will be closed to car traffic this weekend so crews can construct a pedestrian tunnel connecting CPMC's hospital with its medical office building, under construction at Van Ness and Geary Street.
The detour, one in a series of lane closures on Van Ness, was originally supposed to happen last weekend. Now that it's been postponed, the two full traffic closures will coincide with the annual Cherry Blossom Festival and parade, which runs north on Polk Street, then west on Post Street.
To accommodate the extra traffic on the detour route, street parking will be banned for the weekend on Gough and Franklin Streets, which run parallel to Van Ness.
Leaders at several nearby churches were irked when they discovered that those parking restrictions would take place on Easter weekend. Three weeks before the planned Easter closure, a religious community leader contacted the SFMTA and threatened a public "message of condemnation" of the agency if it wasn't moved, according to emails obtained through a public records request [PDF].
"If this street closure is allowed to occur it will force the SFIC and its constituent congregations and judicatories to respond to the City and the SFMTA with a unified message of condemnation," SF Interfaith Council Executive Director Michael Pappas wrote in a March 11 email to SFMTA Director Ed Reiskin. "I am appealing to you to intercede before this matter becomes irreversible."
Pappas, who was the primary public face of the fight against Sunday parking meters last year, elaborated on his stance in an email to Streetsblog:
The SFIC was informed by one of our Cathedral Hill neighborhood congregation leaders, who learned third-hand, late into the process, that the SFMTA issued a permit to close Van Ness Avenue and re-route traffic to Franklin and Gough streets, eliminating critical parking on those thoroughfares, on the most sacred days of both the Jewish and Christian calendars, the eve and day of Passover, Good Friday, Holy Saturday and Easter Sunday...

Not only does the SFMTA have a direct relationship with the leaders of those congregations, but the City is greatly indebted to those houses of worship for the annual sacrifice each make in providing critical space in their facilities to host between 60-100 homeless men nightly at the "Interfaith Winter Shelter."
SFMTA officials said that the agency doesn't decide the timing of the traffic closures, but merely administers them, taking its cue from CPMC and its contractor, HerreroBoldt. In response to Pappas's March email, Reiskin wrote, "Thanks for reaching out, though disappointed that the reach out comes with threat of condemnation of the SFMTA for this CPMC project."
Pappas also emailed Supervisor Mark Farrell about the traffic closure, asking for "any intercessions that you might be able to offer." Farrell then passed the message along to Department of Public Works Director Mohammed Nuru, writing, "Anything you can do here? Want to respect the churches and their parishioners..."
Farrell's office also contacted HerreroBoldt. In a March 12 email response, HerreroBoldt spokesperson Miquel Penn explained that Easter weekend was chosen because it has low traffic volumes, "straddles local schools' spring break," and doesn't include any major traffic-generating events. He said delaying the construction "would jeopardize the overall schedule" for the CPMC project.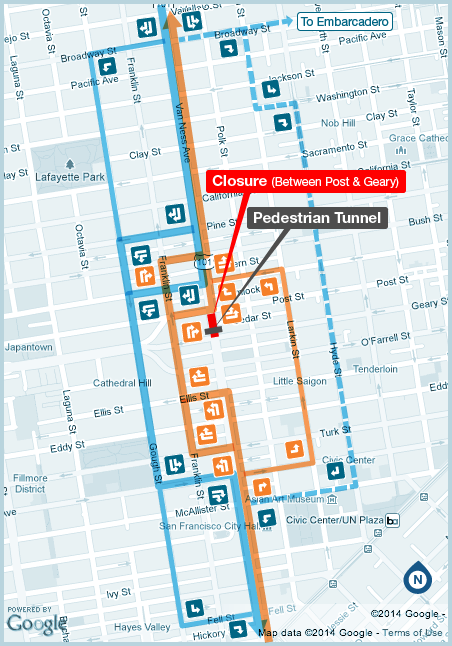 "The HererroBoldt team has worked for months with its city partners to plan for and execute the closures, Penn wrote in the email. "Communication to neighbors has been extensive, and until late no one had raised any concerns about working over Easter weekend."
When we asked how HerreroBoldt and CPMC were convinced to move the date, Penn evaded the question. "What drove it was just coordinating with SFMTA, Caltrans, and the Cherry Blossom Festival, and collectively we were able to move the date without adversely affecting the schedule," he said.
Despite the insistence from Penn and the SFMTA that CPMC and HerreroBoldt are primarily responsible for choosing the closure timing, Pappas directed his criticism at the SFMTA. Pappas told Streetsblog:
According HerreroBoldt, the original dates for the closure were given to them by the SFMTA which took into consideration a number of determining factors of events going on in the City that only the SFMTA and not the construction company would be privy to.
This wouldn't be the first time the SFMTA has conceded to church leaders' demands to maintain free parking.
Church lobbying was apparently a major factor in Mayor Ed Lee's decision to repeal Sunday parking meters. For decades, double-parking churchgoers have also been given a free pass by SFMTA parking enforcement. At a 2013 supervisors hearing, an SFMTA parking enforcement official and former SFPD lieutenant called the Sunday exemption "part of San Francisco's history."
Here's one more taste of what Pappas feels entitled to when it comes to the management of public streets, through the prism of the CPMC detour:
Like the SFMTA's previous failure to extend an invitation to a single congregation leader to sit at the stakeholder's table when conceiving its policy to institute Sunday meter parking, a policy it commenced on the sacred Christian feast day of Epiphany, adding insult to injury, the present attempt confirms that the SFMTA has once again failed in its civic obligation to undertake due diligence in consulting and considering those most directly impacted by its policies and actions.
As for HerreroBoldt's handling of the situation, Pappas was much more favorable. "The SFIC is grateful to the sensitivity and openness of the construction firm that received the permit for meeting with those clergy to gain a better appreciation of the potential adverse impact and making the reasonable timetable adjustments, without disrupting progress of the development project."
Aaron was the editor of Streetsblog San Francisco from January 2012 until October 2015. He joined Streetsblog in 2010 after studying rhetoric and political communication at SF State University and spending a semester in Denmark.
Stay in touch
Sign up for our free newsletter