AC Transit
Three-Bike Bus Racks on Muni: A Solution for Late-Night Transit Woes?
5:37 PM PDT on May 5, 2015
Muni is testing front-mounted bike racks that can carry three bicycles (instead of the usual two) on some of its most hilly bus routes. If implemented widely, that third bike space could prevent some late-night travelers from getting "bumped" when racks fill up.
Bike capacity on transit is particularly important in SF and the Bay Area, given geographic barriers like hills and, well, the bay. Late at night, when many buses cover little ground and come just once an hour, getting home can be especially difficult for people with bikes who rely on transit for part of their trip, or who are just too tired to make the ride home. Late-night buses, it seems, often attract the most bikes.
Last month, Janel Sterbentz was one of the lucky ones. She narrowly avoided waiting an extra hour at Market Street and Van Ness Avenue at 2 a.m. on a Friday morning, when the hourly AC Transit All-Nighter bus -- the only way to get to the East Bay by transit once BART shuts down -- arrived with both of its bike rack spots full.
Unlike Muni, AC Transit and SamTrans allow bikes on board late-night buses at the operator's discretion.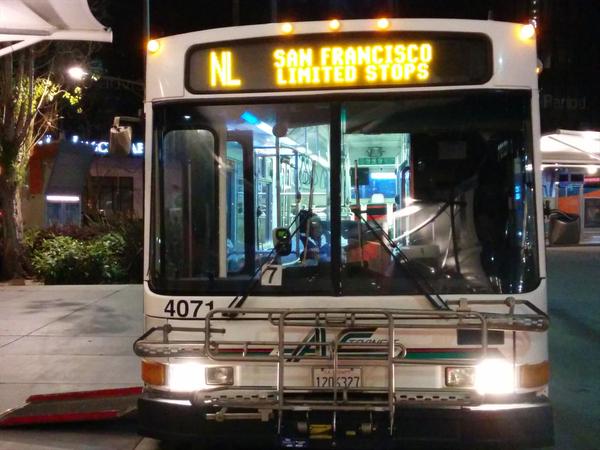 "Thankfully, the bus driver allowed me to board the bus with my bike, as she had allowed the four other cyclists on the bus with their bikes," Sterbentz wrote in an email. Otherwise, "I would have had to wait an hour for the next bus to arrive at 3 a.m., alone at Market and Van Ness."
"The only option would have been an expensive taxi ride across the bay," she added.
Muni officials haven't publicly indicated an interest in allowing bikes on Owl buses. But SFMTA spokesperson Ben Jose wrote in a recent blog post that the agency has "been thinking about how we can quickly help more people biking conquer some of these hills without breaking a sweat."
Muni posted an online survey to field input about its three-bike racks, which are being tested for six months on the 7-Haight/Noriega, 18-46th Avenue, 25-Treasure Island, 29-Sunset, 36-Teresita, 37-Corbett, 44-O'Shaughnessy and 49-Mission/Van Ness routes.
When three-bike racks aren't enough, adopting the "operator discretion" policy on Muni's Owl buses could save some riders from a miserable experience when there's room. Muni's night buses tend to be busier than AC Transit or SamTrans.
Three-bike racks on 40-foot buses became legal across California in January, after Governor Jerry Brown, at the urging of Los Angeles Metro, signed a bill to accommodate the increasing number of people combining bikes and transit. A few years ago, a separate bill was passed to give AC Transit a special exemption to the limit.
The issue of bikes on buses didn't get a lot of attention in the SF County Transportation Authority's February report on improving late-night transportation, "The Other 9-to-5." The report's only related recommendations were to expand Bay Area Bike Share and to publicize the little-known fact that AC Transit bus operators can allow bikes on board.
More Bay Area residents are discovering the convenience of combining bicycling and transit. It lets commuters speed up the last mile of a trip and avoid the costs (in both time and money) of transfers.
BART decided to foster that trend by allowing bikes on board at all hours, at least when it runs. All-night service, however, would require a second Transbay tube, and that might take a few decades.
"This lack of bicycle accommodation after hours probably deters people from biking after BART stops running," said Sterbentz.
Aaron was the editor of Streetsblog San Francisco from January 2012 until October 2015. He joined Streetsblog in 2010 after studying rhetoric and political communication at SF State University and spending a semester in Denmark.
Read More:
Stay in touch
Sign up for our free newsletter