Bicycling
Wiggle Safety Upgrades Delayed Over Turn Bans to Reduce Thru Traffic
5:26 PM PDT on May 13, 2015

Improvements that would make the Wiggle calmer and safer have been delayed after continued driver protests against three left turn bans on Divisadero Street proposed as part of the project. Approval of the project was removed from the SFMTA Board of Directors' Tuesday agenda and postponed until June.
Hoodline reported that some members of the Lower Haight Neighbors and Merchants Association can't stomach the all-hours left turn bans from Divisadero on to Haight Street, and peak hour bans for turns on to Hayes and McAllister Streets.
The SFMTA says the bans are intended to complement the Wiggle improvements, which include a traffic diverter on Scott Street. By keeping cut-through drivers moving on Divisadero, the main driving route, that street would become the more attractive driving option. "This will reduce Scott Street's appeal as a cross-town route, making it a more pleasant place to walk, bike, and live," says an SFMTA fact sheet [PDF] on the Wiggle improvements.
"We want people to get where they need to go safely while keeping heavier traffic on Divisadero," Sustainable Streets Director Tom Maguire said in a statement. "The SFMTA's proposals for Divisadero will improve traffic flow, cut down on congestion and reduce spillover traffic into the neighborhood. We have worked with the community extensively on this project, and we wanted to take a little more time to better understand the concerns of the Lower Haight Merchants and Neighbors Association."
A major feature of the planned Wiggle upgrades is a large sidewalk bulb-out which would physically block drivers from entering southbound Scott at Fell Street. That would reduce the car traffic on Scott, which runs one block parallel to Divisadero, that degrades the livability of the neighborhood and congests the intersection at Haight. The improvements also include raised crosswalks, bulb-outs with rain gardens, and textured pavement.
"Thousands of people bike and walk through the Wiggle every day, and they and the neighborhood residents deserve a street that works for them," said Tyler Frisbee, policy director for the SF Bicycle Coalition. The SFMTA's project "enhances the residential, family-oriented nature of the community and ensures that everyone is able to walk, bike, and enjoy the area in a safe, inviting place. This project will reduce the amount of water pollution and runoff from these streets, minimize traffic congestion for neighbors, and improve safety for people walking and biking. That is a clear win-win."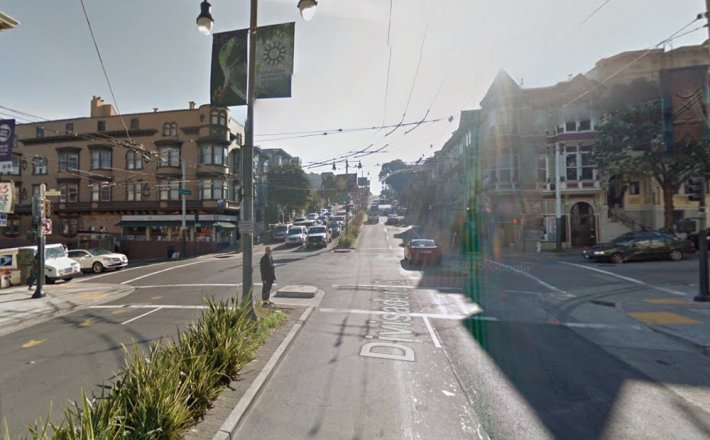 Southbound drivers on Divisadero headed for the Lower Haight would still be able to make left turns at Fulton, Grove, Oak, Page, and Waller streets. But LoHaMNA wants to preserve the left turn on to Haight in particular, according to a letter from the organization to the SFMTA cited by Hoodline:
Put simply, we asked for consideration of the drivers coming home from services in the North side of the City (Kaiser, CPMC, water access in the Marina and Marin), or coming to our neighborhood for services. Those driving from the North literally will have any coherent direct route to homes and businesses blocked. It is not just an extra turn or two you are suggesting to get to the Lower Haight, it is three-to-four and a congested turn signal at Oak.
LoHaMNA's view isn't shared by all in the Lower Haight. "Pedestrians and bicyclists are dying on our unsafe streets, and these improvements will make my neighborhood safer for me and my family," said a neighbor who declined to be named. "That should the priority, more than the driving convenience of a few neighbors. I thought the neighbors made that clear over years of community meetings."
Since Divisadero lacks left turn lanes, drivers block the center lanes to wait to make left turns, which can hold up vehicle traffic. The three streets where left turn bans are proposed also carry Muni lines, so reducing car traffic on them could help keep buses moving on those streets.
Banning left turns could also reduce pedestrian injuries in crosswalks on Divisadero, since a quarter of victims are hit by left-turning drivers, according to the city's Walk First program, which lists Divisadero as a high-injury corridor.
The left turn bans would be supplemented by "coordinated traffic signals" on southbound Divisadero between O'Farrell and Hayes streets, "so that southbound traffic will usually arrive on a green light," the SFMTA fact sheet says. The signal timing "will ensure that the increase in the number of cars using Divisadero will not slow down the 24-Divisadero, and could even improve Muni service in some stretches."
"The SFMTA is committed to making the Wiggle better and safer for everyone," Maguire said.
"No safety improvements in San Francisco are without their critics," said Frisbee, "but it's worth remembering the hundreds of San Franciscans who have spoken up for this project over the years and who want it to move forward as quickly as possible. We need to keep our eye on the bigger picture and the overall goal of this project, which is to improve water quality, reduce congestion, improve safety, and enhance the neighborhood feeling on these streets."
Aaron was the editor of Streetsblog San Francisco from January 2012 until October 2015. He joined Streetsblog in 2010 after studying rhetoric and political communication at SF State University and spending a semester in Denmark.
Read More:
Stay in touch
Sign up for our free newsletter