Bay Area Bike Share
It's Coming: MTC Approves 10-Fold Expansion of Bay Area Bike Share
1:01 PM PDT on May 28, 2015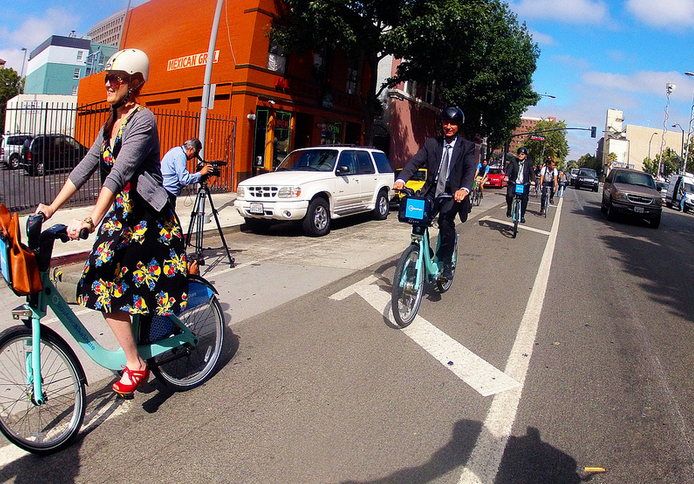 On Wednesday morning the Metropolitan Transportation Commission (MTC) approved contract terms with Motivate International to expand the Bay Area Bike Share system from 700 bikes to more than 7,000 bikes by November 2017. When the expansion wraps up, the Bay Area's system is expected to be the second-largest in North America, after Citi Bike in New York City.
In addition to massively expanding the bike-share networks in SF and San Jose, the plan will bring bike-share to the East Bay for the first time, with stations in Oakland, Berkeley, and Emeryville.
San Francisco will receive the lion's share of new bikes: 4,500. San Jose will get 1,000 bikes, and 1,400 bikes will go to the East Bay cities.
The mid-Peninsula cities of Mountain View, Palo Alto, and Redwood City, which had appeared to be in jeopardy of losing their small allocation of stations set up under the initial Bay Area Bike Share pilot program, will together end up with 300 bikes if they all choose to remain part of the system under less favorable contract terms.
"This is incredibly exciting, that we're going to extend to the East Bay and expand in San Jose," said MTC Commissioner and SF Supervisor Scott Wiener at the board meeting. "In San Francisco, going from 350 to 4,500 bikes -- we're going to have a true city-wide bike share network."
"We hope that by tying the program with successful outreach and education programs, and continuing to build a network of safe and comfortable bikeways, we will see many more riders, and especially new riders," said Bike East Bay Project Manager Cynthia Armour.
Motivate initially proposed a 7,000-bike system that it would construct and operate using private funds entirely. The company agreed to add 155 bikes in the three Peninsula cities if the cities opt in to the program by contributing their own funds.
In addition, MTC staff recommended allocating $4.5 million in public funds to "emerging communities" to pay for improving their bike infrastructure and making them more bike-share ready. These funds would be awarded via a competitive grant program.
"What we have is the first bicycle sharing program in California, and the first regional bicycle sharing program nationally," said Bay Area Air Quality Management District Deputy Executive Officer Damian Breen. "It creates a clear path for other areas to join through the $4.5 million [grant program]."
Cities, schools, or companies can also buy into the expanded bike-share system after 2017 for $4,000 per docking station, plus assorted maintenance fees. To encourage efficient placement of bike-share stations in such an expanded program, Motivate will discount these fees by 25, 50, and 100 percent if bike usage rates of 1.0, 1.5, and 3.0 trips per bike per day are achieved, respectively.
Cities wishing to join the bike-share system can also offset the cost of buying in by setting up local sponsorship agreements. The cities can sell the space on one side of the advertisement panel that comes with each station.
MTC Chair and Santa Clara County Supervisor Dave Cortese expressed concern about whether the expanded bike-share system could be used to connect to transit in lower-density areas, such as those he represents.
"Transit-dependent folks don't only find themselves in dense urban routes," said Cortese. "As the San Jose BART extension comes to fruition shortly, it's going to stop in a suburban neighborhood, not one that would fall into your typical business model as one of urban density."
Bike-share memberships will be available for $149 per year or $15 per month, allowing unlimited trips of up to 30 minutes for free. Discount memberships for households earning less than twice the federal poverty level will be available at prices of $60 annually or $5 monthly. Nearly one-third of Oakland's residents and one-fifth of all Bay Area residents will be eligible for the discount.
A final 10-year contract with Motivate will be drafted based on the approved contact terms, and reviewed at the next MTC Board meeting on June 24.
Andrew Boone covers the Livable Streets Movements for Streetsblog in San Mateo and Santa Clara counties. Andrew's claim to fame is once having bicycled more than 12,000 miles of smiles in one year. nauboone@gmail.com
Stay in touch
Sign up for our free newsletter