Development
TSP Rebooted: Bureaucratic Revamp Could Boost Transit and Livable Streets
5:57 PM PDT on June 3, 2015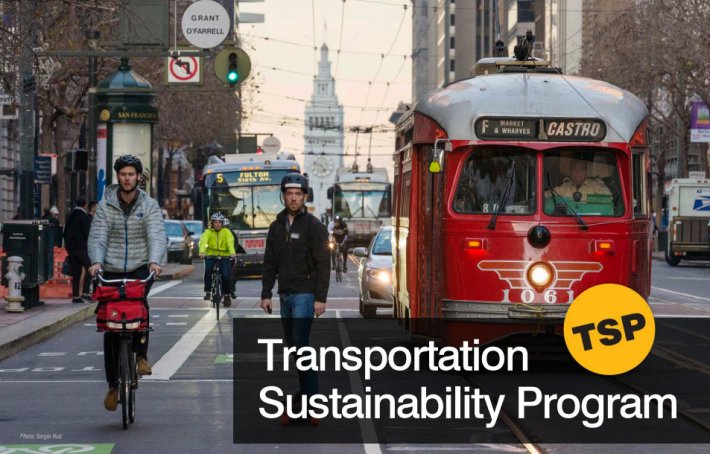 San Francisco agencies have re-introduced the Transportation Sustainability Program, a bureaucratic overhaul that could dramatically expedite improvements for walking, biking, and transit, while discouraging car parking in new developments.
In developing the program, SF planners are also nearing completion of the nation's first major study showing that dedicated car parking encourages driving.
The TSP is three-pronged: It would overhaul SF's development fee system to fund sustainable transportation upgrades, set mandated targets for developers to reduce driving caused by their projects, and replace the automobile-centric metric known as Level of Service (LOS), which would make environmental reviews both faster and more "meaningful," planners say.
"If you're moving people out of cars, you need to have the infrastructure for them to do things otherwise," said Sarah Jones, the SF Planning Department's director of environmental planning. "Each of these components can operate on its own, but we are working on them in an integrated way, because each of them really enhances the other."
Originally expected to be adopted in 2013, the program has been fine-tuned since it was put on hold in late 2012 primarily for two reasons. At that time, the Board of Supervisors rejected a new fee system after a misinformation campaign, and the California legislature since passed a bill calling for the replacement of LOS as the state's transportation metric.
The SFMTA, the Planning Department, and the SF County Transportation Authority are preparing to launch public outreach on the TSP within the coming months and institute the program in stages by the end of the year, said Jones.
The new metric to replace LOS, vehicle miles traveled, is expected to be instituted into the California Environmental Quality Act by the end of the year. The California Office of Planning and Research is still working out the details for a metric that would look at broader transportation impacts -- not just car delays -- and encourage developments and transportation improvements that minimize driving.
SF planners had been creating their own version of VMT years before the state, but the state's version is shaping up to be "simpler and more workable than what we were developing," said Jones. Even better, she said, the new proposed CEQA rules could specifically rate projects on how well they jibe with local transportation policies.
Because LOS focuses on moving cars above all, it's fundamentally at odds with SF's Transit-First policy and its goals to end traffic deaths (Vision Zero) and increase bicycling.
"We've felt for a long time that it wasn't a useful measure," said Jones. "We would spend a lot of time and money measuring level of service, identifying significant CEQA impacts, and then not being able to do anything about it. Out in a suburban jurisdiction, you can widen the roads, basically design and plan for cars to move around easily. You can't do that in San Francisco, and we don't have policies that support prioritizing cars that way."
Assemblymember Cristina Garcia proposed a bill in April to delay the adoption of VMT, though it's unclear if it has substantial support.
Jones said SF agencies will be more prepared to address any opposition to the Transportation Sustainability Fee, a system of development impact fees that fund sustainable transportation improvements "to ensure that new development pays its fair share for impacts on the transit system."
The TSF, which would replace the existing Transportation Impact Development Fee, faced backlash in 2012 from hospital lobbyists who riled up small non-profits by falsely claiming that they would have to pay the fee. In reality, small non-profits and affordable housing developers would remain exempt, but the TSF would extend to major non-profit institutions like hospitals and universities. The Board of Supervisors caved to the opposition and voted not to approve the TSF.
One change to the proposed TSF since then, said Jones, is that developers could no longer count its payment as a "mitigation measure" under CEQA.
Livable City Director Tom Radulovich also said he's been assured by city planners that the new TSF would help fund regional transit like BART, Caltrain, and AC Transit transbay service, unlike in the original proposal. "San Francisco has never asked development to augment regional transit capacity," he said.
Radulovich also hopes that TSF fees aren't "swept into a single citywide pot... We need to better ensure that neighborhood transportation improvements are made when development happens, not years later, or not at all."
The TSF is expected to go to supervisors for approval this summer. The TSP's other local piece, the Transportation Demand Management program, would be up for a vote in the fall.
The TDM ordinance, which is still being crafted, would set mandatory targets for developers to reduce driving caused by their projects by choosing from a "menu" of mitigation measures, said Jones. Reducing car parking is "one of the more effective ones," she said. It also makes housing more affordable.
In developing the TDM program, SF planners have been conducting the nation's first major study of the contentious notion of whether omitting off-street parking discourages driving. The way the findings are shaping up, planners say, it does.
"The less dedicated on-site parking you have, the less people will drive," said Michael Schwartz, a senior planner at the SF County Transportation Authority. Planners "have figured that was intuitively the case, but shockingly there were no studies really looking into that. Now we'll have some pretty strong evidence."
SF's existing planning model assumes that "a parking structure generates no automobile trips, while we all know that in fact it does," said Radulovich. "MTA staff assured me that they have developed more nuanced trip generation models" for the TDM program.
The parking study is expected to be released later this year. Look for public outreach meetings on the TSP to be held in the coming months.
Aaron was the editor of Streetsblog San Francisco from January 2012 until October 2015. He joined Streetsblog in 2010 after studying rhetoric and political communication at SF State University and spending a semester in Denmark.
Read More:
Stay in touch
Sign up for our free newsletter