At a community meeting about bulb-outs in North Beach tomorrow evening, some residents and firefighters are expected to speak against the curb extensions on the grounds that they make streets more dangerous.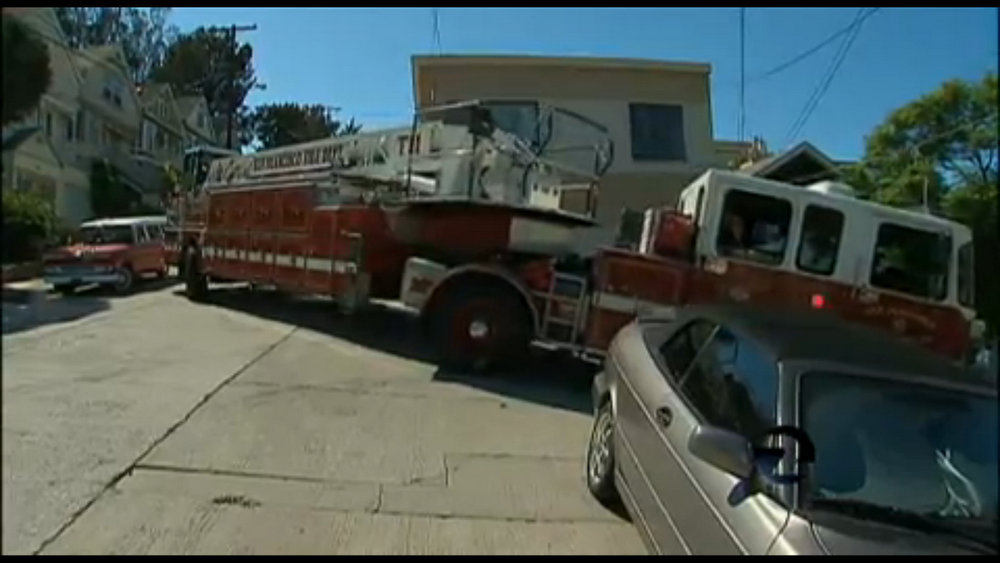 As Hoodline has reported, the leadership of the North Beach Neighbors and the SF Fire Fighters Union have drummed up opposition to bulb-outs proposed at four intersections along Columbus Avenue. NBN will hold its second public discussion on the issue tomorrow.
While the SF Fire Department's top brass has shown signs of letting go of its opposition to curb extensions, SF Fire Fighters Union Local 798 has maintained a campaign for wider, more dangerous roadways.
Now there's tension between the union and the fire department about street design. In a June 18 letter to SFFD Chief Johanne Hayes-White [PDF], Local 798 President Tom O'Connor protested the department's "very troubling" approval of "obstacles" that "will require our members to knowingly drive into oncoming traffic" (yes, some firefighters still make that claim):
We further assert that any and all obstacles that have already installed [sic] should completely [sic] removed on the basis that they are a danger to public safety, to our members and to the integrity of our apparatus and finally as a violation of the California Vehicle Code.
NBN President Trish Herman has fueled the flames. She told Hoodline that "bulb-outs in the Castro have caused traffic back-ups," presumably referring to Castro Street's recent sidewalk expansion, which narrowed its excessively wide traffic lanes. She also complained about sidewalk space removing parking: "They're not considering the vehicle public," she said.
Bulb-outs improve the visibility of pedestrians, shorten crossing distances, and keep drivers from barreling around turns at high speed and hitting people. They are an increasingly common street safety measure in SF.
At the April 30 meeting, Fire Union Director Adrienne Sims told the crowd that the SFMTA doesn't consider families in its street design, according to Hoodline.
Firefighter Tony Rivera also told the crowd, "We have the smallest fire engines in the nation."
Not according to a January report [PDF] from the Board of Supervisors' Budget and Legislative Analyst, which recommended that SFFD stop fighting curb extensions and find ways to procure more versatile vehicles. "Other cities and towns across the country also have small streets and sharp turns and have purchased specialized vehicles that can operate in these environments," the report said.
SFFD officials have admitted that they don't know what's causing worsening response times, and that "there might just be more cars." But the department has long used its veto power to water down street safety projects, insisting on street width standards intended for the suburbs, and erroneously blaming people walking and biking for their own injuries and deaths.
Tony Wessling, a street safety advocate in North Beach, filmed a video of one of the routine tests conducted by SFFD and SFMTA to see how well a fire truck driver can navigate a turn around a proposed curb extension. In the video, the truck driver navigates an extremely tight right turn from Mason onto Greenwich Street. The driver's back wheel hit one of the cones simulating the expanded width of a pedestrian island. When that happens, the curb width is typically shaved off, according to city staff.
Sources close to the situation said some firefighters conducting the tests have appeared to hit cones on purpose.
"It makes no sense to design the city around the fire equipment," Wessling told Hoodline. "It makes better sense to design the fire equipment around the city."
Tomorrow's North Beach Neighbors meeting will be held tomorrow at 6:30 p.m. at the SF Italian Athletic Club.
Aaron was the editor of Streetsblog San Francisco from January 2012 until October 2015. He joined Streetsblog in 2010 after studying rhetoric and political communication at SF State University and spending a semester in Denmark.
Stay in touch
Sign up for our free newsletter