Muni
Muni Approves Upgrades for 28-19th Ave With Bus Bulbs, Fewer Stops
5:21 PM PDT on July 8, 2015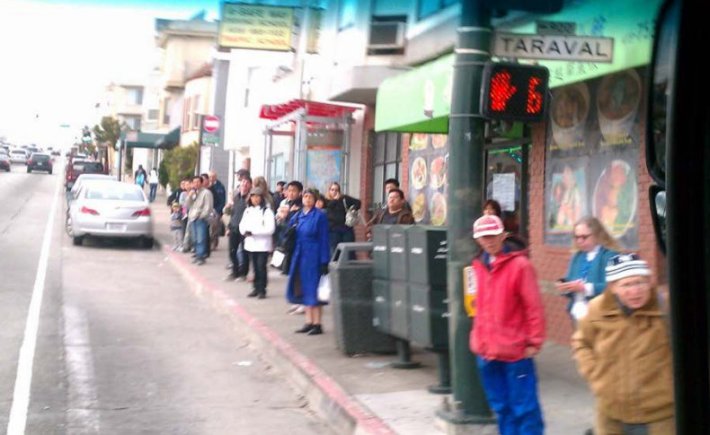 Muni's 28-19th Avenue will get a speed boost from bus bulbs and stop consolidations approved by the SFMTA Board of Directors yesterday. The upgrades, part of the Muni Forward program, are expected to be constructed starting in the fall of 2016 and completed by 2018.
On 19th Avenue, the 28 currently stops on nearly every block, and buses must pull over to the curb to reach passengers, then wait for a break in traffic to continue. If they're lucky, bus riders won't hit a red light soon after.
Under the approved plans [PDF], the 28 will operate like it does on Park Presidio in the Richmond: Stops will be spaced every other block, and sidewalk extensions will let the buses remain in the traffic lane while they stop -- no more merging in and out. In addition, stops will be moved to the far side of five intersections so buses can clear traffic signals before passengers board. Signals will also have transit priority to reduce the amount of time buses wait at reds.
Riders who squeeze onto the 28 -- many of whom are SF State University students -- can expect their trips to get quicker and less crowded. Between Lincoln Way and Junipero Serra Boulevard, local buses would speed up by 20 percent on average, or 5 minutes in each direction. The 28 local's average speed of 9.2 MPH would increase to 12.2 MPH.
"I've always felt like a lottery winner when I see a 28-[Rapid bus] pull up," said SFMTA Board member Joél Ramos. "That route is so painfully slow."
The 28-Rapid, which already makes fewer stops, would speed up by 1.5 minutes in each direction, and its hours would be extended. The rapid currently runs during a few hours in the morning and a few hours in the afternoon. Under the new plan it would operate continuously from 7 a.m. to 7 p.m (however, that's a reduction from the previous proposal of 6 a.m. to 8 p.m.). 28-Rapid buses would no longer stop at Lincoln Way or Sloat Boulevard, though local buses would.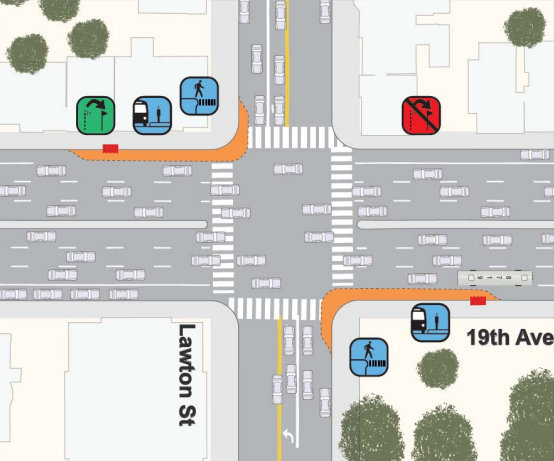 Of the $23 million needed to implement the project, most ($16.5 million) will come from the Proposition A general obligation bond passed by voters in November. The construction of sidewalk bulb-outs at all 22 intersections on the stretch included in the project would be coordinated with Caltrans' plans to re-pave 19th in 2018.
In addition to making crossings safer, expanding the narrow sidewalks on 19th would provide more room for riders to wait out of the path of people walking by.
Some have worried that the bus bulbs could result in car drivers "blocking the box" if they attempt to cross intersections prematurely, only to get stuck behind a bus stopping in the traffic lane. But Muni Forward program manager Sean Kennedy pointed out that drivers already seem familiar with the situation, since buses are often too wide to pull completely out of the traffic lane on 19th anyway.
Officials said in-lane bus stops are common on streets around the city, including Park Presidio, where the 28 also stops every two blocks.
"You've had stop consolidation in the Richmond section north of the park forever," Howard Strassner, chair of the local Sierra Club chapter's transportation committee, told the SFMTA Board.
Strassner, who is a senior, has long dismissed concerns that walking to stops spaced two blocks apart would be a hardship on 19th. "People south of the park can walk just as well as people north."
"I'm really looking forward to" the improvements, he said. "It's going to really be a lot faster."
Aaron was the editor of Streetsblog San Francisco from January 2012 until October 2015. He joined Streetsblog in 2010 after studying rhetoric and political communication at SF State University and spending a semester in Denmark.
Stay in touch
Sign up for our free newsletter