Bicycling
McAllister Street Set to Get Two Traffic Circles Instead of Signals
6:11 PM PDT on July 23, 2015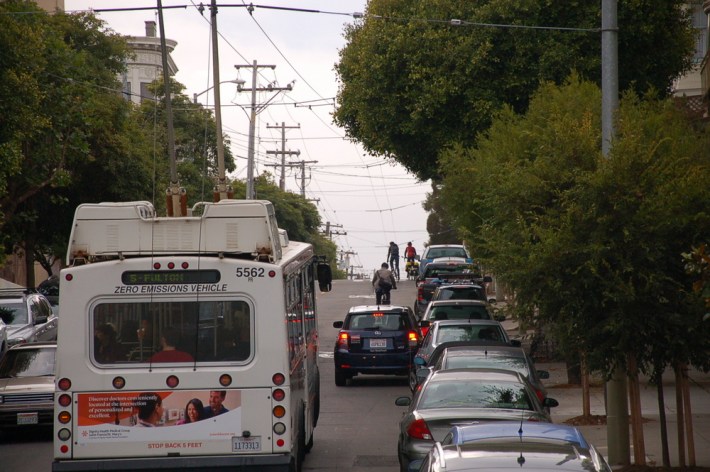 McAllister Street, a popular bike route where SFMTA's Muni Forward planners want to speed up the 5-Fulton, would have stop signs replaced by traffic circles at two intersections under the agency's latest proposal.
Under the plan [PDF], which must be approved by the SFMTA Board of Directors, McAllister would become the first street to get traffic circles on a bus route. Up for debate, however, is how well they'll serve their intended purpose of calming traffic enough to ensure drivers yield to pedestrians and don't squeeze out bike commuters.
The proposal for traffic circles at Lyon and Steiner Streets is a substitute for the SFMTA's original proposal for traffic signals at five intersections. Neighbors protested the plans for signals on McAllister and Haight Street, arguing that they would encourage drivers to speed and hurt "neighborhood character." Both streets carry major Muni lines that hit frequent stop signs as they head to and from the western neighborhoods.
On McAllister, transit-priority traffic signals are moving ahead at two of the five intersections -- Broderick and Scott Streets. They were dropped at Baker and Pierce Streets.
"The idea is there'll still be stop signs for the side streets, but McAllister would have no stop sign, and the circles would be the calming feature for vehicles heading along McAllister," said Muni Forward Program Manager Sean Kennedy.

Kennedy said neighbors are don't seem "100 percent behind the idea, but they like it better than a traffic signal. There's been less comments overall."
Some neighbors are still protesting the McAllister plans for traffic circles and signals with an online petition that lists 50 supporters so far. The petition's creator, Gabrielle Tenaglia, writes:
We do not feel that your new proposal to move buses more quickly through our neighborhood does enough to protect the safety of the many bikers and pedestrians who use McAllister Street every day...

The proposed McAllister plans allow for... enough space that traffic will not need to slow down to pass through the intersection. Traffic circles also pose a greater risk to cyclists who can't been seen by cars moving through the circle.

These measures will save the 5 Fulton less than 90 seconds on its route downtown, while putting those of us who live and walk and ride on McAllister every day with our families and children, at risk.
According to Tenaglia, "about 30 people spoke up at the hearing in opposition to the plan" at an SFMTA public engineering hearing on July 10.
Detailed designs for the traffic circles aren't publicly available, so it's tough to say whether they'll be enough of a speed deterrent to get drivers to consistently stop for people crossing the street, while ensuring people on bikes aren't squeezed into a more narrow space in the intersection with buses and cars. The circles may have to be smaller than normal for buses to maneuver around them.
SFBetterStreets.org, a city website designed to serve as an info center for residents about street improvements, says traffic circles "should not be located on transit routes." Kennedy said he thinks circles "work great in certain situations such as this," but couldn't say yet whether they'll be used more widely on other streets with bus routes.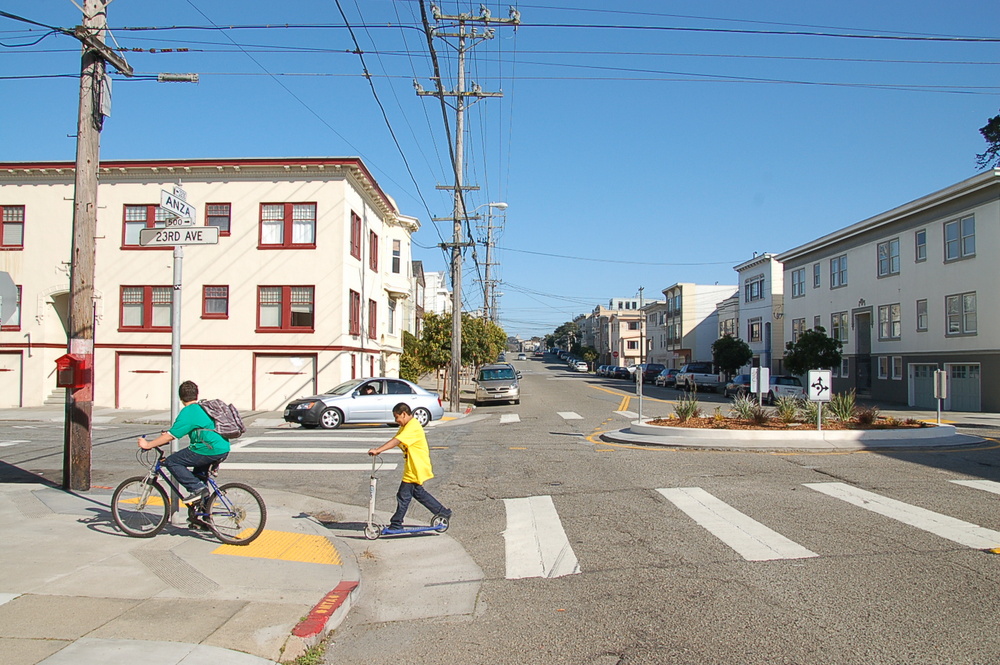 Traffic circles haven't been implemented widely in San Francisco. The only one installed in recent years was in the Richmond at Anza Street and 23rd Avenue, where it's seemed to work well. No bus lines run through the intersections, and 23rd is an official bike route.
SF Bicycle Coalition Communications Director Chris Cassidy said "traffic circles can be a valuable tool to reduce speeds and keep people driving, walking and biking safer," but the organization is "looking forward to SFMTA sharing more details about" the McAllister project.
As a bike route, McAllister is the least steep, calmest, and most direct street in the area connecting the western neighborhoods and Civic Center through the Western Addition. It has sharrows that direct bike riders to mix with bus and car drivers, but installing bike lanes would seem to require the politically daunting prospect of removing all car parking on the street.
Under those conditions, Livable City Director Tom Radulovich said that finding the right design measures to balance the different transport modes "varies street-by-street."
Traffic circles on McAllister are an improvement over stop signs for buses and bike traffic, for which "you're going to want continuous flow," he said. "The challenge will be, can we get everybody -- buses, cars, bikes -- to yield to pedestrians?"
Aaron was the editor of Streetsblog San Francisco from January 2012 until October 2015. He joined Streetsblog in 2010 after studying rhetoric and political communication at SF State University and spending a semester in Denmark.
Stay in touch
Sign up for our free newsletter