Bicycling
SFPD's Sanford Explains His Evolving Views on Bicycling and Traffic Priorities
5:53 PM PDT on August 14, 2015
John Sanford rode a bicycle yesterday for the first time in an untold number of years. Then, he sat down for nearly two hours to have an insightful discussion with a couple of his staunchest critics. Streetsblog's recorded interview with Sanford is posted at the bottom of this article.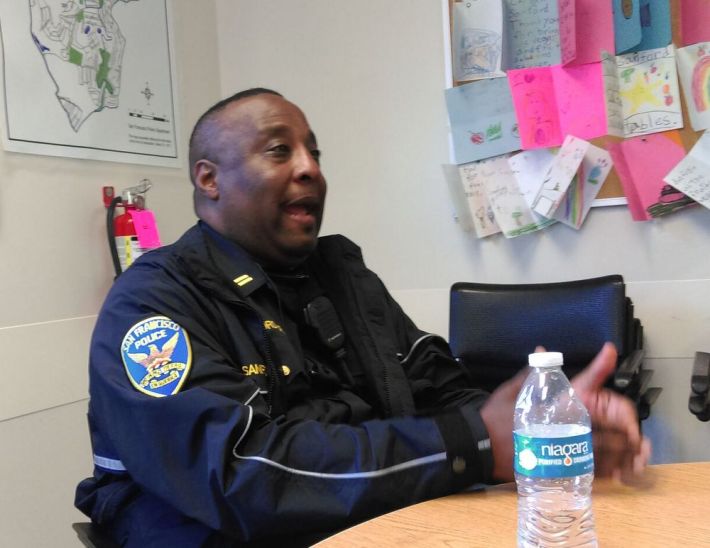 The new-ish captain of SFPD's Park Station is taking strides to build relationships and learn from safe streets advocates after his short-lived crackdown on innocuous bike violations at stop signs last week, which led to dozens of protesters packing a community meeting Tuesday.
By the end of the hours-long meeting, Sanford announced an end to the bike crackdown (at least for now). After listening to compelling explanations as to why people on bikes treat stop signs as yield signs, he also promised to refine his enforcement efforts to account for differences between bikes and cars. (Supervisor John Avalos has since proposed it as a policy.)
Sanford paused the bike crackdown after two days, and then reached out to me and the SF Bicycle Coalition for one-on-one meetings. At Tuesday's meeting, he told the crowd that his intention was to "get the attention of the cyclists. I think we got the attention of the cyclists."
I caught up with the captain yesterday after Katherine Roberts, a longtime advocate for safer streets in Cole Valley, invited me to tag along on a neighborhood walk that Sanford had arranged with her. Roberts planned to point out the daily dangers of using crosswalks on streets like Stanyan, where drivers routinely fail to yield to pedestrians.
Roberts and others at Tuesday's meeting said that complaints about dangerous driving behaviors and locations, which SFPD has pledged to focus on, rarely seem to get the kind of attention from Park Station that Sanford gave to complaints about bicycling behaviors after becoming captain in April.
When we met yesterday, the walk ended up being tabled for our sit-down conversation in the same room where the community meeting was held. Roberts and I asked the captain to address some key questions to get to the heart of the matters behind his views on safer streets, bicycling, and "Focus on the Five."
The 80-minute recording of our conversation with Sanford is below. (Note: It's broken into two parts because the meeting was expected to end, but the discussion continued.) Here are some highlights:
On the "Idaho stop" -- letting bicycle riders treat stop signs as yield signs. "As the law reads, everyone is required to stop at a stop sign. Now, in addition to that, officers do have what's considered discretion, so that also can be very subjective," Sanford says in part 1, starting at 5:20. On Avalos's proposed ordinance: "We have to really be careful, because the police department does that already. We often make a decision on how are we going to manage our resources, and I don't know any captain... that would say we're going to make traffic a priority over a shooting, over a stabbing, over a robbery," he says starting around 10:00.
From there, Sanford argued that the bicycle crackdown was not a diversion of limited enforcement resources from "Focus on the Five," and said there was a new target for the department to issue 37 percent of citations to the most dangerous traffic violations by the end of the year. At about 23:00, I pressed him on why police couldn't meet the 50 percent goal set in January 2014, which Richmond Station has long exceeded. "There are a variety of reasons," Sanford explained at about 25:00, insisting that SFPD's non-traffic priorities often take precedence.
I pressed Sanford further on why more than 70 percent of Park Station's traffic citations are still being issued for non-"Five" violations. At 31:00, he said he couldn't refer to any of the traffic enforcement data, and said I should ask Traffic Commander Ann Mannix for it. (See data from the latest quarter here [PDF].)
From most of the rest of the interview, Sanford argues that officers "consistently" cite drivers for violations that aren't the "Five" most dangerous, and that the presence of patrol cars deters dangerous driving violations from occurring. I asked him how we can measure that effect, and he explained that it's "difficult."
Starting at about 11:30 in part 2, Sanford weighs in on the Wiggle "stop-in" demonstration: "I think it's safe to say that was a manufactured setting" because demonstrators proceeded through stop signs one at a time, Sanford said.
At 22:00, Sanford talks about his first bike ride in as long as he can remember. At about 25:30: "I can understand why people want to just roll through... and nine times out of 10, that person is probably going to make it. I'm concerned about the time when they don't."
Stay tuned for more coverage next week about Tuesday's community meeting and views on bicycling at the SFPD.
Aaron was the editor of Streetsblog San Francisco from January 2012 until October 2015. He joined Streetsblog in 2010 after studying rhetoric and political communication at SF State University and spending a semester in Denmark.
Read More:
Stay in touch
Sign up for our free newsletter