Street Trees
If Trees on Van Ness Matter So Much, Good Thing They'll Double With BRT
5:54 PM PDT on August 25, 2015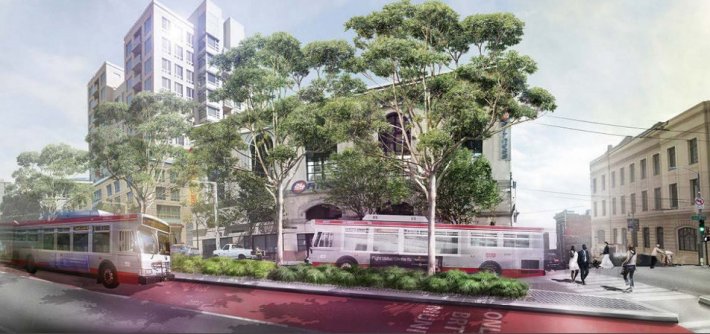 After the construction of bus rapid transit, Van Ness Avenue will have more than twice the number of trees it does today. But the SF Chronicle and local broadcast news reporters didn't let that get in the way of blowing a story about tree removal notices completely out of proportion.
Reports from the Chronicle, which kicked off the media fracas yesterday, as well as ABC, KTVU, and NBC featured misleading headlines like, "San Francisco officials to cut down nearly 200 trees." The whole manufactured controversy, which the Chron doubled down on today, depends on glossing over the fact that the BRT project involves planting about 400 new trees to replace the 193 trees set for removal.
Media outlets would have their audiences believe "dozens" protested the dastardly replacement of trees as part of the BRT project, but none provided an actual count of the speakers at the Department of Public Works hearing on permits to remove the trees. So here it is: There were 26 speakers; 16 against, five in support, and five who were neutral but expressed concerns about the importance of urban trees. Those numbers are from Bob Masys, a senior engineer for the SF County Transportation Authority (not the SFMTA, as the Chronicle reported).
The last-minute complaints don't seem to pose a serious threat to the construction of Van Ness BRT. DPW's approval of tree removal permits is a late and minor step for the project, which has already been severely delayed. After launch was originally scheduled for 2012, it's now on track for 2019.
None of the sensationalist coverage bothered to consult transit advocates for the story.
Andy Bosselman of the SF Transit Riders Union "urges the city to move forward with Van Ness BRT and do everything possible to accelerate its completion," noting that it's expected to speed up Muni lines on the street by 32 percent, on average.
"Twice as many trees will be planted as removed and we're thrilled about that," he said in a statement. "The beautification of Van Ness is important to all San Franciscans. We're excited to see the dramatic improvements for pedestrians, too."
While the Chronicle's initial report said neighbors felt "blindsided" about the removal of mature trees, city staff say they've done extensive outreach during the years of planning for Van Ness BRT, which has consistently included discussion about trees. The SFMTA said it mailed flyers and brochures to 22,000 addresses late last year, and DPW held a community meeting dedicated to tree selection in January.
Livable City Director Tom Radulovich said city agencies' communication with neighbors on street projects can at times be "absymal." But yesterday's hearing had many familiar faces from community meetings over the years, said Masys. Many opponents said they simply hadn't realized that removal of existing trees was a part of the Van Ness redesign.
A project of this size "has a number of impacts," said Masys, "and it can be hard to" make sure the public understands "every single one of them."
"Trees were a topic of discussion throughout the environmental" report, which was vetted for public comments several years ago, he said.
The BRT configuration, approved by the Board of Supervisors in 2012, allowed for wider medians and larger trees than most of the alternative configurations, Masys pointed out.
According to the city's environmental impact report, most of the trees to be removed on Van Ness were found to be unhealthy. Flyers distributed by opponents claimed they're not, but Masys said the trees they referred to were only younger trees that have been planted within the last ten years.
"This project has a lot of trees involved -- probably more so than most," said Masys. "I think we did a decent job of keeping the tree topic on the table."
Aaron was the editor of Streetsblog San Francisco from January 2012 until October 2015. He joined Streetsblog in 2010 after studying rhetoric and political communication at SF State University and spending a semester in Denmark.
Read More:
Stay in touch
Sign up for our free newsletter