Aaron Peskin
Aaron Peskin Consulted With Polk Street Bike Lane Opponents on Lawsuit
6:18 PM PDT on September 2, 2015
District 3 supervisor candidate Aaron Peskin provided consultation for Polk Street bike lane opponents earlier this year on filing a lawsuit over the street's redesign.
Despite his recently-declared support for full bike lanes along Polk, Peskin confirmed his one-time involvement with Save Polk Street, a group of merchants which has fiercely opposed protected bike lanes to preserve car parking.
Peskin said that he had let Save Polk leaders know "what their rights and options are" when they'd considered filing a lawsuit against the city in anticipation of the plan's approval in March, even after it was heavily watered down.
Streetsblog asked Peskin to clear the record on the rumors last week at a campaign event hosted by the furniture store Flipp. Flipp's owner, Dan Kowalski, has been the primary press spokesperson for Save Polk since the group formed over two years ago. Peskin said he'd only met Kowalski for the first time that evening.
Peskin said he didn't encourage Save Polk to sue, but that he'd provided advice about legal rights:
I always let everybody know what their rights and options are, the same way that I let tenants know that they can disappear into the middle of the night, but they also have options. If you're asking whether I encouraged anybody to file a lawsuit, no, but people will say, Do I have rights of appeal? Yes, you've got rights of appeal. These are the things that you can do. I'm always clear with people what their rights are. It's important that people know what their rights are. That's part of the way you bring people together -- you let them know, these are the powers you have, these are the powers these people have.
Peskin defended his record on improving bicycling, walking, and transit as a former supervisor, and said his position on the Polk bike lanes has not changed recently.
As Streetsblog highlighted last week, Peskin wrote "yes" on an SF Bicycle Coalition questionnaire which asked D3 supervisor candidates if they will "commit to supporting continuous, protected bike lanes on the High-Injury Corridor segments of Polk Street when the Polk Streetscape Project is next reviewed." He added that he "was disappointed by how contentious the Polk Street process became."
Efforts from public representatives to "bring folks together and build some consensus" were "unfortunately lacking," Peskin told Streetsblog. But "in the months and years to come, we'll see what we've seen all over the city, that [street redesigns like Polk's] actually work, that business will continue to not only survive, but thrive."
Supervisor Julie Christensen, Peskin's opponent, did not respond to the SFBC's question about committing to expanding Polk's bike lanes. She wrote that she'd "worked to sustain a compromise that does not preclude future adjustments, but will allow the significant bike safety portions of the current project to move ahead."
When Christensen was appointed by Mayor Ed Lee to the office in January, "The plan was in jeopardy," she wrote.
Peskin served two terms as D3 supervisor from 2000 to 2008, and acted as board president from 2004 to 2008. In 2011, he was nominated for appointment as interim mayor by the Board of Supervisors when Gavin Newsom vacated the office. The board instead appointed Lee as mayor, who was then elected to remain in office. Lee faces re-election in November along with the D3 candidates.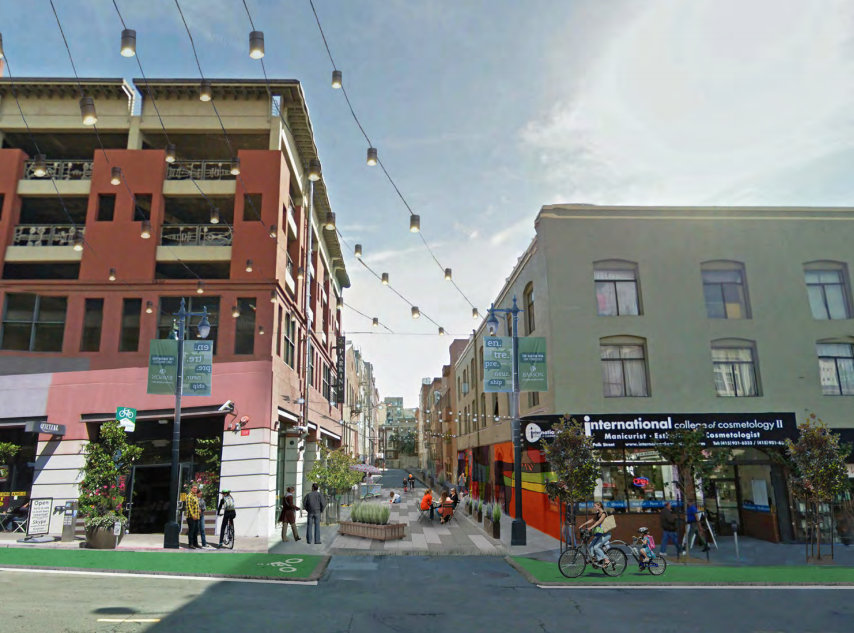 Mayor Lee and former D3 Supervisor David Chiu haven't called for a more ambitious Polk plan, which starts construction next year. Lee's optometrist fought the Polk bike lanes, and the SFMTA removed them from the office's block shortly before the plan was approved.
During his tenure, Peskin said he'd tried to "de-politicize" such SFMTA decisions on street changes with 2007's Proposition A, which he authored to remove the Board of Supervisors from SFMTA decision-making. The proposition was passed by voters, but "the SFMTA has not used it with all of the powers that have been bestowed upon it," he told Streetsblog.
The SFMTA Board of Directors "all think that they actually work for the mayor" who appoints them, Peskin said at a Taxi Workers Alliance forum in June, calling Prop A an "abject failure" that needed reform. "That's not how it was designed, but that's how it works as a matter of practice."
Prop A, it's worth noting, also thwarted a proposition pushed by Gap billionaire Don Fisher to promote more parking garages downtown. Prop A also gave more parking meter revenue to Muni, though it was siphoned to other agencies at the behest of former Mayor Newsom, Peskin says.
Peskin touted his record on livable streets, which includes his support for Fisherman's Wharf's people-friendly redesign of a block of Jefferson Street that removed all car parking. He also sponsored downtown parking reforms authored by Livable City, which removed minimum parking requirements and limited curb cuts for driveways.
Peskin, who is married to a land use attorney, is known for his knowledge of the environmental review process and for making liberal use of legal actions, especially against building development. In his recent years out of office, he's campaigned to keep building heights low along the city's waterfront and helped file lawsuits over the environmental review for the America's Cup races.
In 2013, Peskin filed an ethics complaint against SFMTA Board member Cheryl Brinkman for voting to approve a contract for work on the Central Subway, for which he dropped his support in 2011.
Peskin had remained quiet on the Polk bike lanes prior to the SFBC questionnaire. He told Streetsblog he'd simply stayed out of the fray because he wasn't holding office, and didn't launch his campaign until March.
At Flipp, Peskin said he was unaware of Kowalski's vehement insistence on preserving parking on Polk. At a Middle Polk Neighborhood Association meeting in 2013, Kowalski told a crowd that statistics about bike lanes "aren't real," and pointed to two cases of bike lane removals which had nothing to do with streetscape improvements on a commercial street. This March, he told the SF Chronicle, "I don't know why they don't see that there is a need for cars up and down the street. This is a commercial district. It is not a park."
Sources close to the situation on Polk said Peskin was consulted by MPNA's Dawn Trennert, who gave $100 to Peskin's campaign, according to Ethics Commission records. Kowalski and Trennert have not returned emails and phone calls requesting comment on Peskin's consultation and support for expanding bike lanes.
The SF Bicycle Coalition is expected to announce its candidate endorsements soon. Its member poll taken last week, distributed along with the candidate questionnaire responses, will weigh heavily.
SFBC Communications Director Chris Cassidy said the organization is "excited to have Aaron Peskin's support for continuous, protected bike lanes and pedestrian safety improvements" on Polk.
"Polk is among the top three most dangerous streets in San Francisco," Cassidy said in a statement. "Along with our local members and the area's merchants, we fully endorse a safe transformation for this high-injury corridor."
As for Peskin's statement about "letting everybody know what their rights and options are," Cassidy said in response:
One important thing we've learned in working with communities for safer streets is that our democracy works best when everyone's fully educated about their rights, and encouraged to engage in the manner they see fit. This is how we achieve life-saving improvements.
"There are many Polk Streets," said Peskin. "It's critical, I think, to the long-term livability of the city. I believe that I was good at bringing people together to understand things. Certain things become contentious."
Aaron was the editor of Streetsblog San Francisco from January 2012 until October 2015. He joined Streetsblog in 2010 after studying rhetoric and political communication at SF State University and spending a semester in Denmark.
Stay in touch
Sign up for our free newsletter