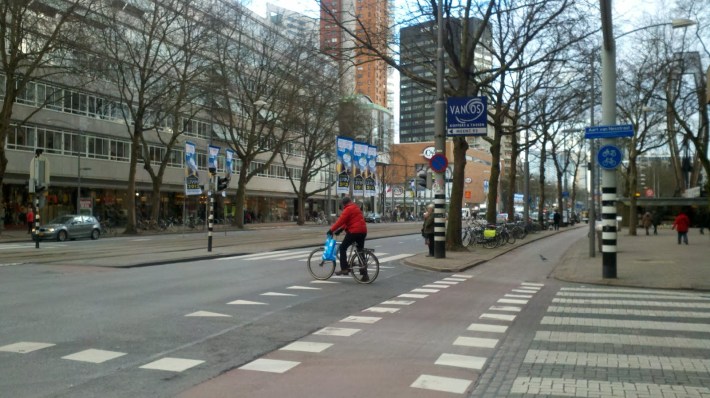 Yesterday, John Robert Donovan, 41, of Mill Valley, accepted a plea-bargain that got him a misdemeanor conviction, two years of probation, 80 hours of community service, and a $4,134 fine plus court costs, as reported in the Marin Independent Journal. Last November, Donovan, who was driving a Tesla, reportedly got into a road rage incident with some cyclists on Shoreline Highway. When one of the cyclists flipped off his wife, Donovan overtook, cut them off, and braked—causing one of the cyclists to crash into his car. Donovan then drove off.
It seems not a week passes without some kind of car-versus-bike road rage incident.
Just last week, cyclist Danica Helb was pepper sprayed by a motorist. "I got a call from Sergeant O'Connor, who recorded a detailed description of the events," she wrote in an email to Streetsblog. "He said he is investigating the case as a battery, and would be following up with the witnesses."
And then there's this madness from last year, captured on video. The driver nearly ran over a cyclist who was riding safely in the bike lane. But instead of apologizing, the motorist gets out and screams and kicks at the cyclist.
No doubt next week there will be another conflict. And another. People will continue to get hurt. Sometimes they are intentionally killed.
What's really going on here?
Dr. Robert Nemerovski is a psychologist with practices in San Francisco and Marin who specializes in anger management. He wrote his doctoral dissertation on the psychology of road rage. He's also a cyclist. "I feel extremely threatened by automobiles--they've got metal and airbags and I've got nothing," he said. "So when a car gets too close or cuts me off or doesn't see me, even with my flashers and my obnoxious yellow outfit, it's really a gut reaction that my life is in jeopardy."
Nemerovski says the close calls with motorist trigger a cyclist's basic fight-or-flight system. For his patients, he recommends using a "Threat, Injustice and Frustration" model (TIF). Under this treatment, patients who are prone to anger write down whether their rage is triggered by a perceived threat, an injustice, or frustration.
The latter two are why cyclists tend to trigger anger in drivers, especially when drivers find themselves unable to pass on a narrow road, such as in the recent Mill Valley case. "As a driver I get fed up because it's an injustice, so they are frustrating my goals to get where I need to go," he explained. Stanford psychologist Philip Zimbardo's famous 1970s study into prisoner-guard dynamics showed, among other things, that anonymity makes people meaner. In other words, if one is ensconced in a thick shell of steel and tinted glass, anger is amplified. This effect was lampooned in the famous Disney cartoon, "Motor Mania." The cartoon also hammers the point that "pedestrians" and "motorists" (and of course "cyclists") are all the same people, which just makes the whole phenomenon all the more strange.
So what's the solution?
"We work hard to educate thousands of people every year who bike and drive how to do so safely, legally and politely. But there will always be people that fall short of what we teach," said Chris Cassidy, spokesman for the San Francisco Bicycle Coalition. "That's why it's so important that planners design safe streets, which necessarily impacts the behavior of everyone along that stretch of road."
Ultimately, if car-versus-bike anger comes down to fundamental human psychology, no amount of education, discipline or law enforcement is going to solve the problem completely. In other words, sharrows won't help. The answer has got to be segregation through infrastructure that just keeps the cars and bikes away from each other whenever possible.
This is certainly the model that was adopted in the Netherlands, which has the best safety record in the world—when Dutch roads aren't segregated, they are engineered to keep cars going slow enough so they can't do much damage. Even intersections, through phased signals, keep cyclist and motorists apart. Dick van Veen, a Dutch bike engineer who is currently working in Ottawa, wrote that mixing modes on roads designed for speeds above about 20 mph is deemed unsafe and unethical.
It's a depressing conclusion that the only way to prevent motorist and cyclists from regularly beating the hell out of each other is by separating them. But, psychologists and history tell us that will work. As we wait for the day when that system is built, Nemerovski has ten tips for staying calm on the road.
Stay in touch
Sign up for our free newsletter