Bicycle Infrastructure
North of Panhandle Meeting Stressed Data and Parking Parking Parking
10:15 AM PST on January 25, 2016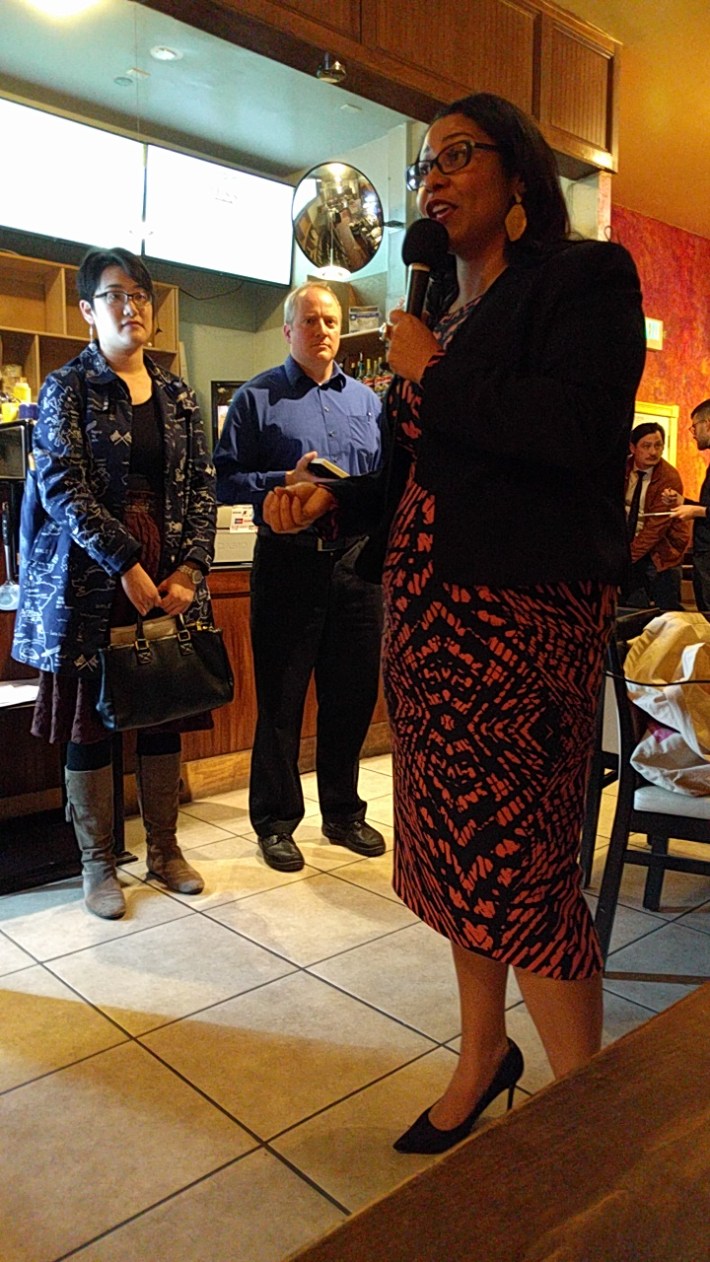 Thursday night, I was exhausted from covering so many stories in this crazy city that I love. So I grabbed my laptop and headed out to my favorite Divisadero coffee shop to catch up on Facebook and maybe look at some funny cat videos.I walked in the door, ordered, and heard: "Hey Roger! So glad you could make it!"
It was Janice Li, Advocacy Director of the San Francisco Bicycle Coalition. She'd given me a tour of bike projects on Market Street and the Wiggle just the week before.
In my attempt to escape, I'd walked into the monthly meeting of the North of Panhandle Neighborhood Association. No sooner had that registered, when I turned around and found myself face-to-face with SFPD Park Division Captain John Sanford. Janice started to introduce us. "I know who he is. Glad to meet you Captain," I said, shaking his hand. "I'm the new editor of Streetsblog." I wondered if he'd read my piece where I jokingly compared his bicycle crackdown logic to the Spanish Inquisition.
Sanford and Captain Greg McEachern gave presentations about policing and crime levels in the area. They both asked that residents contact them immediately about any "quality of life" problems. They also talked about crime stats. McEachern mentioned that they'd start a foot beat on Divisidaro. It seemed odd there wasn't one already on such a busy street, but I'd already heard that SFPD is not big on getting out of their cruisers.
Cathy DeLuca, Policy and Program Manager for WalkSF, gave a great presentation about Vision Zero and their goals for making streets safer. First, she helped get the audience up to speed on the current situation.
"At least three people walking every day get hit in this city," she said. "One-quarter of all trauma patients are pedestrians hit by cars." She explained that by focusing on the most dangerous activities on the most dangerous streets, the police and SFMTA can start to bring those numbers down.
"The city has gathered data and crunched the numbers: six percent of city streets are responsible for 60 percent of crashes. The top five things that cause injuries and deaths are speeding, not yielding, not stopping at stop signs, not stopping at red lights, and improper turning," she said. "They're not accidents. They are predictable events." Above all, she stressed the importance of using data to dictate policies for law enforcement, speed limits, and street designs.
Next, Oliver Gajda, a planner from SFMTA, presented on the Masonic Avenue Streetscape Project, which is slated to start construction in a few months. The project will add a landscaped median, bus stop enhancements and raised bikeways. But instead of talking about the great things the project will bring, he focused on how the city will make up for lost street parking on Masonic.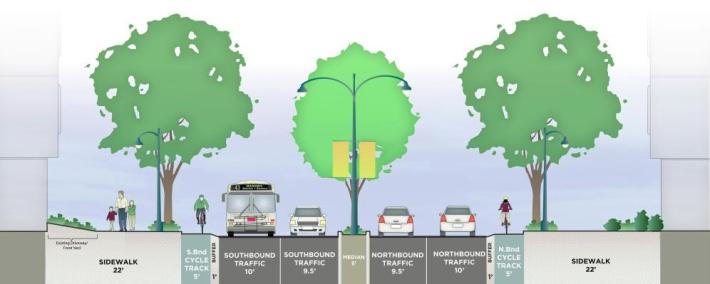 To add more parking, the city is considering blocks of nearby Turk, Central, Lyon and other streets for 90-degree, angled parking. An audience member brought up that she doesn't like angled parking, because it's hard to see oncoming cyclists. At that point, I chimed in. It occurred to me that if they're re-configuring parking, why not add a cycle path between the curb and the parked cars, to created a simple protected bike lane? It would require blocks to make sure cars don't pull up too far, but that's cheap. Not exactly a ground breaking idea, so I thought.
Gajda was emphatic that there wasn't room, and besides, they were building a bike lane on Masonic. I kept pointing out that building a raised bike lane on Masonic, as part of a relatively complex and expensive street improvement project, is not an argument for not building a simple parking-protected bike lane on another street. After all, the city is spending the money to reconfigure the parking regardless. Somewhere between 90 degree parking, which the city is considering, and parallel parking, there has to be an angle that will make enough room for a bike lane along the curb without blocking the car lane, even if that costs a handful of parking spots.
"You should suggest that," said another representative from MTA.
"I just did," I answered.
It's unfortunate, but much of SFMTA is in a mindset that all safety improvements are necessarily complicated. They're not. The agency also thinks safety improvements can only happen if the overall number of parking spaces is maintained. That's an attitude that has to go. After that, Supervisor London Breed talked about the housing crisis. I was going to make a suggestion that if the city didn't allot so much land to parking, there would be more for housing. But I decided it was time to move on to funny cat videos.
My takeaway from my first, impromptu community meeting: San Francisco is a city full of super smart, wildly dedicated, and truly awesome people. And Streetsblog, WalkSF, the San Francisco Bicycle Coalition and other groups for street safety have their work cut out for them.
See you tonight, Monday, Jan.25 at the Streetsblog Happy Hour at Virgil's.
Stay in touch
Sign up for our free newsletter