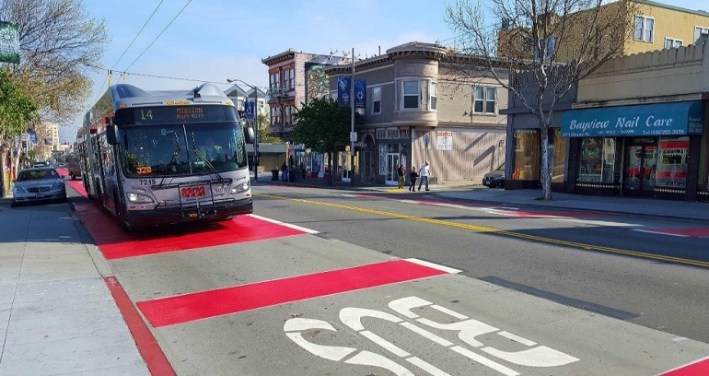 Earlier this week, the SFMTA sent out a release with a progress report on the "Red Lane" paint (actually, a thermoplastic adhesive) they are applying, clearly marking lanes for Muni Streetcars and buses (and taxis):
Early signs indicate success. Preliminary data shows transit-only lane violations dropping by more than 50 percent on some segments of 3rd Street. On Geary and O'Farrell streets, the red lanes have reduced Muni travel times by 4 percent despite traffic congestion increasing on the same segments by 15-18 percent.
But what about bikes?
In cases where SFMTA is putting the "red carpet" on streetcar tracks, bikes continue to ride to the right, on whatever infrastructure is available (and on most streets, that means not nearly enough). But in other cases, for example, on the recently red-treated Mission Street, SFMTA is putting the buses in the right-hand lanes. That puts Mission Street cyclists in a confusing and often harrowing predicament.
"We've been requesting clarity for years on whether people biking are permitted in lanes designated transit-only," said Chris Cassidy, Communications Director for the San Francisco Bicycle Coalition. "The SFMTA's reluctance to offer that clarification encourages unpredictable and ultimately unsafe behavior on streets like Mission and Market, which are both high-injury corridors."
On the one hand, California law is pretty clear on this: bikes are not permitted to use transit lanes. "The SFMTA's general policy is that bikes should not be in transit lanes, consistent with current CA law," said Ben Jose, a spokesman for SFMTA. "Under CA law, bikes are legally allowed to take the lane to the left."
The confusion comes because bikes are generally supposed to be on the right (conditions permitting) and transit/High Occupancy Vehicle lanes are generally on the left. But if they're on the right, it's anything but intuitive for cyclists to take the center lanes.
Remedies for this situation haven't worked out. "On Sutter they had a sharrow put in the HOV lane, which seemed completely illogical," said Bert Hill, chair of the Bicycle Advisory Committee of the San Francisco Board of Supervisors.
According to sources close to SFMTA, it's unofficially expected that cyclists will sometimes ride in the transit lane when it's on the right. And, again unofficially, police are discouraged from citing cyclists for it. (Streetsblog would be curious to read if anyone has had a run-in with the police about this).
Of course, planners are forced to keep the red-striped transit lanes in the center of the street when it's a tracked vehicle, as on Market Street or Church. But why not do the same for buses and add pedestrian refuges for boarding? In other words, why should bus lanes and stops be treated so differently from, for example, the J-Church below?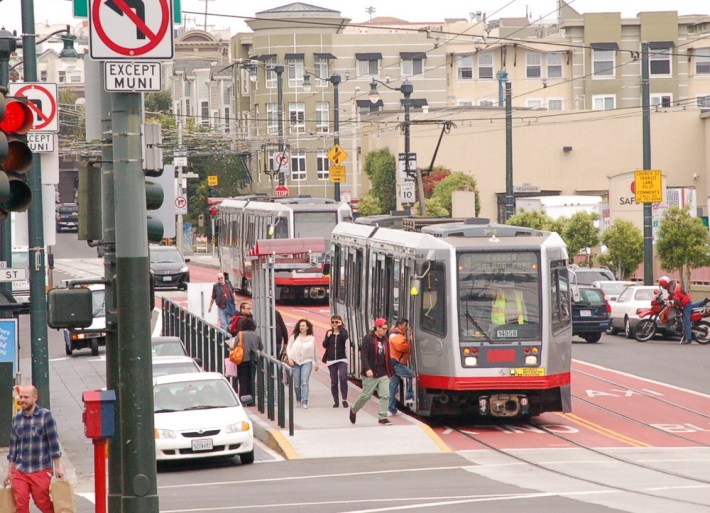 "I would have preferred a center lane for buses on Mission, just because they generally work far better for transit, avoiding parking and curb friction," said Peter Straus, with the San Francisco Transit Riders Union (SFTRU). "But I've agreed with SFMTA staff to try this and see how it works--it is mostly just paint at this point."
But the fact that it's just paint may be part of the problem. Or as Thea Selby, also of the SFTRU, put it, "Bicycles use the red carpet on Haight, which scares me to death because I'm afraid a bus or rogue car are going to sideswipe the bicycle and run them down."
That concern has merit. Bus lane projects in Oakland are similarly configured, with the buses on the right. "There was a case here in Oakland several years ago of a bicyclist who was doored in a bike lane on MacArthur Blvd and then run over by a bus and killed, so we are very conscious of these issues," said Robert Prinz, Education Director for Bike East Bay.
Prinz and other advocates hope future projects will start putting bus lanes in the middle. But for now they're stuck with projects that were planned before the state and city started transitioning away from measurements that favor automobiles over every other mode of transportation. As one advocate put it, Mission doesn't have a protected bike lane and transit doesn't get the center lanes because "there isn't enough room." In other words, making Mission truly safe for bikes while also making bus services fast and dependable would take too much space from private cars and parking.
So where are cyclists supposed to ride on Mission? The short answer is they're not.
Stay in touch
Sign up for our free newsletter