Bicycle Infrastructure
Crash on Valencia Displays Failings of Safety Compromises and Half Measures
4:50 PM PDT on March 31, 2016
Yesterday, Streetsblog reader Adam Long was riding along Valencia when he heard screeching brakes and commotion behind him. He had his camera on his helmet and, although he didn't catch the actual collision, it's pretty easy to see what happened from the video he put together and submitted to Streetsblog's tips line:
Once again, the video demonstrates the utter folly of engineering bike lanes between street parking and moving traffic on a busy street. No amount of driver training is going to fix this entirely. There are always going to be cars swerving obliviously into and out of the bike lane. There will always be doors flung open. Double parked cars will always block the lanes. In fact, Long has an entire video channel dedicated to that bit of futility. As to enforcement, everyone's seen police officers roll right past cars and trucks parked on bike lanes. And on those rare occasions when there aren't regular trucks and cars in the bike lanes, the enforcers themselves block them.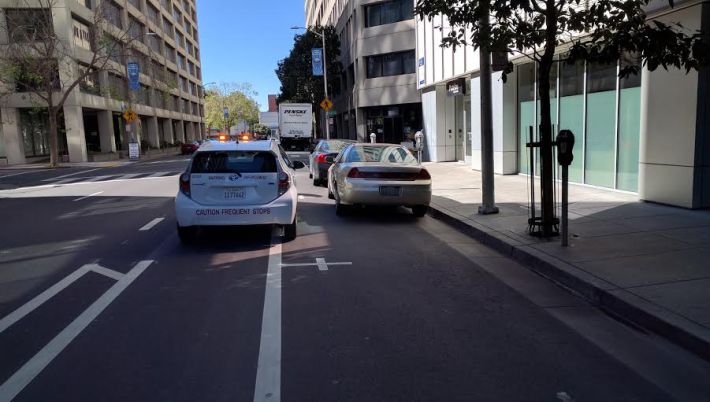 There's no way around it: door zone lanes don't work and are a natural collision generator.
That's probably why Bay Area advocates and pro-bike politicians are trying to move in NACTO guidelines to get cities building more protected bike lanes, also known as cycle tracks, where cyclists are physically protected from cars intruding into their space, either by curbs, planters, parked cars, bollards, or whatever. In other words, if it's not a protected bike lane, it's not a bike lane.
"The best street designs eliminate the risk of injury, which is the case for fully protected bike lanes," said San Francisco Bicycle Coalition spokesman Chris Cassidy. "Taking half measures, like putting sharrows on the ground or placing a bike lane almost entirely within a door's reach of parked cars, inevitably results in innocent people getting hurt."
San Francisco is moving in the protected-bike-lane direction. Projects on Market, Masonic, 2nd, and Fell are either on the ground or soon will be, albeit often with compromises or significant pushback about parking issues. But the incident Long witnessed harbors back to a Streetsblog piece about Mission Street's new bus lanes that ran exactly one week ago. Advocates and city officials interviewed for the story opined that Mission doesn't have enough room for proper bike lanes and therefore cyclists should ride on Valencia. Some commenters reflected this notion. Long's video shows its fallacy.
All of which is part of a quick-to-compromise ethos that gets too many people hurt. The answer to a dangerous situation is not to tell vulnerable road users to use a parallel street--especially one that is also deficient. It's to correct the defect. And, yes, there is enough room for protected bike lanes on both Valencia and Mission--saying there isn't starts from the paradigm that there always must be enough space for plenty of cars and plenty of parking. How about, instead, the only priority is making sure there's enough room for plenty of people to enjoy the street and get around safely? And this doesn't mean compromising commerce on those streets. "When you create more transit-rich places for people to bike and walk, local businesses thrive," said Nicole Ferrara, Executive Director of Walk San Francisco. "It's a matter of having the political leadership."
The Dutch and other nations figured out how to do this a generation ago. There's no mystery here. It's just about priorities.
As to the young woman clipped by the motorist, Streetsblog is glad she got away alive and whole. Drop us a note and assure us that you're really okay. As we all know, this could have ended very differently--and, sadly, it often does. Long himself wrote the best conclusion at the end of the video. It bears repeating: "This was not an accident. This was a direct result of poor engineering, poor enforcement, and a lack of political will to make rapid improvements."
Well said. And thanks for making this video and looking out for your fellow vulnerable road users.
Stay in touch
Sign up for our free newsletter