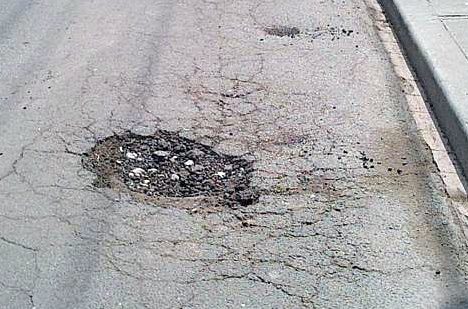 Oakland voters, as with voters throughout the Bay Area and the nation, will have quite a slew of decisions to make on November 8.
KK is one of the easiest.
Measure KK is a $600 million general obligation bond to invest in Oakland infrastructure and affordable housing. As the Yes on KK campaign writes, it "...will improve quality of life citywide by re-paving streets, rebuilding cracked and deteriorating sidewalks, and improving bicycle and pedestrian safety. It will also repair and improve parks, libraries, and public safety facilities."
Or, to quote our friends at Bike East Bay:
Oakland's Measure KK will provide much needed funds to pave our streets and fix our sidewalks. Imagine walking, biking, and even driving around Oakland without hitting potholes or broken sidewalks on every other block.
Safe-streets advocacy groups are in near unanimity in support of KK, with Transform, Walk Oakland Bike Oakland, Bike East Bay, and SPUR among the thirty or so groups officially endorsing it. The bond also earmarks $150 million to upgrade city facilities, such as libraries, parks, and fire stations. Lastly, it has a strong equity component: it includes $100 million for affordable housing.
Readers will recall that Jeff Tumlin, Principal and Director of Strategy at NelsonNygaard Consulting, was hired this summer by Oakland to help reorganize city government. He has until early next year to put together a Transportation Department, whereas until now various tasks relating to transportation were split among planning and public works departments.
Tumlin is designing a DOT that will be project-oriented, so that safe streets will get built. "The Oakland DOT will be different. All pavement maintenance will go into the DOT, instead of Public Works like in San Francisco or Berkeley. The DOT will be in charge of everything about the streets, with the exception of sewers," he told Streetsblog this summer.
But it will all be meaningless without money. "Every day we get well-meaning requests from citizens to address stop signs or street lights that are out, or traffic-calming requests. We have about one-tenth of the resources that we need to address all of these requests," he said.
But if it gets funding, can Oakland reform its car-focused planning of the past? Streetsblog readers aren't going to want to fork over more of their hard-earned paychecks to fund street work, if all it means is smooth pavement and more auto-uber-alles policies.
General obligation bonds, after all, are a tax mechanism. The bonds will be paid by a property tax assessment, adding about $60 to the annual property tax bill of a home valued at $250,000--the median in Oakland--according to calculations by the SF Chronicle, which endorsed the measure. It's easy to be skeptical--and downright cynical--about taxes and how they get spent.
And Oakland hasn't proven itself yet. Streetsblog toured the recently repaved streets near Jack London Square and was flummoxed to see freshly painted bike lanes in door, a.k.a. "death," zones. On top of being too close to parked cars, the lanes are blocked by pallets, cars, and delivery trucks, some even putting cones out to advertise their transgression. This is all happening on streets that could have had parking-protected bike lanes. It seems like a huge missed opportunity.
It also smacks of agencies still working at cross purposes and following outdated rules, which is what Tumlin and the new DOT will have to shift. There are some signs that it's beginning to happen. The protected bike lanes on Telegraph--and their planned extension toward Temescal--and the bus-only lanes/BRT planned for International Boulevard come to mind. City staff has also been adding bike lanes when the opportunity presents itself--see Bike East Bay's celebration of Oakland's "bonus bike lanes" that are going in, one by one, all over town.
And that's why it's essential to get Oakland's streets and sidewalks repaired.
"If you're an adult living in Oakland and your street has just been repaved, it won't be repaved again in your lifetime. That's because the City of Oakland has $2.5 billion in unfunded capital needs, including a $443 million paving backlog," wrote Robert Ogilvie, SPUR's Oakland Director. "So Oakland's streets get paved, on average, once every 85 years."
85 years is too long to fix a street.
KK is a general obligation bond and will require two-thirds to pass.
Streetsblog San Francisco urges its Oakland readers to vote "yes" on KK.
Stay in touch
Sign up for our free newsletter