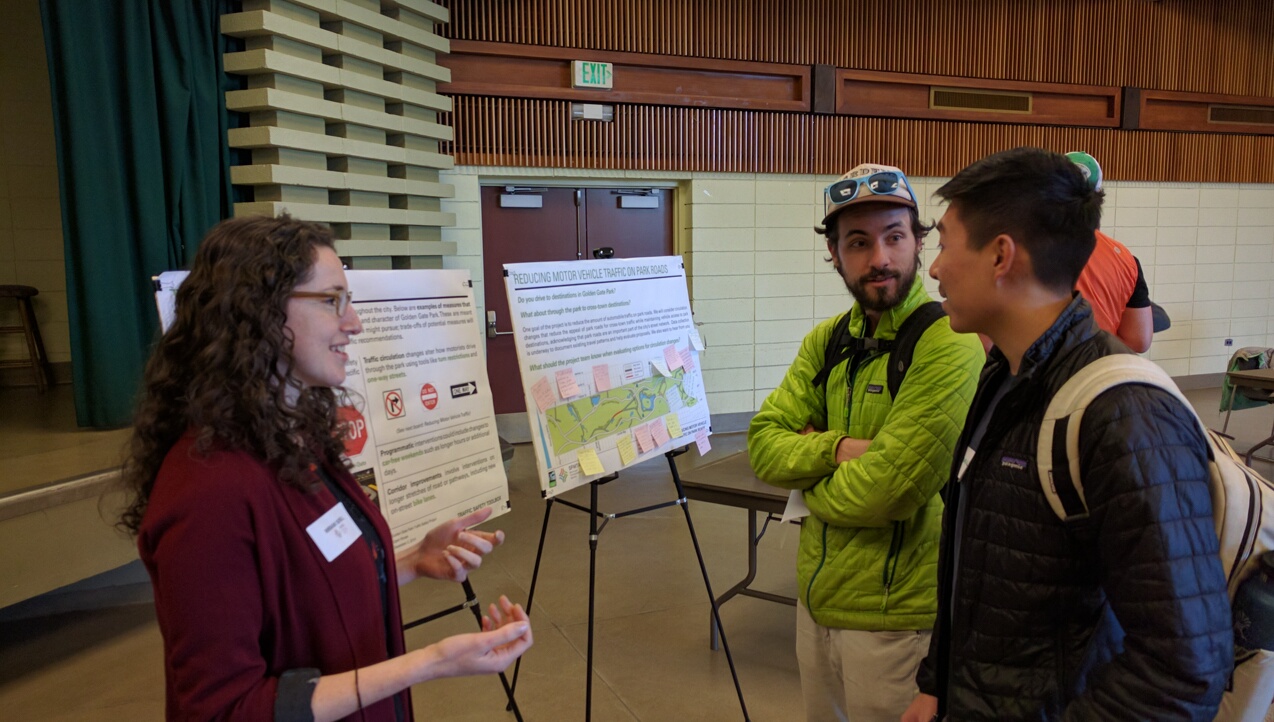 Saturday morning, the San Francisco Department of Recreation and Parks (RPD) held an open house to get feedback about potential pedestrian and bicycle safety improvements for Golden Gate Park. It was held in the County Fair Building Auditorium in the park and was attended by some 40-50 people.
From the department website:
Tell us about how you get around Golden Gate Park and about specific locations where you have felt unsafe or see opportunities for improvement. We will share background about previous Park safety efforts and ongoing challenges, and we will ask you to provide feedback on the City's priorities for this project. Your input will help RPD and SFMTA develop recommendations to make Golden Gate Park safe for all travelers through the Park; these recommendations will be presented at subsequent public events.
Miriam Sorell, a manager in the Livable Streets Division of the SFMTA, said the idea at this point is to hear from people about hot spots in the park, since it's impossible to effectively collect data from every single location. "We want feedback, to combine with collision data and traffic data," she said. The idea is to use all this information to come up with effective designs for making the park safer and more user friendly.
That's not to say SFMTA doesn't already have some goals in mind. "We don't want to preserve JFK as an automobile commuter route," said Sorell.
That sentiment was reflected by nearly all the participants in the meeting. "It's car focused now," said Nicole Crittenden. "All the streets feel like they put the car first...bikes and pedestrians second. I know people who want to cycle but are afraid to; the park should be a place where people can start biking."
"I like all the comments," said Asumu Takikawa, looking at one of the comment tables, which had a big map of the park with Post-it notes stuck to it. "It's encouraging and I'd like to see them go even further and shut off the cross streets to traffic."
What were on the Post-it comments? Many asked for a stop sign here, or a more visible crosswalk there, and protected bike lanes throughout. Verbally and via written comments, attendees expressed desire for protected bike lanes on MLK, as well as an extension of parking protection the length of JFK drive. Streetsblog readers will recall that last June, Heather Miller was killed by a speeding driver on a section of JFK that still lacks protection.
Another attendee, meanwhile, felt the newly installed speed bumps on JFK drive could be better. "These should be raised crosswalks instead of speed bumps and they should raise all the crosswalks," he said. Another attendee, Larry Rosenfeld, is an advocate with the Inner Sunset Park Neighbors. He was concerned about the implementation of the existing parking-protected bike lane on a portion of JFK. "Some people just don't know how to park," he said.
He was referring, as Streetsblog readers who know JFK drive have surely encountered, to the apparent challenge motorists face when parking inside painted lines. Streetsblog found that nearly all the cars parked along the parking-protected section of JFK drive left their cars intruding well into the bike lane door buffer space. It's hoped that SFMTA will add some kind of physical object--be it a planter, posts, some kind of rubber treatment, or pretty much anything--to keep motorists from obstructing the buffer.
Rosenfeld said this comes down to a failure of the "three 'E's." He was talking about the importance of good engineering, good education, and good enforcement. Clearly, the parking-protected bike lane would be better engineered if it had some kind of simple physical barrier to keep cars from parking on the door buffer. Additionally, it seems likely that drivers are not educated enough to know they're not permitted to park with their wheels in the buffer. And, finally, it's pretty clear the city is not ticketing cars that do this, or pretty much every car in the park would have had a ticket Saturday morning.
It was encouraging that everyone at the meeting was for a safer park that's more friendly to walking and cycling. Word has it that there was someone at the meeting complaining about a lack of car parking, but they must have left before Streetsblog arrived. That said, the majority was clearly interested in making the park what it should be--a safe place to enjoy.
Stay in touch
Sign up for our free newsletter