Bicycling
Bay Area Bike Share Outreach in the Excelsior
5:03 PM PST on February 8, 2017
Last night ten people attended a Bay Area Bike Share meeting at the Excelsior Branch Library on Mission. The meeting was designed to solicit input from the public about preferred locations to place bike stations. It's part of a ten-fold expansion of  the program, which will eventually end up with 7,000 bikes across the Bay Area. From the Bike Share website:
[At the outreach meetings] ...neighbors sit around maps and discuss which station locations work best for their community. In early 2016 we hosted our first public workshops in San Francisco, San Jose, and the East Bay, where we invited the public to review possible site locations, informed by both crowd-sourced suggestions and technical analysis. Leaning on the local knowledge and expertise of residents, these workshops informed the selection of proposed expansion sites...
"We're citing stations to connect jobs around BART," explained Jean-Paul Torres, with Bay Area Motivate, which operates the stations. "There will be 23 Excelsior stations, with 14 bikes per station."
To date, Bay Area Bike Share has held 115 stakeholder meetings--meaning meetings with local civic groups--and some 20 public workshops like the one at the Excelsior Library. Meanwhile, more outreach meetings are planned for the summer, with dates and locations to be determined. There's also an online portal for suggesting locations.
A local resident who identified himself as Michael (seen in the lead photo, on the left) was dubious about the idea of sharing bikes in his neighborhood. For one, he said stations need to be placed away from Mission Street's commercial corridor, to the interior of residential streets, so that people can use them to and from their homes. He also commented that the bikes "better have good locks." Torres explained that the bikes lock very well into the docking station and that the parts on the bikes are non-standard, so it would be hard to resell them. He also said they have a system for people to phone in the location of bikes that might end up discarded.
Around the sides of the room there were easels with maps of the Excelsior and a grid overlay, with each square in the grid representing a five-minute walking distance. Bay Area Bike Share is collecting input through the workshops, other community meetings, or online, to figure out the ideal locations within each grid.
Paolo Cosulich-Schwartz, communications manager with Bay Area Bike Share, hopes the system will build a bigger constituency for bike advocacy in general. That's going to be needed in the Excelsior, where bike infrastructure is especially lacking. Besides the dearth of bike lanes, fast-moving busy streets, and sub-par pavement, bike share has additional challenges in this area--notably, the two BART stations, Balboa Park and Glenn Park, are bounded by I-280 with its ramp complexes that make walking in the area, let along biking, stressful, uninviting, and downright dangerous. Streetsblog has written about the challenges of this area several times, and some of the efforts to improve conditions.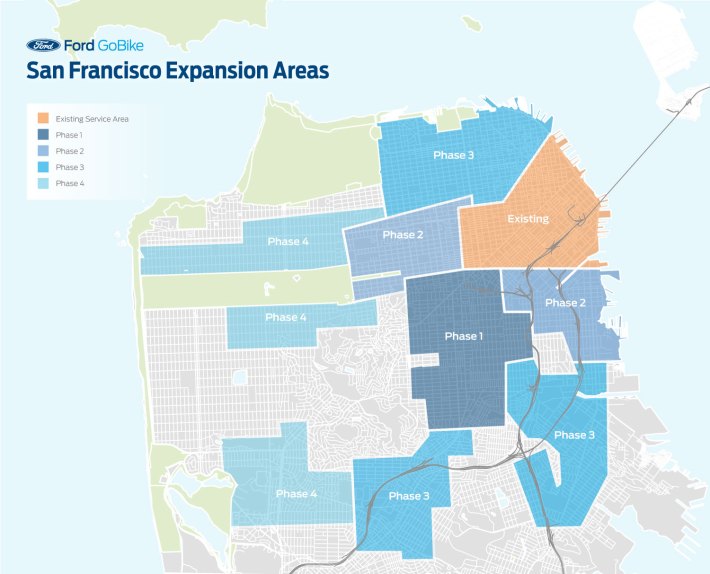 Torres mentioned that Bay Area Bike Share members get a thirty percent discount on helmets, which led Streetsblog to question if there isn't a bit of a moral conundrum. Placing a bike share station at, let's say, Balboa Park BART, could invite an unsuspecting tourist to think it's perfectly safe to ride around there. But, as with many other locations slated for bike share expansion, it isn't. Cosulich-Schwartz said that "...part of cycling advocacy is building demand for more infrastructure by getting people to ride." Either way, this is an issue bike advocates will continue to struggle with.
Streetsblog doesn't mean, in any way, to denigrate the effort in the Excelsior. But its important to spotlight that setting up bike share stations is part of a much heavier lift, both politically and in terms of fixing this and other dangerous, car-centric environments.
Speaking of politics, it's ironic that this morning the SF Examiner ran a story about Excelsior Supervisor Ahsha Safai's advocacy for tax-payer funded personal parking at City Hall. The Examiner quoted Safai saying "...for me to be a good dad and a good husband ... I have to have a car."
It would also have been remiss not to bring up Bluegogo and other upstarts that are now offering bike share without fixed stall locations. Employees of Bay Area Bike Share and other agencies represented at the meeting were reluctant to address the issue on the record, but one person commented that "...it gives SFMTA a kick in the pants to get through this [official] process."
Bay Area Bike Share should be rolling out in the Excelsior around the Spring of 2018.
What do you think about the prospects of bike share succeeding in the Excelsior and other locations around the Bay Area? What are some of the political and infrastructure challenges? And what about the pressures coming from GPS-based bike share upstarts such as Bluegogo?
Comment below.
Stay in touch
Sign up for our free newsletter