Bike Share
Bike-Share Launches in the East Bay
3:09 PM PDT on July 11, 2017
Today, Ford GoBike finally launched in Oakland, Emeryville, and Berkeley, with two celebratory bike rides, speeches by three mayors and other luminaries, and general excitement from the people who showed up to celebrate.
Others watching from the sidelines had lots of questions: Can you rent those bikes? How much do they cost? Are you selling those bikes? I saw a station in my neighborhood--how can I get one of those?
Mainstream news outlets were still able to find evidence of a "mixed reaction" to the launch--in the name of balanced news, perhaps. But that wasn't what was visible today in Oakland.
The stations have been popping up in the last week at a rate of three to eight a day, and with today's launch there are already over 450 bikes available at 43 stations. I counted four fully stocked hubs just on my ride from Berkeley to Oakland's Latham Square for the celebration. By the end of summer, the East Bay will have access to a total of 1,500 bikes at 120 stations.
Jay Walder, CEO of Motivate, which will run the system, kicked off the speeches by reminding everyone that bikeshare is basically a form of transit. "Bike-share is all about getting where you want to go, when you want to go," he said.
Rene Rivera of Bike East Bay pointed out that although the wait for bike-share was longer than anyone really wanted, the results are worth it: it gave time to collect a lot of public input on station location ideas as well as other considerations like equity.
"This is bike-share East Bay style," said Oakland Mayor Libby Schaaf. "Equity is baked in." The new system will include inexpensive -- $5 per year-- memberships for low-income people. "And," added Schaaf, to enthusiastic applause from the crowd, "those who are unbanked can pay for their memberships in cash at the Oakland public library."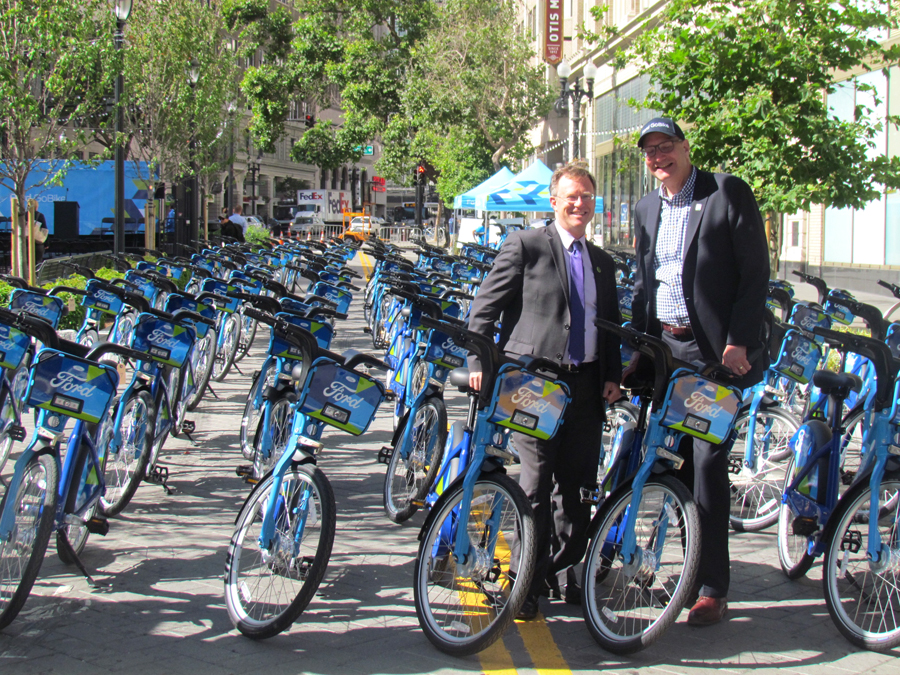 Emeryville Mayor Scott Donohue was excited about how little the system will cost the cities--"Zero!" and what a deal it is for riders as well. "If you ride it twice a day to commute, you'll pay about thirty cents a ride," he said. "Cheap cheap cheap!"
Ryan Russo, the head of the new Oakland Department of Transportation, came from New York where he helped launch Citibike there. "The early adjustment in the next few weeks, as everyone gets accustomed to the bike-share system," he warned, "won't be easy."
But, he added, "our streets are our greatest asset. If we can shift from dedicating all that space just to cars, we can make our cities more liveable, and more pleasant to live in."
The increased visibility of bikes and the easy availability of bike-share will encourage more people to try riding in our cities, added Russo. More people on bikes "will shift the conversation around transportation infrastructure," he said. "Everyone, even drivers, will benefit as more people ride. All street users will become more aware of one another, making our streets safer for everyone."
And don't forget, he added, riding a bike is fun. "More butts on bikes is a good thing," he said.
After the speeches, about sixty people hopped on the bikes and took a spin around Oakland, along the parking protected bike lanes on Telegraph Avenue, looping back to Frank Ogawa Plaza, where they practiced docking them. Then staff loaded the bikes onto bike trailers and headed out to deploy them at newly installed hubs throughout the area.
More photos below.
Streetsblog California editor Melanie Curry has been thinking about transportation, and how to improve conditions for bicyclists, since her early days commuting by bike to UCLA long ago. She was Managing Editor at the East Bay Express, and edited Access Magazine for the University of California Transportation Center. She also earned her Masters in City Planning from UC Berkeley.
Stay in touch
Sign up for our free newsletter