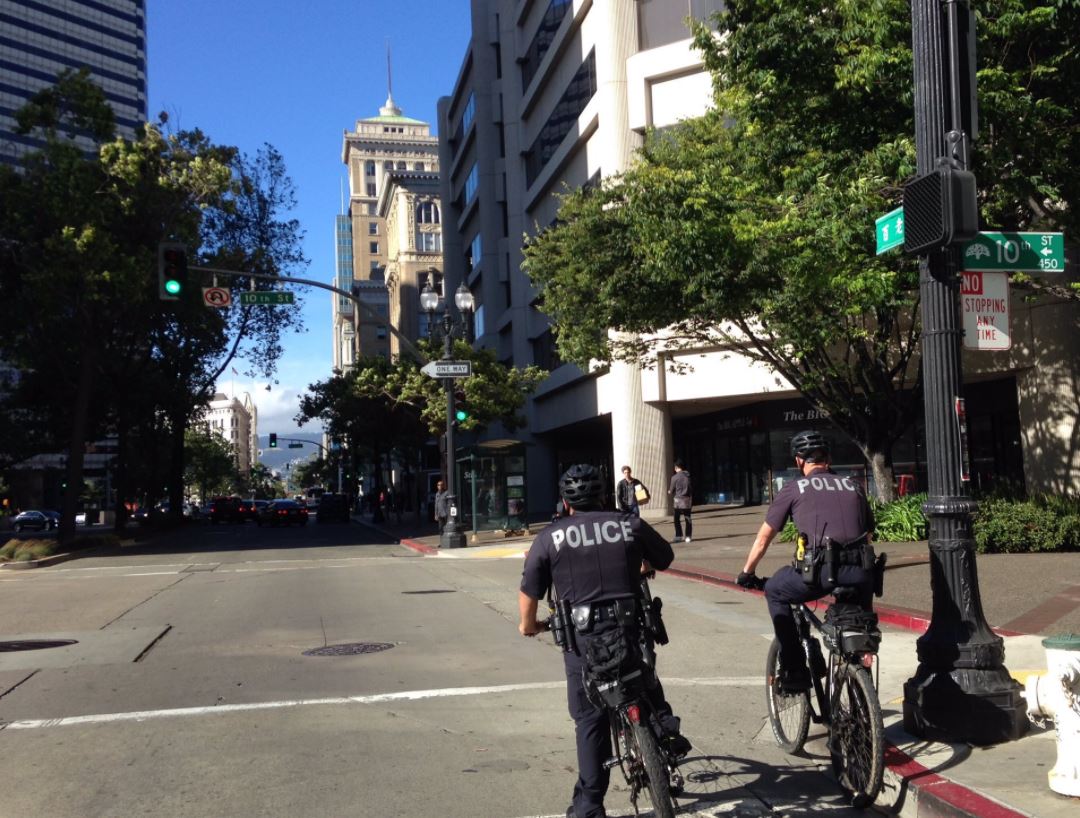 The other day, I biked over to a market on Oak Street in Jack London Square. There was a truck driver parked in the bike lane in front of the store, right by an open parking spot. I ended up walking into the store at the same time as an Oakland police officer. So I mentioned the truck outside and asked the officer if he would please cite the driver.
The cop said it wasn't his territory. "So you can't take out your book and write a ticket unless it's in 'your territory?'" I asked. Then he said it's a parking enforcement matter, not a police issue. I pointed out that it's not 'parking enforcement' because the truck was blocking a travel lane. Finally, the cop just said he's "too busy stopping robberies and murders" to write a citation for a traffic violation.
Anyway, the line in the market was too long, so I turned around to leave. Then I noticed the police officer's patrol car in the parking lot (see photo below).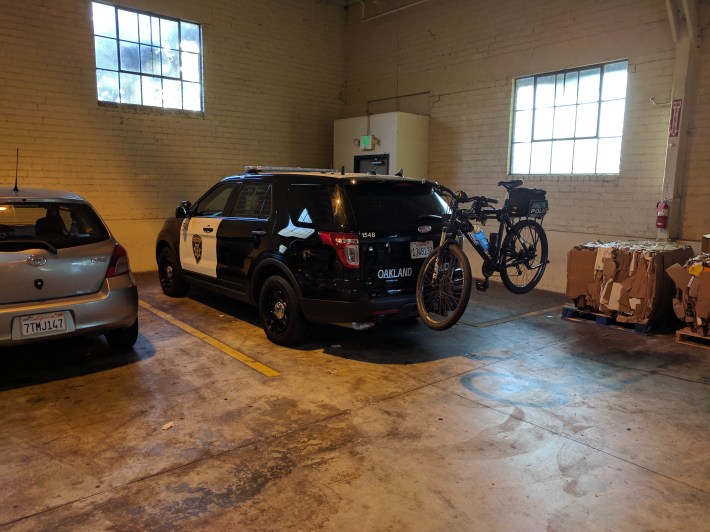 I hope the irony is not lost on Streetsblog readers.
In case there's any doubt, Dave Campbell, Advocacy Director for Bike East Bay, confirmed that the police officer was wrong--it's not a parking issue if a truck is parked in a bike lane, blocking the flow of vehicles, including human-powered ones.
The hope of bike advocates is that the more we can get cops out walking and biking, the more we can counteract that "windshield perspective" that has law enforcement officers reflexively siding with motorists and failing to protect vulnerable road users. But, of course, that won't work if cops just drive their bikes around town on the back of an SUV.
According to Oakland PD (OPD) spokeswoman Johnna Watson, the department currently has roughly 100 bikes (there are over 700 officers working for OPD). The department doesn't have officers specifically assigned to patrol by bike. "If you're in a special unit, or walking, they all have the ability to say 'you know what, today I'm going to ride the bike' so it gives the department options," explained Watson, who used to ride a bike on patrol herself. She added that riding a bike helps officers cover more territory and are important "...when we want to do special events, or crowd control, marches; then there's a huge bicycle contingent."
OPD's informal approach to bike patrols probably has roots in their beginnings--they were started by some officers on foot patrol who wanted to use bikes occasionally. Wendy Rae, a retired OPD officer, was part of those first efforts some twenty years ago. "I started [foot patrol] in the downtown business district--we all had little districts," she told Streetsblog in a phone interview. Occasionally calls would go out and officers on foot would rush over to support others in nearby districts. She recalled that a sergeant in the walking units thought they would be better at supporting each other if they could zoom into another district on a bike. They started fixing up impounded bikes and using them for foot patrols.
"We had uniforms that we cut up and made into shorts," she recalled, explaining that it was all kind of ad hoc. But over time things got more formalized. "Officers started taking Police Officer Standards and Training (POST) courses in bicycling." Pretty soon ten or fifteen officers had taken the course, and the department got funding for over 100 formal "police bikes," which include racks to hold police accessories (some even have red and blue flashing lights).
Now, "approximately 110 officers are trained," said Watson. But it's unclear how many officers are out on bikes on a typical day.
So why did the cop in the supermarket have his bike on the back of his car?
"If an officer has time, they might bring the bicycle to do some patrolling--maybe they can utilize the bike for half the day," said Rae. "That's why you see it on the back of a car."
Watson added that the patrol cars act as a rolling office, and officers want their gear close by. And if the officer makes an arrest, they can transport the person back to the station rather than having to call another officer to come pick them up.
Rae pointed out that in years past OPD used to have officers assigned to that task--they would drive around and pick up foot-beat officers and the people they arrested. And the computer/rolling-office thing seems to be about habit, not technology--with today's miniaturization, it seems hard to believe the department can't find secure tablets and small laptops that can be stowed on a bike. As Chip Johnson pointed out in a column in the SF Chronicle a couple of years back, bike patrols can go a long way towards improving community policing--and thereby directly reducing crime. He added that "the cost of maintaining a fleet of bicycles doesn't amount to a hill of beans compared with the millions of dollars spent maintaining and upgrading the city's fleet of police cars, or paying for the gasoline it costs to power them." But there's not much savings if every officer on a bike also has an SUV parked somewhere nearby.
Rae said that she didn't always drive her bike to her beat; sometimes she biked all the way up the hill from her station to Piedmont Avenue. "There are things that inhibit the use of a bike, such as staffing or the weather." Then again, the weather issue is all about equipment, clothes, and training. Plenty of cops ride bikes in cities with much worse weather than the Bay Area gets--not to mention that plenty of us civilians ride in downpours. If weather is really an issue, OPD could invest in fenders, ponchos, and grit. And Bike East Bay has some all-weather cycling classes.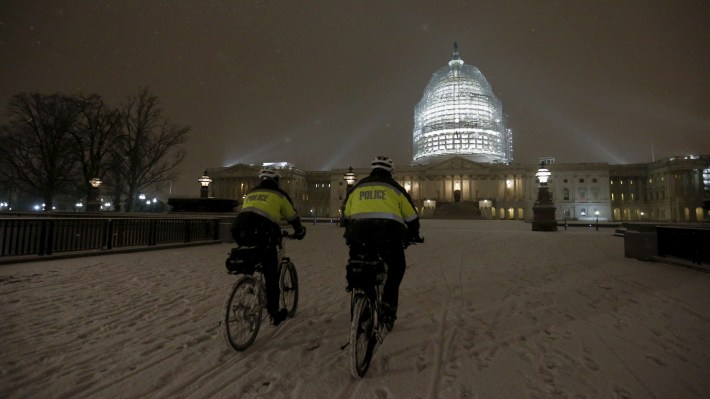 Either way, Rae said the bike was an invaluable tool in fighting crime. "Back in the day, when we had a lot of drug activity in the downtown and other areas, we were able to swoop in" on bikes to make arrests, she said. And when she was part of chasing down a fleeing suspect, "we could utilize an alley or a one-way street to access somewhere quicker, and apprehend someone quicker; that works really well in downtown." San Francisco and other cities have also found that bike patrols help cops stop crimes from happening. Just ask Sergeant Martin of the SFPD's Ingleside station. Or, as one officer put it, when it comes to bike patrols, "the criminals hate it."
On a bike, said Rae, "you're definitely closer to the public," adding that patrol cars put distance and create intimidation between the police and the public. "On a bike you're able to interact. Shop owners even said I could leave my bike in their facility if I needed to. I had a very fortunate career, I met a lot of people, I liked a lot of people, and they liked me. A bike helps break barriers."
And what about the officer in the grocery store who contends that clearing bike lanes isn't his responsibility? Rae said she cited motorists for creating unsafe conditions. "We did as much as we could. If you saw something like that, and you weren't enroute to a call, you would enforce anything that would hamper a bicycle or a pedestrian... I've pulled vehicles over on my bicycle. It's a lot easier and I was able to stop them and issue a ticket."
She recalled one time a motorist tried to flee when she tried to pull him over, but in that case some fellow police stopped the car down the road. "Radios do come in handy when you're on a bicycle for sure."
Stay in touch
Sign up for our free newsletter