Bicycling
Q&A: Councilmember Fife has had it with Oakland's Dangerous Streets
5:21 PM PDT on March 14, 2023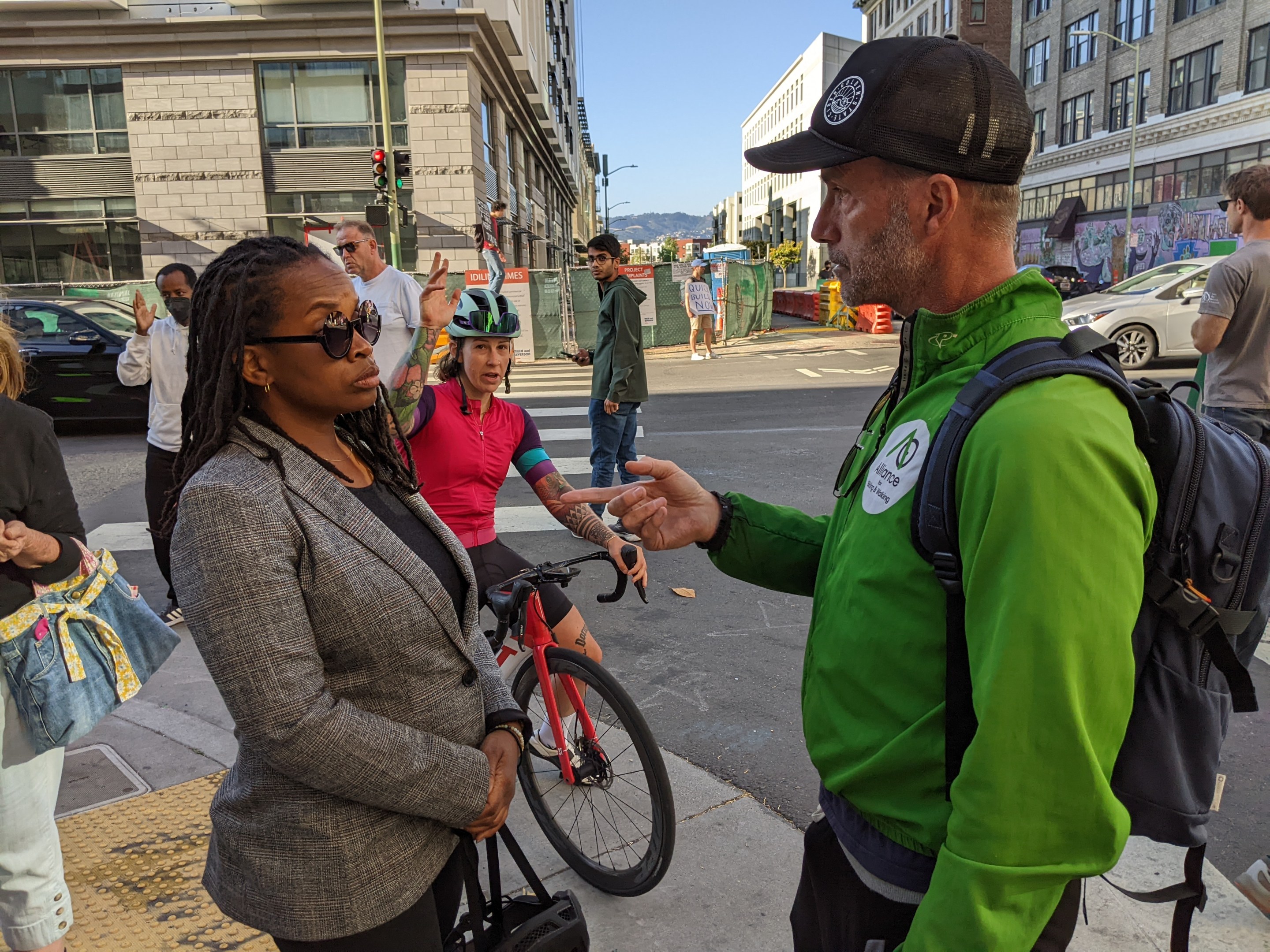 Note: GJEL Accident Attorneys regularly sponsors coverage on Streetsblog San Francisco and Streetsblog California. Unless noted in the story, GJEL Accident Attorneys is not consulted for the content or editorial direction of the sponsored content.
In November of 2020, Moms 4 Housing activist Carroll Fife unseated two-term District 3 Oakland City Council incumbent Lynette Gibson McElhane. The district includes West Oakland, Downtown, Uptown, Jack London, Pill Hill, Lake Merritt, and the Port of Oakland. It also includes the southern portion of the Telegraph protected bike lane project.
Because of its tax status, Streetsblog is unable to endorse candidates. However, from a safe-and-livable streets perspective, McElhane had become a real disappointment, with her push to remove protected bike lanes on Telegraph.
Would Fife be an improvement? That question was at least partially answered in July of 2021 when she voted in favor of keeping the Telegraph protected bike lanes and even clashed with then head of Oakland's DOT Ryan Russo, who also supported their removal. Streetsblog first met Fife face-to-face at last year's vigil for Dmitry Putilov, who was killed in front of his children by a reckless driver in downtown Oakland (that's Fife at the vigil talking with then Bike East Bay's Dave Campbell in the lead image).
Putilov was just one of 35 people who lost their lives to traffic violence in Oakland in 2022.
A politician committing to real safety on our streets, based on concrete and steel instead of more bullsh*t plastic and paint? Streetsblog reached out to Tonya Love, her Chief of Staff, a few days later and set up a long-overdue interview.
***
Streetsblog: Good morning. So you really meant what you wrote on Twitter, that we have to redesign streets using all the tools–including concrete and steel–for safety?
Carroll Fife: It's more effective to manage human behavior through environmental design. That's why I've been encouraging my staff to find out what can be done. I have a lot of the high-injury network streets in my district. I want to do something to address the loss of life. It hasn't happened to me personally, but I feel the impact it has had. People are literally losing their loved ones. I'm tired of reading people's names who have died [in traffic violence] at the end of meetings. They're dying for something that could be prevented just by how we construct our streets.
SB: I remember meeting you at the vigil for Dmitry Putilov. I know you were deeply affected by meeting that man's children. Was that a turning point for you?
CF: Transportation issues are not my area of expertise. I just started asking people: 'what could have protected his life?' Now we have two little kids who are going to grow up without a dad. That's why I started asking a lot more questions and talking to experts in the field. So yes, that's accurate, it was a turning point.
SB: Well a protected intersection might have helped. Narrowing the intersection. Eliminating and narrowing lanes. Concrete and steel bollards and barriers to stop drunk and reckless drivers before they hit a person.
CF: Absolutely. One of my neighbors, Tim Courtney, sends me articles every day about different places around the country that build to keep people safe. This year I'm planning to form a transportation cabinet to help me understand what can be implemented immediately. We also have to hire more DOT staff, and quickly, to do some of these rapid traffic calming measures that can save lives now. There's been pushback within the city. And I'm in constant conversation with the mayor.
SB: What kind of pushback?
CF: It's always 'we can't do this, we can't do that.' It's true they don't have the staff and don't have the funds. And there will always be lots of different reasons why we can't do something, but people are losing their lives. We don't have a choice.
SB: Fair enough. But Telegraph is in your district. You're well aware that the city repaved and installed all the paint and bollards needed to continue the protected bike lane across the KONO and Temescal gap. But for some messed up reason they just didn't do it. So it's not just about money and resources, because often they spend it anyway.
CF: Yeah. I'm trying to learn how to balance my criticism of the processes in city hall with my support for staff. The reality is if you criticize too much and ask too many questions, elected officials can't get things done. There are a lot of things that I would change but those excuses–I don't want to say they're excuses–don't really make sense.
SB: So to get back to the Tweet that motivated this interview: if Oakland starts installing steel and concrete protection, it'll prevent fatalities, but it's also going to cause a lot of fender benders, not to mention wrecking people's cars completely sometimes–at least for drivers who are texting, speeding, or otherwise not driving safely. You're going to get lots of complaints from people about damage to their cars. What then?
We've hidden the badge but loyal bollard fans might be able to guess who it is…#WorldBollardAssociation pic.twitter.com/UPhOimib1e

— World Bollard Association (@WorldBollard) February 16, 2023
CF: I got pushback about the bike lanes on Telegraph [in the KONO]. But I supported those, despite the pushback from merchants. I'm not fearful of pushback. I'm fine with people complaining.
SB: So tell me more about the cabinet you want to put together on street safety?
CF: My chief of staff is going to help coordinate these efforts with our constituents. Tonya, did you want to chime in?
Tonya Love: Streets safety is a special area of concern for me because I don't drive. I walk, take the bus, BART, and I ride my bike everywhere. So one of the things that is really important to me is that we have streets so those like me can be safe. I understand the pushback from drivers, especially those who think not having a car is a luxury. When we do things that make it harder for them, I understand their point of view. At the same time, lives are at risk and drivers need to learn how to share the road. Pedestrians and cyclists have no defense if they're hit by a motorist surrounded by massive amounts of metal.
SB: So who's going to be on this cabinet?
CF: Residents, volunteers, and any experts who are part of the city who want to join. We want to be collaborative with city staff as well. We don't have money to be paying folks. It'll meet monthly.
SB: But this will be different from the Bicycle and Pedestrian Advisory Council?
TL: This will be just something for Councilmember Fife's district, whereas the BPAC is for the whole city.
SB: Councilmember Fife I have to ask you about these intentional attacks by drivers against the East Bay Bike Party riders.
CF: That was outrageous and unconscionable. Those people need to be charged. They have no regard for human life. But I'm also hoping we can deter this kind of behavior with design.
SB: That brings us right back to steel bollards and concrete protection. Plastic certainly isn't going to stop psychopaths bent on harming cyclists.
CF: I'm willing to go all the way to keep people safe.
SB: Okay. Last thoughts?
CF: No. That's it for me today.
SB: Thanks to you both.
This interview was edited. To volunteer for the D3 safety cabinet, reach out to the district office.
Stay in touch
Sign up for our free newsletter