Sponsored Post : Seven Reasons to Embrace Open-Loop Ticketing Now
10:09 AM PDT on March 30, 2023
(This is the second in a series of posts by Enghouse Transportation one of our advertising sponsors. Enghouse is hosting a free webinar on April 5 about modern fare collection systems and their benefits for transit agencies, riders, and employees. To read he first post, click here.)
Open-Loop Ticketing Systems have been slower in getting established in the U.S. compared to Europe, but new bankcard technologies and rising consumer expectations have been quickly changing that. Covid-19 health concerns have added urgency to the need to quickly find and adopt contactless and flexible payment systems.
Here are seven reasons why now is the time for transit agencies to adopt Open-Loop Ticketing solutions.
1. MOBILE PAYMENTS ARE THE FUTURE
Just fifteen years after the release of the first iPhone in 2007, more than 85 percent of adults in the U.S. and Canada own at least one smartphone. In fact, 74 percent of Americans report that they feel uneasy leaving their phones at home, and fifteen percent of current mobile wallet users now reporting that they leave their physical wallets at home.
Consumers use their phones today for all aspects of everyday travel including ride-hailing, navigation, translation, and touchless payments. They increasingly expect to be able to pay with their phones.
2. CONTACTLESS PAYMENTS MEET THE HYGIENE DEMANDS OF A COVID-ALTERED WORLD
Because of concerns about virus transmission, contactless payment became standard during the Covid-19 pandemic, and the trend is here to stay.
Mobile payments across all products and services are expected to grow thirty percent per year over the next decade, and 88 percent of people say they expect a contactless payment option when they access transit.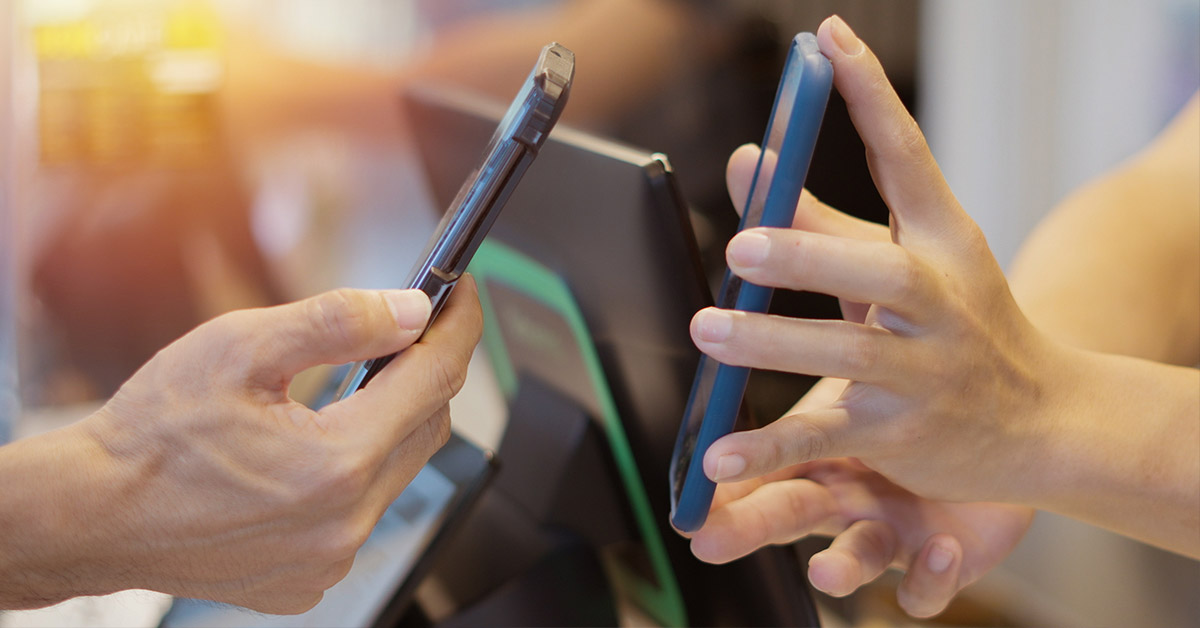 3. CONTACTLESS SYSTEMS MAKE BOARDING EASIER AND SIGNIFICANTLY REDUCE DWELL TIMES
Dwell times account for as much as a quarter of the average bus trip's total travel time and are a significant source of frustration for riders. Today's Contactless Payment Systems allow riders to check in with a tap that takes a fraction of a second, reducing boarding times and keeping the bus moving.
4. FEE INNOVATIONS MAY REDUCE THE COST OF ACCEPTING OPEN-LOOP PAYMENTS
A potential obstacle to Open-Loop payments is the interchange fee charged by providers, which can be a high percentage of small purchases, such as one-way fares. However, payment providers are aware of this obstacle and may be beginning to change their policies. Visa, for example, lowered fees on transactions.
Another way for agencies to manage interchange fees is to delay charging the customer until the end of the day, week, or other defined period using a system called aggregated "pay as you go." This allows them to  significantly lower their fee ratio.
5. OPEN-LOOP SHOULD SUBSTANTIALLY LOWER THE COST OF FARE COLLECTION
Open-Loop Payment Systems allow transit agencies to get out of the business of issuing fare media and maintaining card sales infrastructure. This significantly lowers operational costs for the transit agency.
6. INFREQUENT CUSTOMERS AND OUT-OF-TOWN VISITORS PREFER OPEN-LOOP SYSTEMS
Open-Loop Systems make it easier for casual customers to access transit in a flexible and spontaneous way. They don't need to carry special cards or the correct change. Data collected by Transport for London confirms that its customers have been using more varied payment methods since 2020 and that pay-as-you-go is preferred for ad hoc trips over seasonal tickets.
7. OPEN-LOOP TICKETING CAN BE A COMPONENT OF A MODULAR FARE SYSTEM
It is now possible to adopt components of an Open-Loop Fare Payment System as separate building blocks, allowing for a smooth transition from current systems to contactless payments. For example, TriMet, the regional transit agency in Portland, Oregon, used a modular, open-architecture approach with great success for its new Hop Fastpass.
WANT TO FIND OUT MORE?
To learn more about the Modern Fare Collection Systems and their benefits for transit agencies, riders, and employees, register for Enghouse's free webinar on April 5, 2023, at 11 a.m. PDT / 2 p.m. EDT..
Ana Stanca is Demand Generation Leader at Enghouse Transportation.
Stay in touch
Sign up for our free newsletter