Mapping
Mapping Your City with Pictures Taken by Others
12:07 PM PDT on October 5, 2010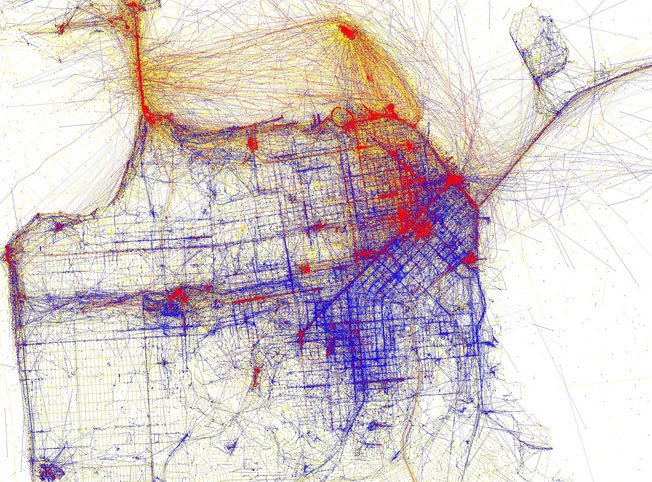 Data visualization is the rage right now, as city managers release ever more information through open source APIs and creative programmers tease out trends in colorful maps and images, beautifully depicting statistics that would otherwise be stuck in a dense spreadsheet only an actuary could love. Media foundations have been busy giving money to pioneering shops like Stamen, while those in the burgeoning field eagerly await the release of an ocean of new information in the 2010 Census.
Even before the Census results are available, however, creative minds like Oakland resident Eric Fischer have been busy manipulating available data sets to offer insight into the traditional maps of our cities.
Fischer, a computer programmer known to wonks and city buffs for his wonderful Flickr catalog of transportation and development master plans that died on a dusty shelf, has used demographic data to show racial integration in major U.S. cities, to tremendous effect. The maps are marvels, showing how we stereotype portions of the cities we know by racial make-up and how dramatically redevelopment and racialized zoning rules from earlier eras have stratified neighborhoods into singular racial enclaves.
Fischer's maps have been viewed by nearly a million people on Flickr, more than a few of whom have suggested he sell the images as posters or prints. "Looks like artwork," writes one commenter of a New York City image. "I would hang this on my wall."
In his most recent manipulations, Fischer has crunched the GPS coordinates, or geotags, available on many photos posted to Flickr and Picasa to develop maps of the pictures we've taken of our cities. These photos represent a living surrealist painting of urbanity, each new picture a dot in a stippled map Seurat couldn't have dreamed of painting.
In Geotagger's World Atlas, Fischer queried Flickr and Picasa's public APIs back to 2004--when geo-tagging data began to be used more commonly with photos--which he mapped to show where people took the most pictures in a given city.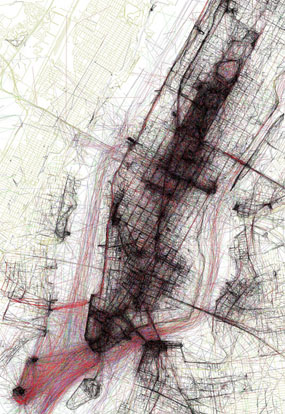 The result is a very recognizable image of New York City, for instance, with dark clusters at the locations one would expect: Central Park, Times Square, The Statue of Liberty and the Brooklyn Bridge. Fischer then added a variable to enhance the maps: he instructed his program to connect instances if the same person shot a picture within ten minutes or one mile of their last picture. The resulting lines are color coded and represent different distances covered over time, or the speed the shooter traveled and the possible mode of travel.
Given these arbitrary restrictions on the data, the majority of lines on the map represent pedestrians walking between shots, though there are a number of other lines suggesting faster travel, such as bicycles, transit, or public and private cars. In cities abutting water, the movement of people on ferries paint elegant arches from one waterfront destination to another.
It should be expected that a city's iconic locations would command the lion's share of the shutter bugs' attention, but the maps also show fascinating pockets that wouldn't likely appear in guidebooks or tourist brochures. Fischer was intrigued by this phenomenon, so he set out to try and distinguish photos taken by tourists versus photos taken by locals.
For example, he assumed a photo of Alcatraz in San Francisco was taken by a tourist if the same geotag ID of the shooter appeared regularly in another location over a significant period of time, signifying primary place of residence.
The resulting Locals and Tourists map images are fascinating and depict each city in ways locals would probably assume, with tourist spots in bright red (the color Fischer denoted for those pictures) and local hidewaways in deep blue. Still, there are some very interesting exceptions.
Take San Francisco, for instance, where the Golden Gate Bridge, the Palace of Fine Arts, Fisherman's Wharf, Twin Peaks and the Botanical Garden are all thick with red, as would be expected. To my surprise, Haight Street is also a bright red strip, a street in the city I wouldn't go out of my way to photograph.
Fischer said he was surprised there weren't more tourist photos taken in the Mission, which he thought was a significant destination for visitors. "It's much more local heavy than I would have expected," he said.
"I was surprised how overwhelmingly touristy Venice and Las Vegas were," added Fischer. "I expected that at least some local population. You'd think there would be at least people interested in the new construction projects [in Las Vegas], from the life blogging aspect," he said.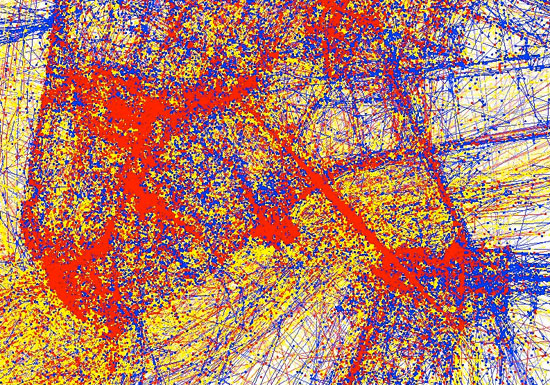 Fischer also pointed to the bridge phenomenon in New York City, where the Brooklyn Bridge is almost entirely red and the Manhattan Bridge is much more blue. Having lived in New York for eight years, I gave Fischer my take: if you are only going to walk across one bridge on a visit to the city, you would pick the Brooklyn, both for the interesting views (much less dramatic since 9/11) and for the historicity of the bridge itself. If you know much about the photo opportunities from above the East River, however, you would take pictures from the Manhattan Bridge, where you can get lower Manhattan with the Brooklyn Bridge span in the shot.
Similarly, for San Francisco, I argued, "Bernal Hill has the best view of downtown, but everyone goes up to Twin Peaks to get a picture of the city."
"And they all get the same picture of Market Street," said Fischer.
"Bernal is far more interesting and dramatic," I argued.
True, Fischer agreed, but he reminded me you can drive right to the top of Twin Peaks and there is ample parking once you arrive.
"Bernal's quite a hike," he said.
Stay in touch
Sign up for our free newsletter