Bicycle Infrastructure
San Francisco, Oakland Move up National List of Bicycle Commuting Cities
9:26 AM PDT on October 7, 2010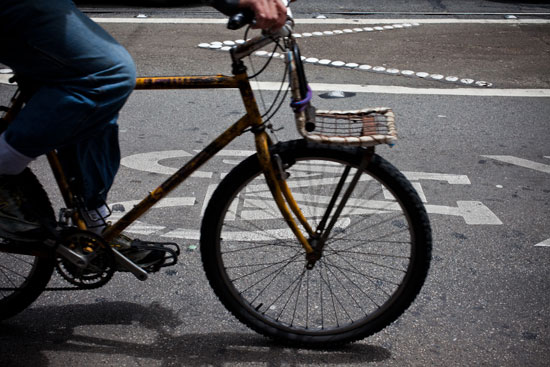 Despite a four-year bicycle injunction starting in 2006, San Francisco's share of bicycle commuting has risen, lifting the city to 4th on the League of American Bicyclists' (LAB) list of 70 largest American cities, while Oakland rose two spaces to 5th. The list is compiled each year from data collected by the Census Bureau as part of its American Community Survey (ACS).
"I'm proud that San Francisco continues to be a leader in promoting bicycling as a healthy, sustainable transportation alternative," said Mayor Gavin Newsom. "With the safer and more inviting bike network we're creating throughout the City, more and more San Franciscans will start bicycling."
San Francisco's 10 percent increase and Oakland's 18 percent increase in bicycle commuting in 2009 came during a year when the number one and number two bicycle-commuting cities in the country, Portland, Oregon, and Minneapolis, Minnesota, respectively, lost bicycle mode share relative to other forms of transportation. Despite these drops, Portland and Minneapolis are still far ahead of the Bay Area, with 5.81 percent of Portlanders bicycle commuting and 3.86 percent in the Twin Cities. Compare that to San Francisco's 2.98 percent and Oakland's 2.53 percent.
These numbers should seem low to those who ride regularly on Market Street in San Francisco during commute hours, where cyclists have been the majority of the street's users the past several Bike to Work Days. Overall bicycle usage in cities is actually harder to measure than the very specific commuting percentages would suggest, because ACS data collection under-counts cyclists, according to LAB. From their website:
Workers were asked to list only the means of transportation they used on the largest number of days in that week. This means that if the respondent rode a bicycle to work two days but drove three, they would not be counted as a cyclist. Likewise, workers were asked only for the means of transportation used for the longest distance during the trips. If someone biked one mile to a bus stop and rode the bus for two miles they would not be recorded as a bicyclist.
Both the San Francisco Bicycle Coalition (SFBC) and the San Francisco Municipal Transportation Agency (SFMTA), which is responsible for adding new bike lanes, echoed LAB's sentiment and highlighted the large growth they expected now that the injunction has been lifted and bicycle infrastructure is being added at a relatively rapid clip.
"Bicycle commuting has increased in San Francisco 61 percent since 2006," said Nathaniel P. Ford Sr., Executive Director/CEO of the SFMTA. "We are committed to doing the work needed to keep the number of bicyclists growing in the years ahead."
The SFMTA suggested the year-on-year increase in cycling despite the lack of new infrastructure could be an indicator that the rate in bicycle commuting will surge with new lanes and more racks. Since November 2009, when Judge Peter J. Busch modified the 2006 injunction on the Bicycle Plan to allow a limited number of bike lane projects and other improvements, the SFMTA has added eleven new bike lanes, over 1,900 sharrows, 400 sidewalk bike racks, five on-street "bike corrals," a green lane  on Fell Street and a fully separated green lane on portions of Market Street.
While the SFBC commended the recent surge in infrastructure, they called on the city to do more.
"We know that 7 in 10 San Franciscans rode a bike last year, from parents dropping their kids at daycare to workers heading downtown to families exploring the city," said Renée Rivera, SFBC's acting executive director. "We also heard Mayor Newsom say he wants San Francisco to be the number one U.S. city for bicycling, and we hope he keeps this promise by completing the Market Street bikeway and other improvements, which will help people feel confident, comfortable and safe when they bike."
Stay in touch
Sign up for our free newsletter