Bus Stop Spacing
Muni Service Restoration Task Force Considering Bus Stop Optimization
5:18 PM PDT on October 8, 2010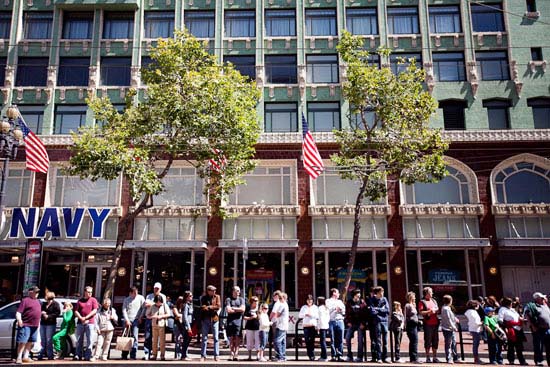 An SFMTA task force charged with figuring out how to fully restore last May's Muni service cuts is narrowing its list of actions and strategies to reduce travel time on the system, and bus stop consolidation, or "optimization," is likely to be adopted as a recommendation. As Streetsblog has reported, stop optimization could greatly improve service, a move long pushed by transit advocates and SFMTA staff as one of the quickest and cheapest ways to speed Muni.
"All the feedback we get, and it's been consistent over the years, is people are frustrated with the amount of time they spend on a vehicle, it just takes too long, and a big contributor to that is the number of stops," said SFMTA Transit Director John Haley, who chairs the operations subcommittee of the Muni Service Restoration Task Force.
Haley acknowledged the political challenges of bus stop consolidation (because "every bus stop has a constituency") but said "you have to put your toe in the water and take a step forward." Haley doubts it can be implemented system-wide to start, but the task force is reviewing a list of "best prospects," or high-volume lines where it's needed most.
"I think it's very realistic in certain areas," said SFMTA Director Cameron Beach, who used the 30-Stockton line as an example of a line where bus stops have been eliminated (between Sutter and Market), with resulting service enhancement. "I think it's incumbent upon the staff and the board to look at ways of improving the system and speeding it up."
A recent Muni rider survey is also helping to give the issue momentum. Out of 573 riders surveyed in August and September, 61 percent said they would consider walking a longer distance to their stop if they knew it would reduce their overall travel time.
Judson True, an aide to Board of Supervisors President David Chiu who worked to form the task force, said the political climate remains difficult for the SFMTA but the agency has to consider ideas to make Muni faster and more reliable.
"I think the budget collapse over the last few years has made it hard for the MTA to focus on some of the innovative strategies suggested by the Transit Effectiveness Project (TEP) and the level of trust just hasn't been there among the public," said True. "The MTA has to show it's looking at senior centers and vulnerable populations, that it's doing its due diligence. That's a high bar, but it's not an unreachable one."
At the same time, said True, "we can't pretend that those (innovative ideas) are going to solve all of Muni's financial problems or allow us to restore all the service and all the capacity that was lost in May."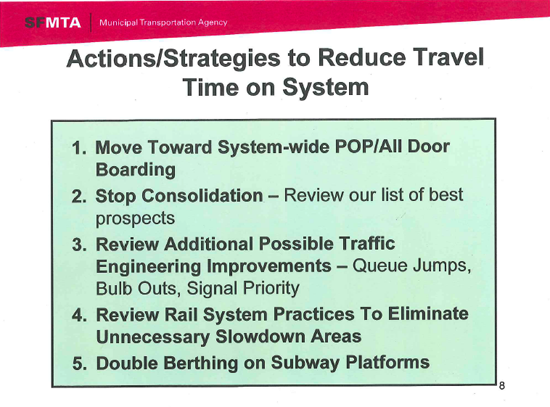 The SFMTA has now been able to restore approximately 61 percent of the service it cut in May after identifying about $15 million in funding sources and operational savings. This includes a 10 percent restoration the SFMTA Board voted on in July. The task force's mission is to identify how to restore the remaining 39 percent in January.
Along with bus stop consolidation, the subcommittee is also looking at system-wide all-door boarding, engineering improvements such as queue jumps, bulb outs and signal priority, and double berthing on subway platforms. Beach expressed concerns about whether all-door boarding would be realistic to accomplish in 9 to 12 months, because he said it would have to coincide with adding more fare inspectors.
As for restoring service, the subcommittee is considering recommendations to add an express bus on the N-line from "mid-route to downtown," a rapid bus on the Mission corridor for the 49 and 14 lines, supplementing lines that suffer from overcrowding, such as the 8X, 28, 5 and 71, and restoring late night service to "established standards." A proposal to introduce vans on community routes beginning with the Roosevelt portion of the 37-Corbett was nixed from the list as something that probably couldn't be accomplished in the short-term.
A powerpoint [pdf] presented at today's meeting by Haley mentioned some of the major challenges, which include the impact of additional service miles on an aging vehicle fleet, determining a steady source of operating funds, assuring operator availability, compliance with labor agreements and CEQA obligations. A separate subcommittee is working to sort out the funding issue.
The task force is expected to issue its final report and recommendations by December 1. It then goes to the SFMTA Board for public hearings and adoption.
Bryan Goebel is a reporter at KQED Public Radio in San Francisco. A veteran journalist and writer, he helped launch Streetsblog SF in 2009 and served as editor for three years. He lives car-free in the Castro District.
Stay in touch
Sign up for our free newsletter