SFMTA
Muni Budget Deficit Predicted as Parking Citations Dip
2:57 PM PDT on November 3, 2010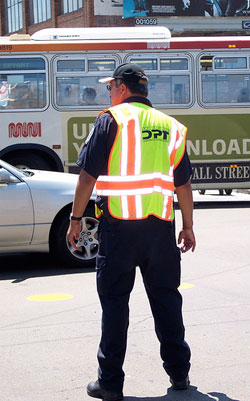 Unfortunately for San Francisco transit riders, new revenue projections for the San Francisco Municipal Transportation Agency (SFMTA), which runs Muni, show a decline in parking citations and a resulting budget deficit, just as the agency has been trying to restore service that was cut in May.
In a quarterly financial presentation to the SFMTA Board of Directors yesterday, acting Chief Financial Officer Terrie Williams revealed that first quarter fiscal year 2010 revenues were down by $5.8 million, due largely to a $7.5 million decrease in parking citations over what was budgeted, and despite stronger than expected transit fares.
If the current revenue numbers trend over the course of the fiscal year, the SFMTA would be facing a nearly $24 million deficit for the year, despite an effort to find extra funding to restore the service the agency promised by January, 2011.
Though SFMTA managers haven't produced a line item analysis to explain exactly why the parking citations were down, staff offered numerous theories at the meeting to explain the trend, from temporary events to structural changes in travel patterns and labor issues..
Foremost among the temporary events that disrupted PCO citation schedules was the St. Francis Circle rail replacement project, which at times diverted up to 20 parking control officers (PCOs) daily from their normal citation routes. Numerous traffic diversions around the Transbay Terminal construction also led to the agency using PCOs for traffic management instead of citations. In both cases, the salaries for the PCOs will be reimbursed from the capital budgets associated with the construction projects, but the lost citation revenue obviously cannot be recovered.
Additionally, the SFMTA suggested events like Sunday Streets and the post-season San Francisco Giants' run through the World Series increased demand on PCOs for duties other than their control routes.
Board Vice Chairman Jerry Lee was not satisfied with the explanation and asked if the problem had to do with the way officers were deployed.
"Three months ago we were basically given the same explanation you were just reporting, so my concern is we wanted to know are we using the resources properly," said Lee. "When they say we couldn't do it properly because we had ball games, well you had ball games last year, too. Are we waiting three months before we act on something that is going in the wrong direction?"
SFMTA Transit Director John Haley told the board he was overseeing a complete revision to the PCO deployment schedule, something that hasn't been done for years.
"We've got to take that deployment plan and match it to what we see as the revenue trends for the type of citation," he said.
Haley noted the SFMTA has changed its fine structure over the years and the cost of tickets could be a deterrent to parking illegally. He cautioned about jumping to that conclusion, however, absent the analysis his department was currently conducting.
"There has been a steady escalation in the various types of fines. What we're trying to do is take a look and see if there is some type of elasticity analysis to say, 'Gee, with certain types of fines, where are we going?'" he said. Haley told the board they would have that analysis for their December meeting
Haley offered another hypothesis for the decline in citation revenue, namely that the board's transit first policies might be successful.
"You can say that the actions that this board and administration have taken from a transit first perspective are working," added Haley. "In other words, getting people not to drive as much as they did and regionally with actions that occurred back in July with traffic reductions and the Bay Bridge crossings."
Despite Haley's assertion, regional traffic likely isn't a sufficient explanation. According date obtained by Streetsblog from the Metropolitan Transportation Commission (MTC), the regional transportation planning body and authority that manages tolls on the Bay Bridge, traffic has not declined significantly this year compared to last year. For instance, average weekday traffic in mid-September 2009 through the toll booths on the Bay Bridge was 127,931 vehicles. That number had only dipped to 126,532 in mid-September 2010, months after the congestion pricing changes to the toll structure were implemented.
When asked about this, SFMTA CEO Nat Ford told Streetsblog the agency had yet to determine all the factors that led to the decline in citations, but they didn't want to rule anything out. "We're looking at all of it," he said.
Ford also acknowledged several of the cost-cutting options for balancing last year's budget deficit might have had the unintended consequence of leading to attrition in the ranks of PCOs, such as once monthly furloughs early retirement options and PCO layoffs in January.
Coupled with problems of absenteeism, a policy of not hiring part-time PCOs, and the fact that many of the PCO shifts for the Giants' playoff run would affect citations from October, Ford told his board they could expect a similar revenue shortfall in the second quarter of FY 2010.
In light of the Muni Service Restoration Task Force's efforts to locate millions more for service, SFMTA Chairman Tom Nolan noted the revenue picture was grim.
"It's just a very sobering picture of where we are," he said.
Stay in touch
Sign up for our free newsletter