Bus Stop Spacing
SFMTA Considers Service Restoration, Counts on Labor Savings
4:54 PM PDT on November 5, 2010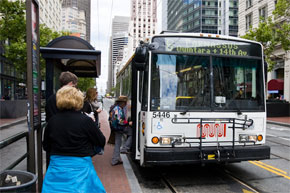 The San Francisco Municipal Transportation Agency continues to work with Mayor Gavin Newsom and Board of Supervisors President David Chiu to identify strategies for restoring the remaining 40 percent of service that was cut in May, part of a political negotiation that is expected to cost the agency $20 million.
Though only one piece of the larger service restoration puzzle, through service enhancements and efficiencies, the agency hopes to improve operational efficiency with possible pilots for bus-stop optimization, all-door boarding, Mission Street limited service and N-Judah supplemental bus service, among others.
At a bi-monthly SFMTA Board of Policy and Governance Committee meeting yesterday, several directors discussed options for restoring some of the remaining service [pdf], guided by enhancements and efficiencies that in some cases resulted from data derived from the Transit Effectiveness Project (TEP)
As reported on Streetsblog, one of the service enhancement options is bus stop consolidation on five pilot bus routes, the 9-San Bruno, 14-Mission, 28-19th Avenue, 30-Stockton and 71-Haight. In the proposal, 104 stops would be removed, 13 would be added and 28 would be optimized (moved near side to far side). The SFMTA expects to save an average of 34 daily service hours at a cost of $160/hour over 307 days, or $1.7 million per year.
Another option the committee is considering is an all-door boarding pilot program on several routes with articulated buses, such as the 8X/AX/BX, 14/14L, 38/38L, and the 49 Van Ness. The pilot would only be on articulated buses, which SFMTA Transit Director John Haley explained were considered because the buses are bigger and fare inspectors would be used more efficiently. Under this scenario, the savings from reduced bus boarding times is $.7 million per year, but an increased cost of $1.6 million due to an increase of 16 fare inspectors.
Board directors were generally supportive of the progress the committee is making, but Daniel Murphy of the SFMTA Citizens Advisory Committee, expressed concern about implementing all-door boarding merely as a pilot on some buses and not across the system.
"The CAC has been very supportive of all door boarding," said Murphy, though he noted the CAC was concerned with a pilot because it would create an inconsistent policy on buses, where some buses required front-door boarding and others did not. "Customers don't always think of Muni in sense of modes."
"The concern I have is fleshing out at least a little bit of a plan for how we're going to communicate to passengers that we have one all-door boarding policy on rail and some, seemingly random, selection of bus lines and then another policy on the rest of the bus and trolley system. I think it would be helpful," he added, "so we don't create a situation where there is confusion and the pilot fails simply because there wasn't enough information."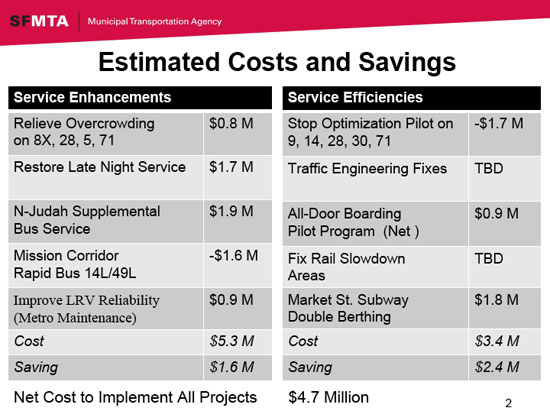 Though some service enhancements and efficiencies will save the agency money and improve operations, many others will cost money and the agency and political representatives pointed to expected labor savings from Proposition G to backstop those expenses.
"We anticipate that a significant proportion of the resources necessary for this service restoration will come from labor savings," said Jason Elliott, Transportation Policy Advisor to Mayor Newsom. Elliott said SFMTA CFO Sonali Bose had budgeted for some service restoration already, but most of it needed to be achieved through reduced labor costs. "To get to what we're calling a full restoration, we're lucky to have the voters to have supported Prop G because it's going to be a significant shot in the arm in terms of revenue," he said.
Given that the contract won't likely be negotiated before the end of fiscal year 2010 in June, there is still uncertainty where the balance of the money will come from to restore service by the target date of January 1, 2011.  "We need to get to some number that is close to $20 million. We hope to do it with significant savings from Prop G," said Elliot.
He urged patience on the question of seeking new revenue measures, such as a transit assessment district or extended parking meter hours. "With Mayor Newsom now in a 60-day window and four new members of the [Board of Supervisors], we don't even know who they are, to make a policy change like a tax or a parking thing, it's going to require some political guidance from the city leaders.
Elliott said there was no appetite for extending meter hours, even among supervisors who have been pushing for new revenue for Muni over the past two budget cycles.  "There was no political support for extending meter hours," according to Elliott, who said the Mayor asked supervisors if they would support pilots in their districts or along corridors where SFPark infrastructure was being installed.
"With the notable exception of Ross Mirkarimi, they said no, not in my district. There was no political support," he said.
Elliott and the SFMTA expect to have a more thorough set of proposals by the next PAG meeting in two weeks, leading up to the service restoration target at the end of the year.
Stay in touch
Sign up for our free newsletter