BART
BART Phasing Out EZ Rider Passes in Switch to Clipper
2:05 PM PST on November 10, 2010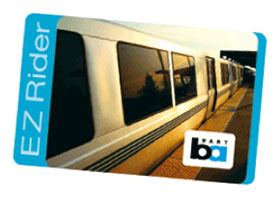 As transit operators across the Bay Area transition to the Clipper card, one of the bigger challenges each faces is communicating the timeline to their most loyal customers, those who buy high value and monthly passes.
The deadline to transition to Clipper for the  50,000 BART riders who have used EZ Rider cards for transit trips over the past few years has already been pushed back by more than two months, to mid-December, and now BART is concerned the 41,000 remaining EZ Rider account holders will experience an unpleasant surprise when the system is turned off next month.
"We are worried what the impact is going to be on our customers," said BART spokesperson Linton Johnson. "We've tried and tried to gently encourage them to switch over to Clipper because the deadline is coming."
Though originally slated for October 1st, the transition was delayed due to "concerns pertaining to Clipper system features and technical readiness," according to a document [pdf] prepared by BART general manager Dorothy Dugger for the board of directors. Directors were expected to discuss the progress of the transition at a board meeting today, but that meeting was canceled due to a lack of quorum.
"Significant progress has been made on key issues pertaining to the EZ Rider/Clipper transition," Dugger writes, noting that 9,000 EZ Rider customers have already canceled their accounts, presumably in the transition to Clipper. Though there are still 41,000 EZ Rider accounts open, that doesn't mean all of those customers don't also have a Clipper card.
"BART High Value Discount product auto load sign-ups have increased from 5,700 in June to 26,000 in September, an indicator that the Clipper High Value Discount product is gaining in acceptance as a substitute for EZ Rider," writes Dugger. "Some of these 26,000 HVD auto load Clipper users may also still have an EZ Rider account open."
Though it seems confusing, the rationale is that many EZ Rider account holders use the cards to pay for parking and for transit trips, according to Johnson. During the transition process, they haven't been able to pay for parking with a Clipper card, a problem that is expected to be remedied by December 1st. Adding to the confusion, Johnson explained, even when Clipper is accepted for parking in December, BART will be required to maintain the EZ Rider website for customers to sign up for Clipper parking, as mandated by federal banking rules that distinguish paying for parking and transit trips, even on the same fare medium.
BART director Tom Radulovich said he has complained numerous times to BART and the Metropolitan Transportation Commission (MTC), which administers Clipper, about the inconvenience of the transition to customers. "MTC is saying you have to carry two cards around, that's insane," said Radulovich.
The MTC defended the transition, saying there are challenges in uptake for any new technology. "BART has done an outstanding job of communicating with its EZ Rider customers," said MTC spokesperson John Goodwin. "I think we'll see a late move from EZ Rider to Clipper and it will go smoothly."
Johnson said BART had done everything it could afford to do to alert EZ Rider customers, including sending numerous emails to them and announcing it in press releases, but he said BART was anticipating funding from the MTC for advertising that never materialized. Because BART's own advertising is booked as much as twelve months out, said Johnson, the channels BART has for communicating to its riders have been limited. "We just don't have the advertising dollars to get there."
"Our biggest fear is when the drop-dead deadline comes, we're going to have people very upset they were given no time and no warning," he said. "The bottom line is it's not going to reflect well on BART, MTC or Clipper."
"We don't like that, we want to get the word out," he added.
Stay in touch
Sign up for our free newsletter