BART
BART Board Members Criticize Clipper Transition at Meeting
3:51 PM PST on November 18, 2010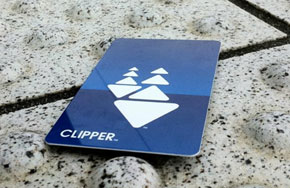 The BART Board of Directors had a heated discussion today about most things Clipper, from the large number of EZ Rider customers who have yet to transition to the universal smart card, to the ease with which customers can scam Clipper cards on BART and other operators.
Despite a more visible outreach and marketing campaign in the works, there are still 40,000 active EZ Rider accounts and 7,000 daily boardings with the card. Several board members feared a scenario where a flood of last minute Clipper adopters try to beat the deadline, overwhelming stations agents and customer service representatives with the burden of refunding so many EZ Rider accounts.
Adding to the challenge, BART currently has different cut-off dates for using EZ Rider for transit and parking. On December 8th, BART customers will be able to pay for parking with Clipper and on December 15th they will no longer be able to use the EZ Rider card, but there is no cut-off date yet for parking.
"It's going to create a lot of confusion for passengers. I think there are going to be an enormous amount of questions," said BART Board Vice President Bob Franklin, who explained that having numerous different deadlines for cutting off EZ Rider usage for transit but no deadline for parking would only increase confusion. Though he said some of the problem could be chalked up to procrastination on the part of customers, he argued BART and MTC could improve the outreach and be clearer with deadlines.
"I'm a big believer in this card, I want to honor our commitment to MTC," he said. But, he argued, "There is going to be a crunch. That's my concern, that we can't deliver by December 15th."
"I think it hurts the acceptance of the card," he added.
Board President James Fang was more blunt with his criticism of the process, saying, "The bigger problem is that MTC is trying to dictate to us what we're supposed to do." Fang proposed establishing a committee of BART directors such as Franklin and Tom Radulovich to work with staff to improve communication of their concerns with MTC.
Radulovich and numerous other members also raised the issue of Clipper's negative balance and the difficulty of adding fare to the cards at retail outlets. Though BART staff said most stations would begin to get new vending machines in March that allowed customers to add value to cards, currently the only way to do so is online, at Walgreens and some other vendors, or at the few San Francisco Muni Metro shared stations.
"Asking people to leave the station to recharge their card is dumb," said Radulovich. "I don't know who's idea it was to roll out Clipper before we had a way to add value in stations. I can't believe MTC and BART would want to put our customers through that."
Radulovich argued that station agents would be the target of customer ire given the way the system currently functions and said it was particularly difficult for customers who didn't have credit cards or customers of limited means who only operate with cash. He even raised the question whether the current system ran afoul of federal Title VI civil rights policies because of the difficulty low-income riders might have.
Director Joel Keller and Gail Murray raised concerns that Contra Costa County had too few retail outlets selling Clipper cards, a problem they said was exacerbated for seniors.
"It's very difficult to find a Clipper Card location that is convenient. It's very difficult for seniors to go get their card," said Murray. "In Contra Costa, the only place I know of is County Connection. You can't even get to County Connection on BART."
As Streetsblog reported, MTC's policy for anticipating the difficulty of adding fares is to program the cards to go negative, or assume debt of up to $10 during a single ride.
MTC spokesperson Randy Rentschler defended the policy, saying the most cost-effective way to handle the transition of the many transit agencies using Clipper was to go with a negative balance. According to MTC's statistics, even with the widespread publicity of the issue in the media last week, single use of Clipper cards hadn't grown significantly. While there was an uptick, the number is still far below a threshold they considered alarming, thought they are monitoring the issue every day.
"Can people scam the system because it's not perfect, sure," said Rentschler. "It's better than not having it. We're going through a transition and we're not trying to let the perfect be the enemy of the good. I think it's overwhelmingly good."
Rentschler told me MTC would take the concerns raised by BART directors seriously and would not dismiss anything they said, but he declined to comment directly on any of the BART directors' complaints. He argued the Bay Area needed a single fare medium, but with the complexity of 26 Bay Area transit operators each with different policies and instruments, there would be no absolutely seamless way to roll out Clipper without upsetting some interests.
"Clipper is the electronic solution to what is fundamentally a political problem and that is that everybody wants to have local control of their transit system," said Rentschler. "You can have fewer operators or you can have technology. We chose technology."
"We want it to work for their customers, we want it to work with all customers.," he added. "More than anything else, we think we're going to have a good run with BART, but it's not going to be perfect."
Stay in touch
Sign up for our free newsletter