CCDC
Chinatown Group Analyzes Pedestrian Safety, Offers Plan for Improvements
9:37 AM PST on November 30, 2010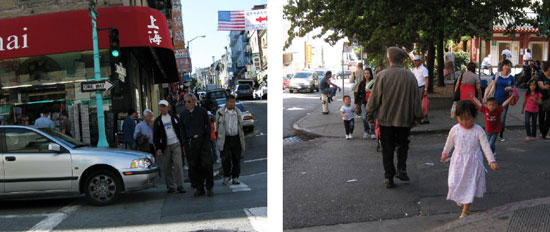 Chinatown's crowded sidewalks, unsafe crosswalks and poor pedestrian signage are not likely to be among the endearing physical characteristic featured in any tourist brochure. Yet in a recent study -- the San Francisco Chinatown Pedestrian Safety Needs Assessment [pdf] and Safety Plan [pdf] conducted by the Chinatown Community Development Center (CCDC) -- those issues were identified as several of the highest priority concerns for tenants, merchants and visitors to the popular area.
Chinatown is the densest neighborhood in San Francisco, according to the study, and has the lowest rate of automobile ownership, at 17 percent. The neighborhood is made up of a large percentage of transit users and pedestrians, many of them seniors. From the report:
The 2000 Census reported the median income for the neighborhood as $18,339, with a median age of 50. The proportion of the population living below the poverty level in 2000 was 21 percent versus 11 percent citywide.

Although Chinatown has the lowest rate of car ownership, it has the highest volume of traffic of any San Francisco neighborhood. Seventy eight percent of households live within 150 meters of a truck route. The proportion of Chinatown households living with traffic-related air quality hazards is 100 percent compared to 68 percent citywide.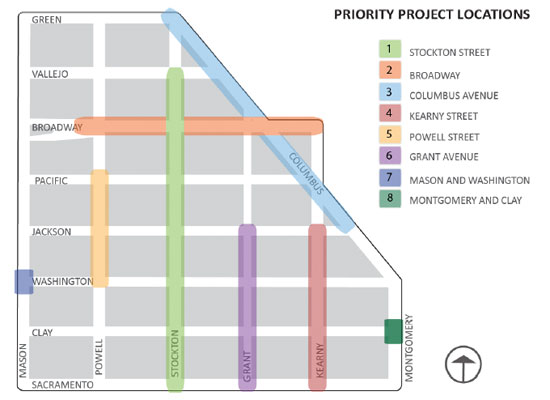 The study analyzed a laundry list of characteristics and data at 142 intersections within the study area, which was bounded by Mason Street, Green Street, Columbus Avenue, Montgomery Street and Sacramento Street. It scored each intersection based on a variety of factors, including SFPD vehicle-pedestrian collision data over a 10-year period, the San Francisco Department of Public Health's Pedestrian Quality Index (PEQI) and community surveys.
"We've gleaned an incredible amount of useful information just by having spontaneous conversations with school cross guards, store owners, and postal workers on their smoke break," said Deland Chan, a senior planner for CCDC and the author of the study.
After narrowing the list to the top 21 most dangerous intersections, CCDC studied those further, sending staff and volunteers out to collect pedestrian volume counts and observations of pedestrian and vehicle behavior. In addition, every sidewalk within the study area was assessed to determine the quality and condition of the walking surfaces and pedestrian amenities. These 21 most dangerous intersections were then grouped together into eight priority corridors, with the Stockton from Sacramento to Vallejo the highest priority segment, followed by Broadway from Mason to Kearny and Columbus from Jackson to Green.
CCDC has been shopping the study to numerous city agencies and has received a lot of support from the San Francisco Department of Public Health (SFDPH), which provided $20,000 to organize and complete the effort. According to Ana Validzic, a pedestrian safety coordinator at the SFDPH, CCDC's plan was a model she hoped to see scaled up across the city. Calling CCDC "rock stars in this area," she said her department had received a large planning grant and was in the early stages of a citywide study.
"It's a really solid piece of work, we're excited for the next steps," said Validzic.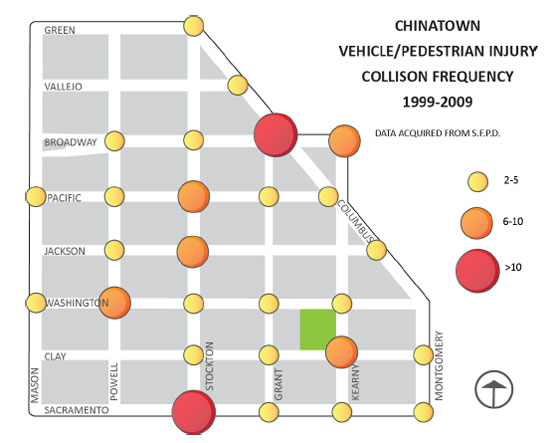 Unlike the SFMTA's recent pedestrian safety study, which pretended to model itself on New York City's much-heralded Pedestrian Safety Study and Action Plan, but failed to include an action plan, the CCDC Safety Plan has a long menu of interventions the group hopes to see realized in the neighborhood.
Along the Stockton corridor, for instance, the Safety Plan recommends increasing pedestrian space, comfort and mobility by adding pedestrian scramble phases and full intersection crosswalk treatments and curb extensions at intersections. Other suggested improvements include "adding seating, removing old signage and meter posts, and getting rid of newspaper racks to help reduce sidewalk clutter. Strategies to decrease vehicle speeds and turning conflicts include replacing standard 'No Right on Red' signs with LED signage, which illuminate to prevent turning movements during pedestrian phases, and adding a dedicated left turn signal phase to the traffic lights."
Improvements like pedestrian scrambles are relatively cheap and already in effect at certain intersections in the Financial District only a few blocks away from Chinatown (or see Oakland's Chinatown for a gold-plated scramble). As the report notes, because "low-income communities are disproportionately affected by the lack of walkable neighborhoods" and because of the demographics in Chinatown, "the provision of safe, walkable streets is a social justice issue."
This message resonates with senior advocates in the neighborhood, who underscored how significant improved safety at crosswalks, improved sidewalk conditions and longer crossing signals at intersections are for an aging population.
"Because Chinatown is so congested, the city should cater to some of the needs of Chinatown, including sometimes the crosswalk phase," said Wing Hoo Leung, vice president of the Chinatown Tenants Association (CTA). "There aren't enough accommodations. The street lights should be longer, since there are a lot of people crossing the street and not enough time for them to cross the street safely."
Chinatown saw seven fatalities on the streets between 1999 and 2009, and CCDC and CTA hope this initial work will prompt action that will significantly reduce these preventable deaths.
"Rather than waiting for another accident to occur before taking action," said CCDC's Chan, "we wanted to proactively identify and systemically rank priority areas where the city and community groups can work together to make the neighborhood safer for pedestrians."
Stay in touch
Sign up for our free newsletter