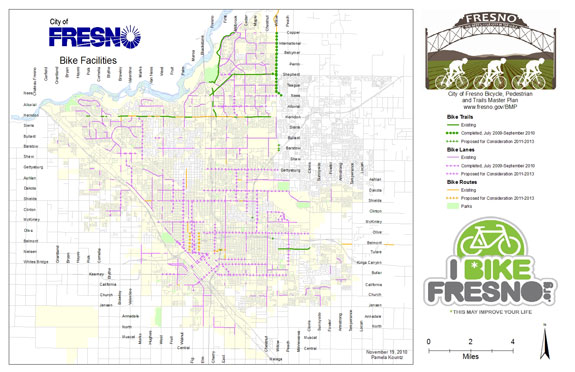 Editor's note: Matthew Ridgway is a principal at Fehr and Peers, a transportation design and engineering firm that routinely consults on bicycle and pedestrian projects throughout California. His firm was hired to help develop Fresno's Bicycle Master Plan. Bryan Jones, the city of Fresno's traffic engineer, contributed to this report.

A collective sigh of relief could be heard throughout San Francisco this past August when a judge finally lifted the a four-year Bicycle Plan injunction, freeing the city to move ahead with striping miles of bike lanes. News outlets in the city depicted the denouement of one of the more confounding dramas in transportation planning, as the curtain on Rob Anderson's quixotic mission to thwart clean transportation came to a final close.
But the biggest story in expanding bicycle networks in California has been quietly unfolding two hundred miles away from the City by the Bay in Fresno.
Yes, Fresno.
Even with an astounding 15.2 percent unemployment rate and home prices down by 48.6 percent over the last five years, Fresno has managed to add more bike lanes than most cities outside of New York, which has completed construction of 200 miles of bike lanes in three years. Given Fresno's size, the per capita addition of lanes makes it competitive with the accomplishments of Janette Sadik-Khan, though with much less fanfare.
Take the numbers: over the past 12 months Fresno has built 30 miles of new on-street bike lanes and three miles of new trails, with an additional 30 miles of bikeways in the works (compare that to San Francisco's plan to add 31 miles). And that's before its City Council unanimously approved its first comprehensive Bicycle Master Plan, which focuses on the Five E's of Engineering, Education, Encouragement, Enforcement, and Evaluation.
These were not necessarily easy wins. Most of the on-street bikeways were built through road diets, which meant removing auto lanes to add bike lanes. Most of the 30 bikeway miles were installed on roadways with excess capacity within the core and downtown of the city.  The city even developed a website to educate both bicyclists and motorists on the reasons for – and benefits of – road diets.
Transforming the city into a Bicycle Friendly Community has been no small feat and there are tremendous hurdles to surmount before you can call the city a bicycle paradise. The Fresno region has spent approximately $2 billion in the past decade on new six-lane freeways such as State Routes 168 and 180. Fresno leads the State of California in freeway lane miles per capita, as well as local major street lane miles per capita, both of which create economic impacts and maintenance challenges for the city and state. Freeways also create considerable barriers for every other mode of transportation. Fresno is the fifth largest city in the State, and yet during the busiest time of day, drivers can get from one side of the metro area to the other in less than 20 minutes. The Fresno region also leads the state (and, in most categories, the nation) in air quality non-compliance, poverty and public health issues such as diabetes, obesity, heart disease, and asthma.
Facing these land use and socioeconomic challenges, city staff realized that a citywide bike network could support a cost-effective transportation system while also revitalizing Fresno's downtown and neighboring communities. Ultimately, Fresno's goal is to become the "Bicycle Capital of the Central Valley" and be a leading example for the smaller rural Central Valley jurisdictions on how to develop more sustainably.
This year, the region launched the 2010 Bike Fresno Campaign, which focused on encouragement and the Joy of Biking. The campaign featured some terrific social media that would make even the most hardened souls shed a tear. Upcoming events will keep the spotlight on Fresno: next May the city will host the Eye-Q California Classic Weekend, a weekend-long festival focused on health and physical activity. As part of the festivities, the organizers will close 10 miles of SR 168 to cars and open it to bicycles for the day.
It will likely be some time before the city would ever be mentioned in the same breath as some of the European cycling capitols, but with the exciting pace of change, bicycle advocates and planners should officially take notice.
Check out the Fresno's ambitious plans here: City of Fresno Bicycle, Pedestrian, and Trails Master Plan. This news reporter did a great job covering the new bikes lanes and road diets. View videos here.
Stay in touch
Sign up for our free newsletter