Car-Free Streets
New Freeway Revolt Grips Guadalajara
10:04 AM PST on December 6, 2010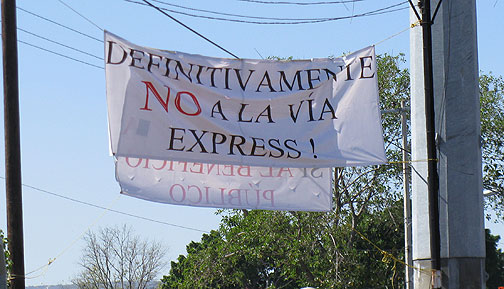 While the world has gathered in Cancun, Mexico, to discuss again a shared approach to Climate Chaos, action is already being taken in countless communities. On a visit last week to Guadalajara, Mexico, more than a thousand miles west of the Climate Meeting, I had the pleasure of discovering a vibrant grassroots movement to block the construction of a new 23-kilometer elevated freeway through the heart of the city. Interestingly, this movement leans primarily on people who live along the proposed route of the freeway, but found crucial support and activism from Ciudad Para Todos (City For All), a three-year-old group of bicycle and transit activists who are Guadalajara's most vocal opponents to the reign of the car.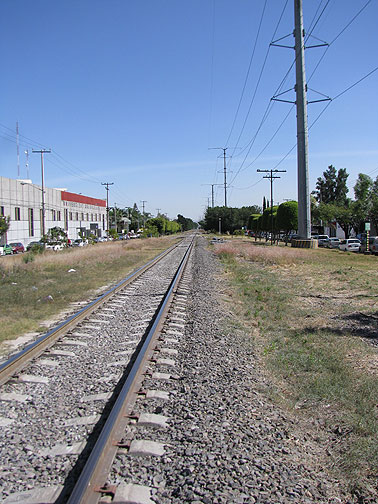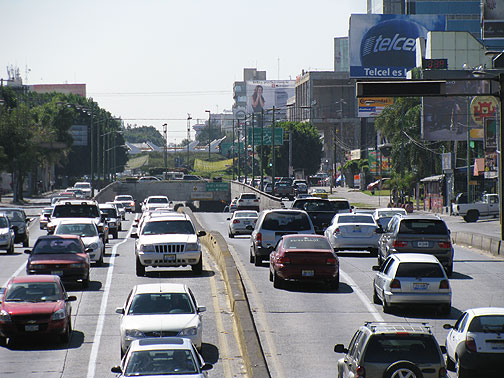 I met Étienne von Bertrab and Negro Soto Morfín, two of the main Ciudad Para Todos activists, at the World Car-Free Cities Conference in Portland, Oregon in 2008 and later they invited me to speak to the 2nd annual Congress of Urban Cycling in Mexico held in Guadalajara in September 2009. We got together just after Thanksgiving and they filled us in on the new campaign.
In June 2010, just before they left for York, England for this year's Car-Free Cities Conference, the Jalisco State Government published a video online describing the new freeway (La Via Express) plan. The Jalisco state government (which encompasses the city of Guadalajara) declared its intention to build a freeway on the same railroad line that a previous city government had proposed for a linear park and garden corridor with bicycle and pedestrian zones. The corridor conveniently cuts through the city and is used by laborers riding bicycles 20-30 kilometers a day between home and work.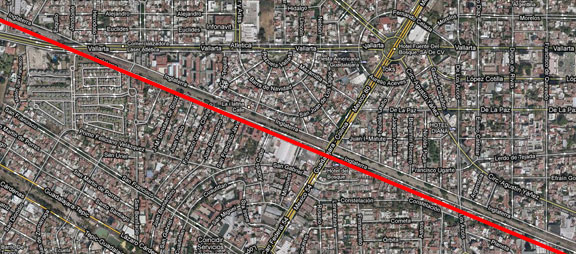 Étienne and Negro brought the government video with them to England and showed it to the gathered planners and activists on the first day and made two guerrilla video responses. At first the Jalisco government protested to Youtube and demanded the videos be taken down on the grounds of copyright violation (they had garnered 12,000 views in just the first four days), but when that news broke, even more people went to see the videos. (Youtube did take down the videos for a while, but restored them after protests from Ciudad Para Todos.) All three are posted here, but this is the one primarily in English:
The guerrilla videos made by Ciudad Para Todos were circulating and galvanizing local opponents, but the neighbors had already begun organizing before they even saw the video. We met Dr. Alicia Jaik, an energetic former medical doctor, now running a small corner store along the proposed route. Her neighbor is a local politician and when he asked her what she thought of the proposal she announced her dismay. "What should we do?" asked the politician. "Get to work!" was her immediate response. Signs sprung up along the houses up and down the street.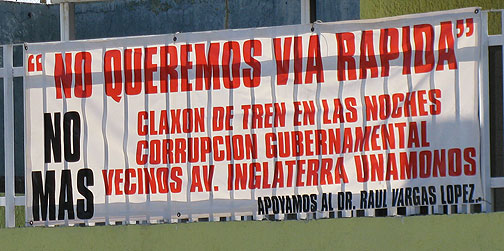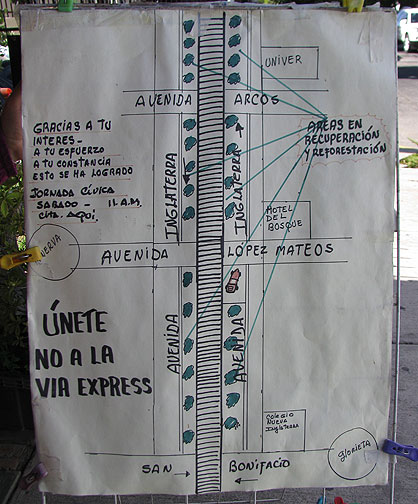 A short time later Étienne was walking along the rail line with a local journalist and was thrilled when he saw the signs. With the journalist in tow, he knocked on Dr. Alicia's door and after realizing they had much to discuss, he was invited to a meeting called a few days later. At the meeting Etienne and Negro and their colleagues presented their videos, their larger critique, and the plans that had been created by the previous municipal government for a linear park. They were met with great enthusiasm. "What can we do? When can we start? Can we do it this Saturday?" demanded the neighbors. Etienne and Negro hadn't anticipated an action plan emerging so quickly, but they saw a good thing when it appeared. "Why not?"
That Saturday was the first gardening party, beginning with the removal of tons of accumulated trash. From that July meeting there has been a regular Saturday work party ever since. There are now over 400 new trees planted and at least eight different neighborhood associations involved. Neighbors have established new relationships with each other, and public feasts have become a regular feature of the Saturday work parties and other days. The independent Hotel del Bosque sits on an adjacent corner. They were at first cool to the activism, but became an enthusiastic participant, including their recent support of a mural painted by some local graffiti artists.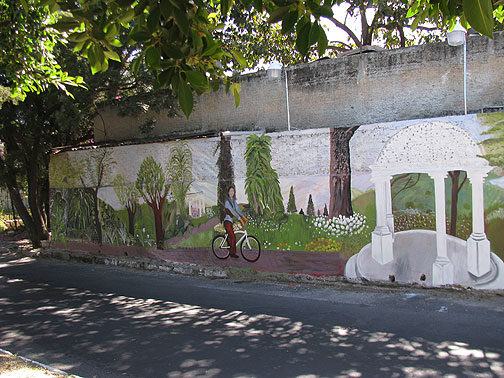 A university campus is adjacent too, and students have been eager participants as well. Painstaking work with local businesses has gained further support, many of them angered by the backroom dealing going on with big connected Mexican companies ICA, Cemex, and Grupo Mexico. A press conference of two local business associations was held on December 2 supporting demands for more transparency, public hearings, and technical evaluations of the freeway plans before anything begins. Meanwhile, the facts on the ground are getting better every weekend.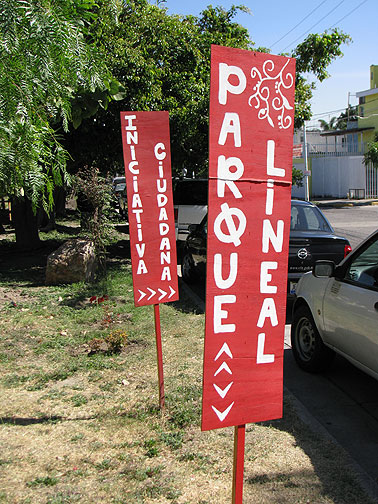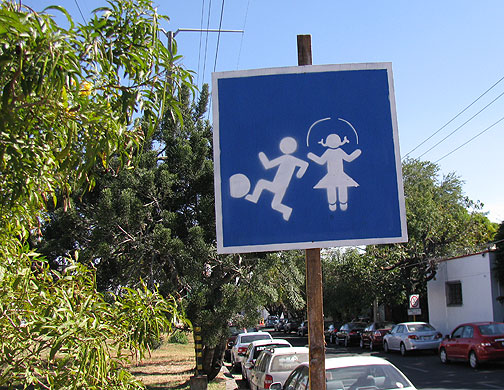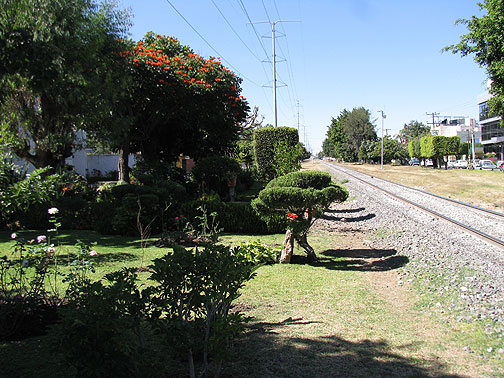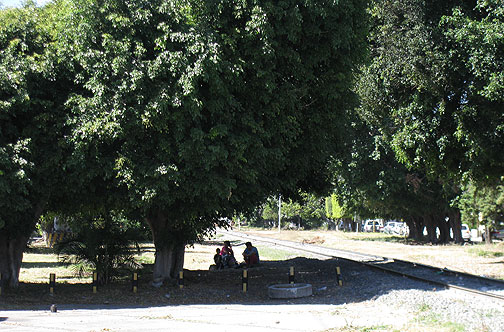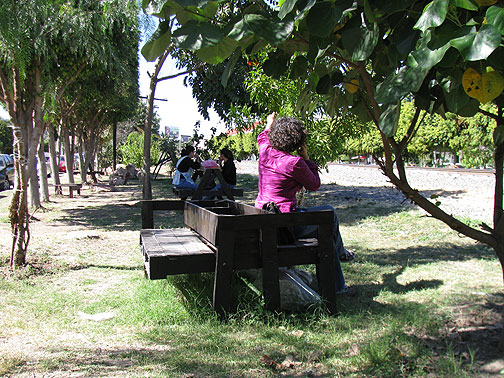 On September 22, 2010, World Carfree Day, our intrepid activists decided to install a monument in the middle of the contested terrain. They acquired a junked car, and turned it into a large flower pot, fixing it in place at one of the busiest intersections on Avenida Inglaterra. On the morning they were going to put it in place, the first arrival was pondering how to move massive concrete pieces into place when a man drove by on a big backhoe, most serendipitously! He quickly agreed to use his machine to move two big slabs of nearby concrete across the railroad tracks and even suggested a better placement for them. Voila! A new monument was installed, and we had fun visiting it last Tuesday. Here's a few shots of it, followed by a video showing its installation, including the arrival of a Critical Mass-like procession by the GDL en Bici crowd.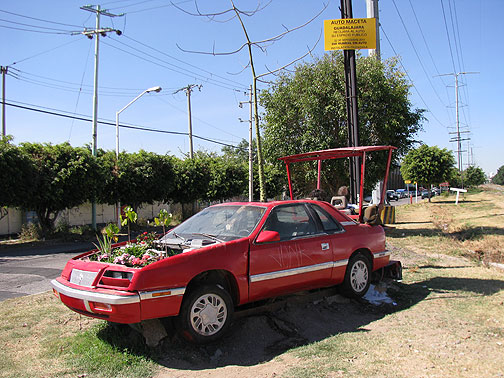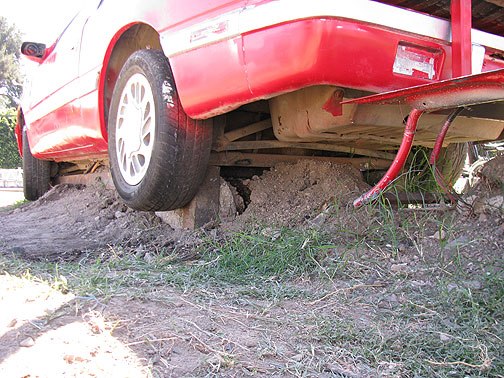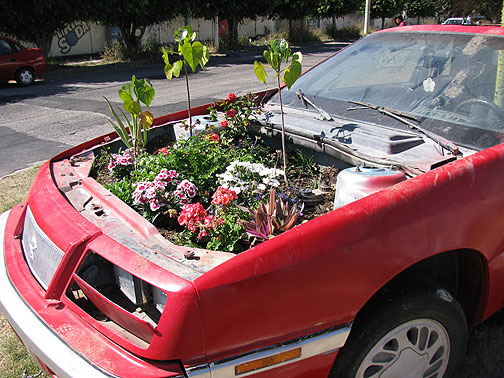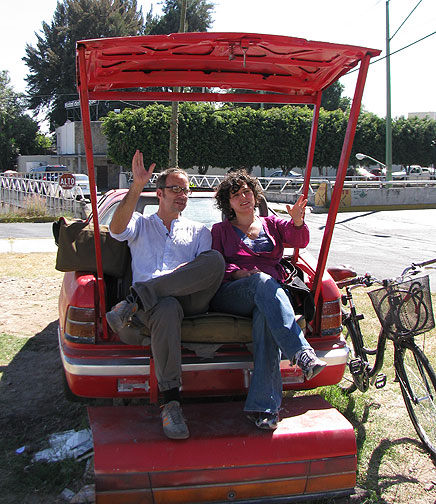 The down-to-earth politics of this new Freeway Revolt in Mexico are a shining example to climate change activists everywhere. As Dr. Alicia put it to us, "Aqui, nadie es nadie, todos somos todos." (Roughly translated as "Here, nobody's a bigshot, we're all in it together.") She was emphasizing that they weren't relying on the political parties or their representatives, to the contrary, they were disallowed in this campaign. Our friends in Ciudad Para Todos underlined the same point: The local diputado (elected representative in the state government) could participate as a citizen, but they wouldn't support his offer to bring in work crews, equipment, and resources, whereby his political party would colonize the effort for their own ends. Dr. Alicia told us, "Before neighbors wouldn't really talk to each other. Now we're a community!" She'd been gardening across from her house for years, but now there are hundreds of neighbors doing the same up and down the rail line. The doctor is already scheming ways to deepen the new community's life. She was planning to establish a free outdoor library near the benches that had already been built. "Take a book to read, leave one behind."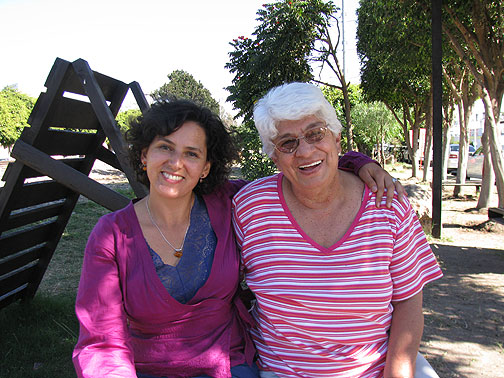 A dead tree across from her small store had come back to life with several dozen fluttering hand-written "leaves." One of our favorites said "Leave the closet and let's be citizens all the time." It's just such a reinvigorated—and visionary—citizenship that is the foundation of the transition that we must make in the face of Climate Chaos, the Energy and Economic Crises, and the generally dissatisfying daily lives we lead in the second decade of the 21st century.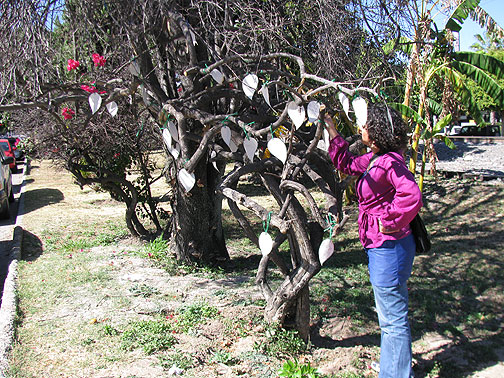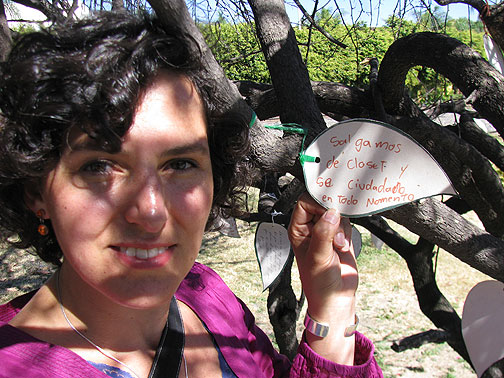 Thanks to Adriana Camarena, my compañera who fully participated in gathering this story, and without whom I wouldn't have been able to write it!
Stay in touch
Sign up for our free newsletter