Marin County
Cal Park Tunnel Opening Today Culminates Nearly Two Decades of Planning
9:25 AM PST on December 10, 2010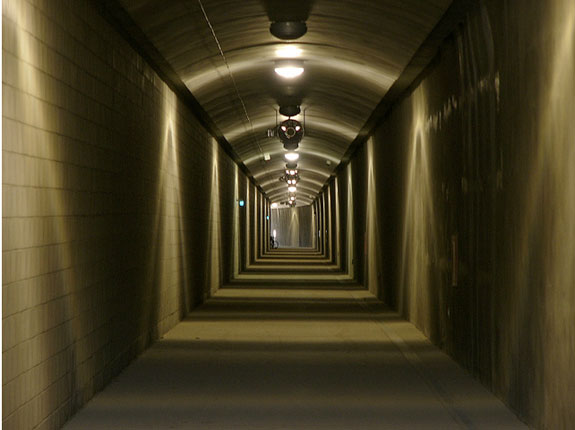 After 17 years of planning, the Cal Park tunnel will open to Marin County cyclists today, providing a shorter, safer route between San Rafael and the Larkspur Ferry for an estimated 800,000 riders a year.
The 1.1-mile project includes class 1 bike lanes to connect the 1,106-foot bore with Sir Francis Drake Boulevard on the south and Anderson Road in San Rafael. The bike tunnel itself is just 11 feet, 4 inches wide, but reflects state-of-the-art design that transformed the 124-year-old railroad tunnel into a 21st century model for green transportation.
"It has its own lights. It has its own ventilation system. It's got its own fire alarm system," said Erin Hohenshelt, a staff engineer for Jacobs Associates who has spent 11 months on the tunnel, which had degenerated into a crumbling cave filled with mud, rock and rotten timbers. Now, there's even cell service.
In a real sense, the opening of the tunnel connects vision with reality for Patrick Seidler, president of Wilderness Trail Bikes and Transportation Alternatives for Marin. Seidler used to sneak rides on his Stingray through the tunnel when he was growing up in Marin. The tunnel was closed in 1990 after a fire started by drifters. But it wasn't long before Seidler and others started talking about opening it for cyclists.
"In 1993, we published an article that laid out the vision for re-opening all the tunnels in Marin County with the old rail lines, because the rail lines provided direct connections throughout the county. The cities grew up around them," he said. "Rail transportation really defined Marin County from 1884 to 1937 when the Golden Gate Bridge was built."
He thinks today's ribbon-cutting, scheduled for 3 p.m. on the tunnel's southern end, will help others see the potential for using the old rail lines as transportation corridors.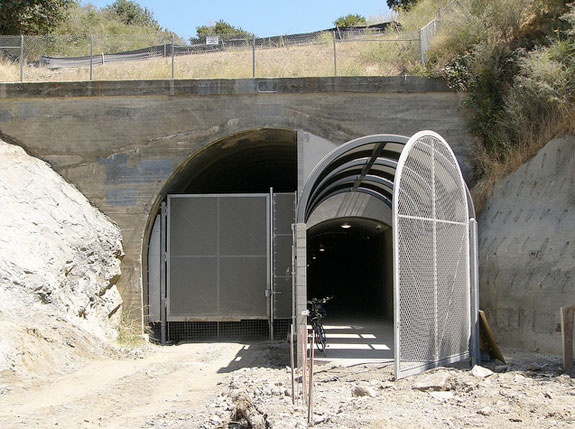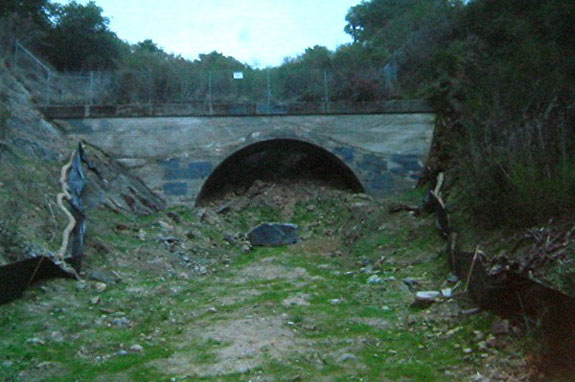 "This is a section of the north-south bike route that connects people with a central transportation hub," said Kim Baenisch, executive director of the Marin County Bicycle Coalition. She noted the tunnel path will connect with east-west routes to Larkspur and the Ross Valley. "The tunnel is saving a minimum of 15 minutes for bike commuters to get between San Rafael and Larkspur."
Hohenshelt commuted by bike while working on the project and was the first cyclist through the finished tunnel. "I made it from the ferry to the north end in less than 10 minutes," she said. "It used to take me 25 to 30 minutes, depending how tired I was."
Long-term Planning
What was first estimated in 1998 as a $3 million project turned into an odyssey of political debates, engineering challenges and rising costs. As of Friday's ribbon-cutting, the costs were estimated at $27 million. That includes a walled-off portion of that tunnel where budget-plagued SMART service may one day carry commuters on 70-miles of track from Larkspur Landing to Cloverdale. As envisioned, a bike path will parallel the entire light-rail line.
While the tunnel is ready for cyclists, SMART trains are sidetracked by financial problems. A $350 million shortfall in anticipated sales-tax revenue has forced the transit system's board to scale back plans. Board members voted in November to start building the middle of the system first, with trains running from the Marin Civic Center to Santa Rosa at a cost of $395 million. But even that plan is under attack from critics, who say the sales-tax measure should be repealed because SMART is falling far short of its promise.
Marin County supervisors have called on the SMART board to put off a $56.9 million purchase of 18 rail cars along with all other major expenditures. Even Supervisor Steve Kinsey - a long-time champion of the Cal Park tunnel  - noted the system faces a "crisis of confidence." A vote on the rail cars is scheduled for Dec. 15.
More Projects
The tunnel's opening coincides with another high-quality bike project over Lincoln Hill from San Rafael to the Marin Civic Center. Cyclists who've been sharing a relatively narrow road with fast-moving commute traffic over a steep incline now have a complete separate bike expressway with class 1 paths and lighting.
The next big target for the Marin cycling community is the Alto Tunnel project, which is another abandoned rail tunnel running between Corte Madera and Mill Valley. That tunnel, which roughly parallels the climb over Camino Alto, is twice as long but half as wide as the Cal Park tunnel, and is believed to be in much worse shape due to collapses near both ends.
The county is in the midst of a series of public planning sessions to consider the Alto Tunnel along with other possible walk-bike routes. A number of local residents have opposed the reopening of the Alto Tunnel, saying it would bring a flood of cycling traffic into their bucolic neighborhoods at a cost that could be even higher than the Cal Park project. They've been greatly outnumbered by cyclists who point out the safety hazards of the steep, twisty Camino Alto route, which is impractical for novice riders, children and the handicapped.
MCBC's Baenisch believes the Cal-Park tunnel will help show people the benefits of rebuilding the Alto Tunnel.
"I think it can be a positive precedent for opening up a tunnel that provides level direct transportation for bicyclists and walkers that separates you from traffic and allows any rider of any skill and any age," she said.
Stay in touch
Sign up for our free newsletter