Park(ing) Day
Proposed Parklets on Valencia and Post Streets Draw Praise at SFDPW Hearing
1:32 PM PST on December 15, 2010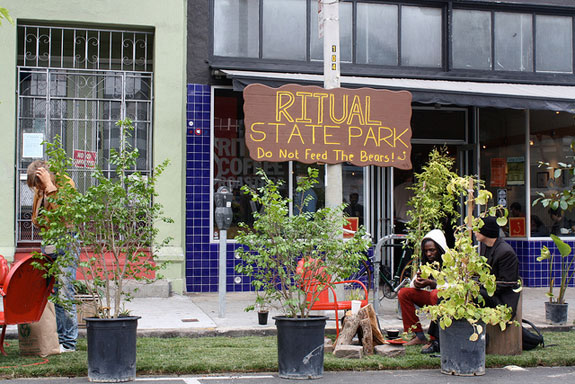 An enthusiastic audience of supporters who lamented the lack of public space in their neighborhoods attended a San Francisco Department of Public Works (SFDPW) hearing at City Hall this morning on proposed parklets in front Ritual Coffee Roasters on Valencia Street and farm:table coffee on Post Street. Supporters of the parklets testified that converting a few parking spots into vibrant spaces for people will enliven their streets and benefit their neighborhoods.
Eileen Hassi, the owner of Ritual, told the hearing officer that she has been trying to establish a park in front of her business at 1026 Valencia Street since it first opened in 2005. She said Ritual has been a strong supporter and participant in PARK(ing) Day and that the only complaints she's heard from neighbors are that there are too many people on the sidewalks and that bicycles often clutter the area.
"Personally, I think these are good problems to have and the parklet is a great solution to both of these problems," said Hassi, who added that many neighbors who aren't Ritual customers have enjoyed the transformation of the parking spaces on PARK(ing) Day and would benefit from a permanent parklet because it would be public space. In addition, on-street bicycle parking would be added.
"I'm not a customer but they have been an excellent neighbor," said Amandeep Jawa, a resident in the neighborhood and livable streets advocate. "Fundamentally, the problem on Valencia is not successful businesses. The problem on Valencia is that we have very narrow sidewalks and Valencia Street is a pedestrian street in spite of itself."
Nearly 20 people showed up at the hearing to support the Ritual parklet and not one person spoke out against it. The Great Streets Project, and other supporters, sent letters and emails from neighbors and businesses to SFDPW that far outweighed the few letters opposing it.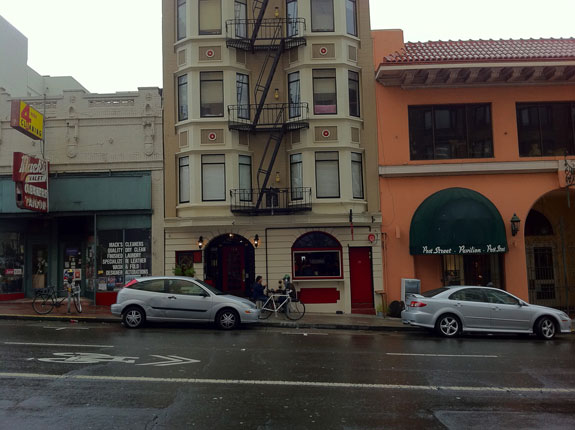 A number of people also showed up to testify in support of a proposed parklet [pdf] in front of farm:table on Post Street between Leavenworth and Jones, a dense neighborhood where a majority of residents do not own cars. A coffee shop with chairs and tables on the sidewalk has fronted the building at 754 Post Street since 1989, according to Jonathan Lowell, who manages the property and supports the installation of the parklet.
Lowell explained that it's a place "where neighbors have gathered for the past 20 plus years" but "the streets themselves serve the motoring public." Indeed, Post Street is a one-way arterial along with many other streets in the neighborhood that have seen a number of crashes over the years involving drivers and pedestrians.
"Pedestrian conditions are far from optimal. There was a fatal collision a couple of blocks away and we believe we should do as much as possible to improve conditions in the area. We believe this parklet will be a major improvement," Elizabeth Stampe, the executive director of Walk San Francisco, told the hearing officer.
Board of Supervisors President David Chiu, who represents the area, sent a letter of support [pdf] and also pointed out that the existing pedestrian amenities in the neighborhood are scarce.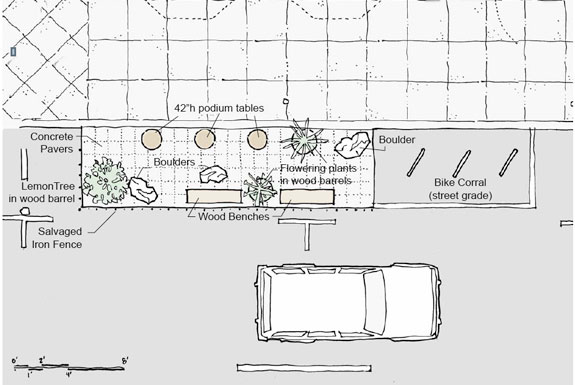 "Perhaps because of the great need for the space and the public benefits that the parklet would provide, the parklet design for 754 Post Street has generated a very positive response from the surrounding neighborhood and local businesses," Chiu wrote. "In a dense mixed-use neighborhood such as this one, providing a safe space for neighbors to gather is a vital function of the public realm -- a function that the existing conditions on this block do not adequately address."
The owners of farm:table said the parklet's street furniture would be present during business hours from 7am-4pm and the owners of the building would take responsibility for being the stewards of the space. They stressed that it wouldn't have the feel that it was part of farm:table, but would be public space designed for anyone to use.
An SFDPW representative said the letters of support for the project overshadowed those opposed to it by a 4-to-1 ratio. The only two people who testified against the parklet, both residents of the building, complained about the difficulty of parking in the neighborhood.
"We do have a park three blocks down," one of the opponents testified. "It's called Union Square."
A decision on whether to grant permits for both of the parklets is expected in about two weeks. The earliest they could be installed is sometime in late January. The two proposed parklets were among 23 parklet projects recently selected by SFDPW as part of the city's Pavement to Parks program.
Bryan Goebel is a reporter at KQED Public Radio in San Francisco. A veteran journalist and writer, he helped launch Streetsblog SF in 2009 and served as editor for three years. He lives car-free in the Castro District.
Stay in touch
Sign up for our free newsletter