Geary BRT
City Hall Hearing Turns Spotlight on Problems Plaguing 14-Mission Line
5:54 PM PST on February 8, 2011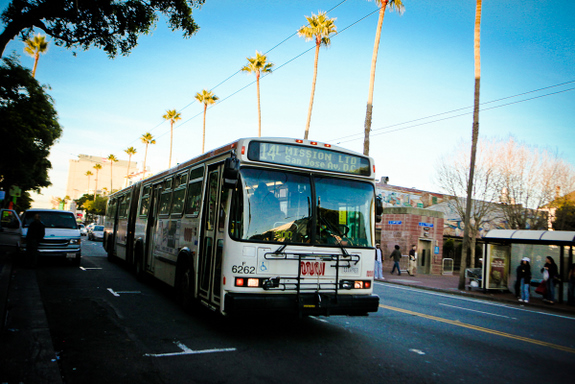 The thousands of daily Muni riders who take the 14-Mission line continue to endure frequent switchbacks, poor reliability, slow speeds, and overcrowding, but advocates and city leaders are putting a spotlight on the problems plaguing the busy Mission bus corridor, which serves one of San Francisco's most transit-dependent communities.
"It's the only one of the top three busiest [bus] lines without a plan to speed it up," said Fred Sherburn-Zimmer, an organizer of the San Francisco Transit Rider Union's (SFTRU) 14-Mission Task Force. "Why isn't this major corridor for working class people in the city a priority? It's busy no matter what, eleven at night, seven in the morning, and it doesn't matter which stop you're getting off at."
A hearing called by Supervisor John Avalos at today's San Francisco County Transportation Authority Plans and Programs Committee meeting sought to address the switchbacks on the line following complaints from riders. SFMTA Director of Transit John Haley explained in a presentation [pdf] that Muni management orders switchbacks to alleviate delays. They force riders off a vehicle, mostly in the outbound direction, in order to serve points on a line that have a greater ridership demand.
"When one of the lines is substantially behind schedule, it's one of the things that's available to us so that we balance the line in both directions," said Haley. "All five of the rail lines go through the subway, it has to be managed as a system. If something happens on one line, it can impact all the other lines."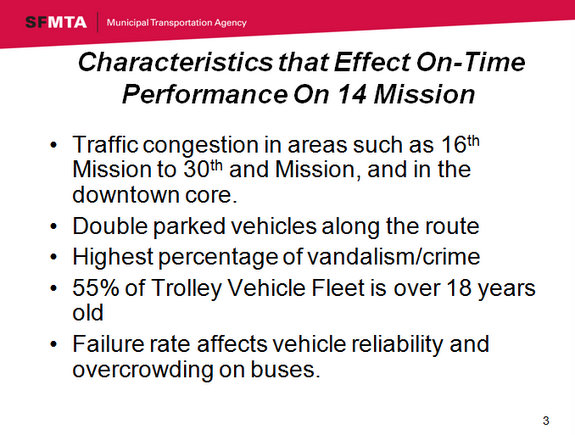 Despite the "relatively small" percentage of trips impacted by switchbacks and the 14-Mission's exclusion from subway delays, the line's riders experienced 137 switchbacks in January compared to 203 for all of the system's light-rail lines combined, according to Haley. With delays arising unexpectedly, Muni operators can be ordered to make a switchback with as little as a moment's notice.
"I hear about passengers who get a little frustrated when it seems like the driver has just suddenly said that they have to get off and move along, and it seems like the driver's equally frustrated, probably not always the best bedside manner," said Avalos.
The stated policy for switchbacks requires drivers to display the "correct destination sign" on the vehicle and make frequent announcements notifying passengers of the turn-around as well as having another vehicle ready to accommodate the passengers in less than 5 minutes, according to Haley.
Supervisor Scott Wiener, citing his own experiences, was skeptical about whether advance notice is usually given. He highlighted the need for better communication to riders.
"I think a lot of people can understand why switchbacks may occasionally be necessary in terms of managing the system," he said. "But there's a general feeling that I think is sometimes true that information is not provided in a timely way."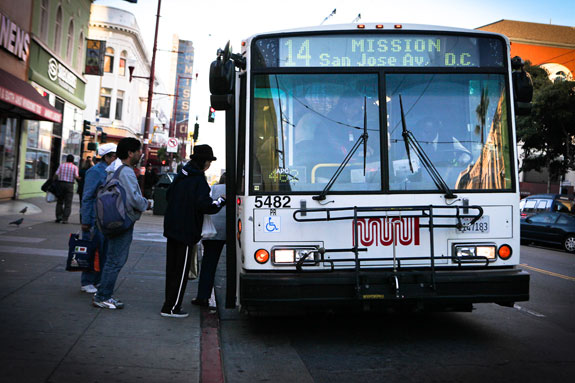 Transit Workers Union President Rafael Cabrera said drivers too often don't know about switchbacks ahead of time. "If there's a delay in the subway, we won't know until we come out of West Portal, and they will tell us, 'switch back, is that okay?' So, therefore whoever got on inside the subway will not know," he said.
The most common causes of delay leading to switchbacks, Haley reported, were equipment failures on aging vehicles in need of a targeted overhaul as well as automobile congestion and frequent double-parking. "The trackless trolleys in particular are the oldest part of our fleet, the least reliable," he said.
The 14-Mission currently operates at an average speed of 6.9 mph, "just under" the system-wide average, said Haley, and on-time performance reportedly rates at 69 percent, compared to 72 percent for all lines.
"A lot of times on Mission, you can walk faster than the bus during rush hour," said Sherburn-Zimmer. "When I lived in the Excelsior, and I worked in Potrero, it took me an hour and a half to take the bus to work if it was at all during commute times."
"I watched my roommate and my neighbors buy cars just because you'd spend so much of your day traveling," she said.
While bus rapid transit projects are in the works for the Van Ness and Geary corridors, the only routes that carry a higher level of bus traffic in the city, no such plan is in the works to improve service on the 14.
The San Francisco Transit Riders Union's 14-Mission task force will hold its second community meeting on Thursday to identify the most effective strategies for improving service. At the first meeting, there was a consensus that all-door boarding was the most attainable and beneficial solution to decrease the time spent by buses sitting at stops while improving reliability and reducing overcrowding. Deploying inspectors to implement a proof-of-payment system would yield results similar to the higher fare recovery on light-rail lines.
"I think the Mission corridor...is an ideal candidate for us to begin a process of rear-door boarding," said Haley. He also recommended equipment overhauls and increased deployment of parking control officers to reduce double parking on Mission Street as the other the top solutions.
Other changes such as clearly marked transit-only lanes would provide smoother trips not only for daily commuters who use the line, but for the variety of residents who use it as their primary mode of transportation.
"You don't just take it to get to work, you use it for everything," said Sherburn-Zimmer. "One of the better things on the list of what I love about where I live is it's close to the 14, it runs all night, it runs regularly. But you shouldn't have to fight to get on the bus."
Update: The San Francisco Transit Riders Union will hold its next community organizing meeting on improving the 14-Mission this Thursday, February 10 at 6:30 pm at El Cafetazo, 3087 16th Street (at Valencia). For more information, visit sftru.org.
Aaron was the editor of Streetsblog San Francisco from January 2012 until October 2015. He joined Streetsblog in 2010 after studying rhetoric and political communication at SF State University and spending a semester in Denmark.
Stay in touch
Sign up for our free newsletter