Bicycle Infrastructure
Church and Duboce Project to Revamp Major Transit and Bike Corridor
12:37 PM PST on March 10, 2011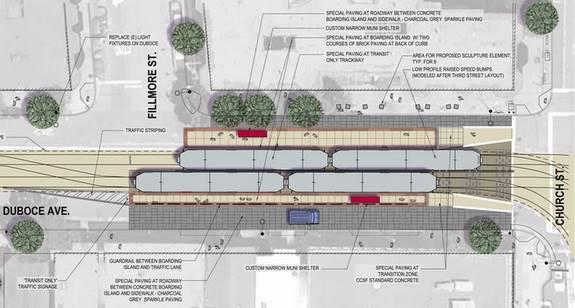 The thousands of daily travelers converging at the crowded Church and Duboce transit and bicycle junction can look forward to a host of streetscape improvements to make it safer and more inviting in the next couple of years.
The Duboce Muni portal, converted from a street-level railway decades ago, has remained one of the city's hairiest junctures for all modes of transportation. The Church and Duboce Track Improvement Project will bring overdue rail replacement in April, but it's just the tip of the iceberg for neighborhood-driven streetscape upgrades on the agenda.
The scope of the initial rail project was expanded to include curb extensions, plantings, lighting upgrades, artistic additions, and a block of green, car-free bikeway after neighborhood groups eagerly collaborated in the planning process with the SFMTA.
"We thought about the opportunities that exist here for something a whole lot more impacting than simply pulling up steel," said Peter Cohen of the Duboce Triangle Neighborhood Association (DTNA). "We looked at all the streetscape conditions and transportation users along the project area and thought about a whole basket of improvements that would fit into the neighborhood."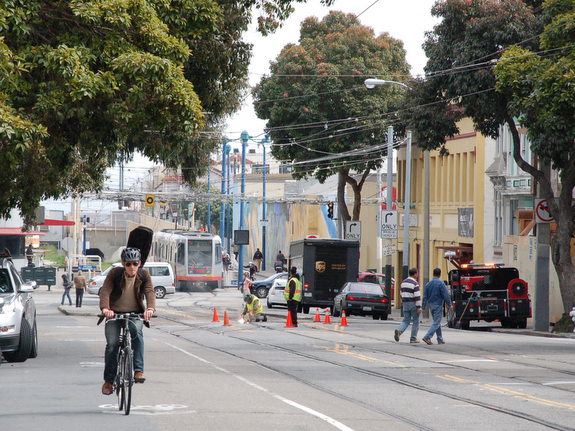 The project will affect Duboce Avenue from Church to Noe Street and Church Street from Duboce to Market Street. The hub of the project lies where the Duboce Muni tunnel and bikeway meet Church, inersecting two Muni rail lines, a bus line, bicycle and private auto traffic at the gateway to the major Wiggle route. Add to the mix pedestrians accessing one of the busiest street level stops on the Muni's most popular line, the N-Judah, and you've got a mess.
"It's a very interesting place - it's a nexus where four types of transportation systems come together and compete for space, which is a very difficult puzzle," said Cohen. "At the same time, it's also a residential environment."
DTNA, The Wigg Party, and the Castro Community Benefit District jumped at the chance to add beautification and safety improvements along the Duboce corridor, said Ben Kaufman, chair of The Wigg Party's Wiggle Transformation Working Group.
The project comes bearing gifts for all non-motorized users. Physical changes will be made to help delineate dedicated transit, pedestrian and bicycle space at the crowded Duboce and Church Muni stop. Access will be prohibited to automobiles on the westbound block of Duboce Avenue from Church to Fillmore, with the travel lane restricted to bikes only. That space will be painted green in order to encourage those accessing the Muni island to cross the bike lane carefully, said SFMTA spokeserson Paul Rose.
"A pedestrian-prioritized space is great, but I also think this is a commuter intersection for a lot of people - both bicycles and transit users," said Kaufman. The Wigg Party pushed to prioritize bicycle movement through the space adjacent to the crowded Muni island, which was a point of contention with the other groups. The change was adopted after the design renderings were created.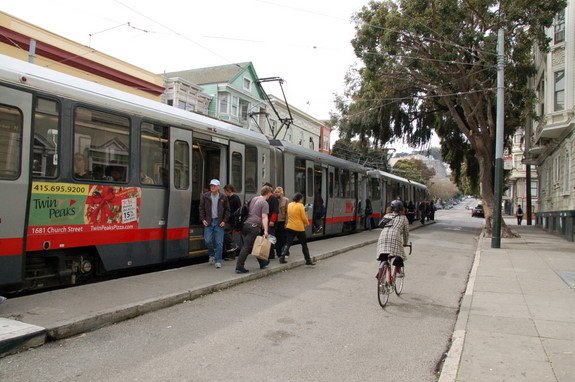 N-Judah and J-Church passengers will enjoy new shelters, wider boarding islands and sidewalks as well as more greenery at the train stops. Many new curbs will be lined with an aesthetic "brick banding" seen on other curbs in the Duboce Triangle, said project architect Nathan Lozier. Transit-only lanes will be resurfaced with a "pebble" material and small speed bumps, and a traffic-calming "charcoal grey sparkle paving" will be used on car-accessible lanes. Guard rails will be added on some boarding islands.
Lozier, who lives nearby, offered pro bono landscape consulting on the project as part of Royston Hanamoto Alley & Abey Landscape Architects' participation in the "One Percent" program.
An expansion of the Duboce bikeway mural welcoming bike riders to the Wiggle as well as artistic sculpture seating and upgraded light fixtures will make the corridor more inviting for people walking, biking, and waiting for trains. Corner bulb-outs at the large Duboce and Steiner intersection will also increase pedestrian safety.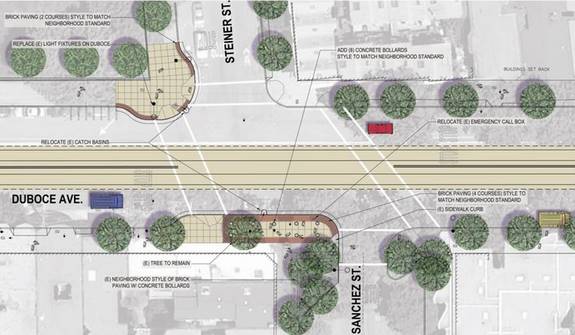 "Particularly on Duboce, we have pedestrian safety issues in terms of people waiting for the N and further down towards the park," said District 8 Supervisor Scott Wiener. He said he's thrilled at the opportunity to combine long-needed infrastructure maintenance and streetscape improvements in a cost-effective way.
Rail replacement should bring a quieter and smoother ride for passengers through Duboce and Church. However, traffic delays for passing N-Judah and J-Church rail vehicles passing through the intersection is a challenge that needs to be addressed.
"Getting in and out of the portal there, for both the J and the N, is really difficult," said Wiener. "There's a four-way stop sign there, and particularly the cars that are going up and down Church, in my experience, are extremely disrespectful of the [Light Rail Vehicles'] ability to get out of the portal, and it ends up causing backups getting out of the portal."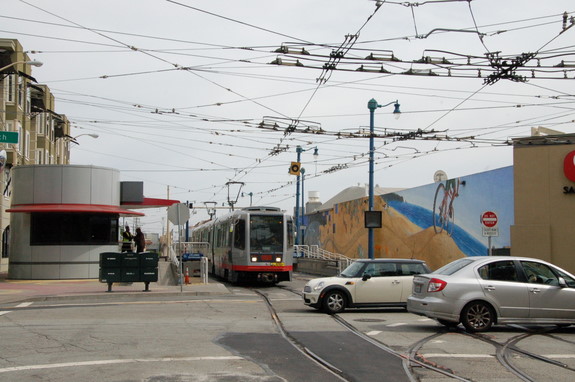 "I think we should take a look at the traffic controls at that intersection and see if there's anything we can do to give Muni priority," he added.
SFMTA Board Director Cheryl Brinkman recently asked staff to study best practices to figure out a solution for giving transit a priority at the intersection. "We can't be the only city with this situation of streetcars going through non-signalized intersections. Somebody out there must've solved it," she said.
SFMTA staffers said adding traffic signals would cause unnecessary delays to Muni lines, particularly for the 22-Fillmore running north on Church Street, Kaufman said.
One novel idea Brinkman suggested was a flashing light system alerting other road users to yield to oncoming Muni trains, similar to those seen on crosswalks.
Yet even if the challenge of crossing a hairball of rail tracks remains for bike riders, Brinkman defended the counterintuitive, beneficial effects on traffic behavior of a naked, non-signalized intersection.
"Even though it's difficult for all users, I don't know that we have that many crashes," noted Brinkman. "I see what I feel like are a lot of near misses, but I think everyone's awareness is so heightened, they all manage to avoid each other."
Prohibiting car access through the intersection, however, is an "option to consider," she said.
Rail replacement is set to begin in April, and the entire project is expected to be completed by the end of 2012.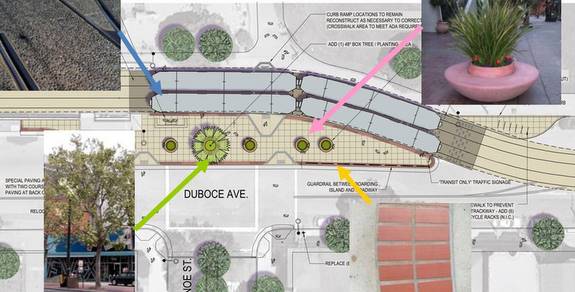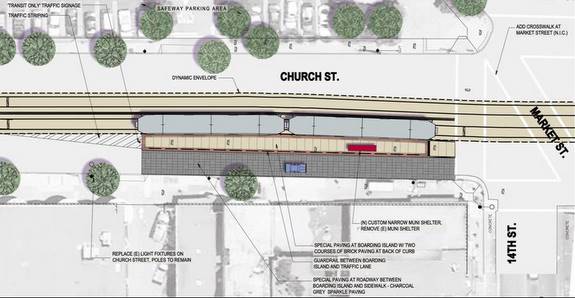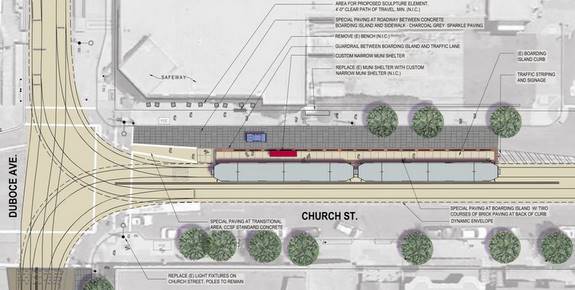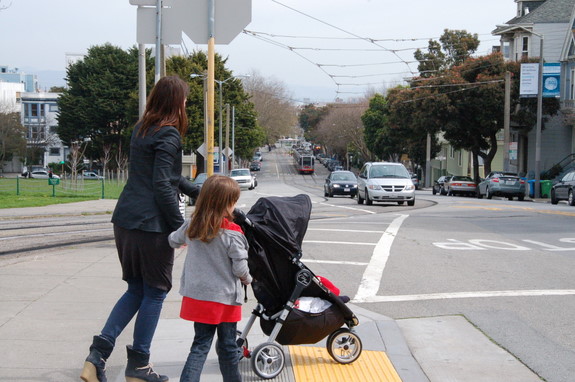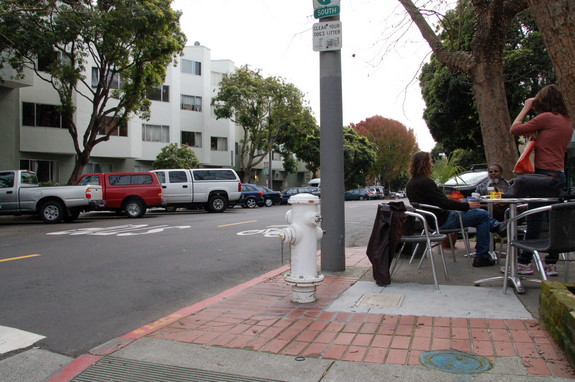 Aaron was the editor of Streetsblog San Francisco from January 2012 until October 2015. He joined Streetsblog in 2010 after studying rhetoric and political communication at SF State University and spending a semester in Denmark.
Stay in touch
Sign up for our free newsletter